Why does Shiloh have teeth? (update: pics are real, anyway)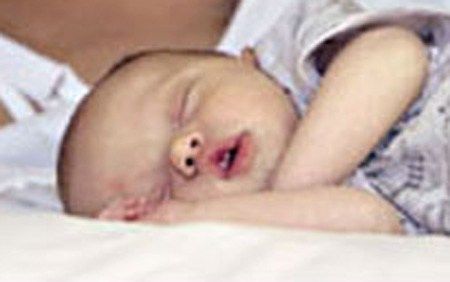 Thanks to commentor Tink for pointing out that Shiloh has teeth in the picture of her on the cover of "Hello!" magazine that came out today. This means it's probably a clever PhotoShop job. I couldn't find any pictures of Angelina looking down like this, but if you've seen a similar image that could have been used to make this composite please let me know.
According to BabyCenter, only 1 in 2,000 babies is born with teeth:
Only one in 2,000 babies is born with teeth, though. The vast majority sprout their first tooth between 4 and 7 months of age.
It's possible, but improbable that this picture is real. If this is a real photo, Shiloh is rarer than we thought.
Update: Thanks to everyone who commented and pointed out that:
a) Teeth in newborns is not that rare
b) This could be camera glare on the baby's gums, which may be calloused from breastfeeding
c) These pictures are real because everyone's getting cease and desist letters to pull them. (Except for me, since I'm under the radar. Maybe next week they'll threaten me. In the mean time, I have no clue.)
Written by Celebitchy

Posted in Angelina Jolie, Babies, Brad Pitt, Brangelina, Photos

- Mariah Carey lip synced on American Idol [CDAN]
- Colin Firth is looking good [Lainey Gossip]
- Internet celebrity charged with murder! [D-Listed]
- What is Paz Vega wearing? [Go Fug Yourself]
- New bachelors on The Bachelorette [Reality Tea]
- Goodbye to The Office [Pajiba]
- Bachelor Sean's fiance cheats on him [Evil Beet]
- Britney Spears out with her man [Popsugar]
- Nina Dobrev works it [Popoholic]
- Cindy Crawford needs to lay off the 'tox [Celebslam]
- Who said it: Carrie Bradshaw or The Dalai Lama? [Buzzfeed]
11 Responses to "Why does Shiloh have teeth? (update: pics are real, anyway)"