Is Shia LaBeouf disrespecting the 'Transformers' franchise?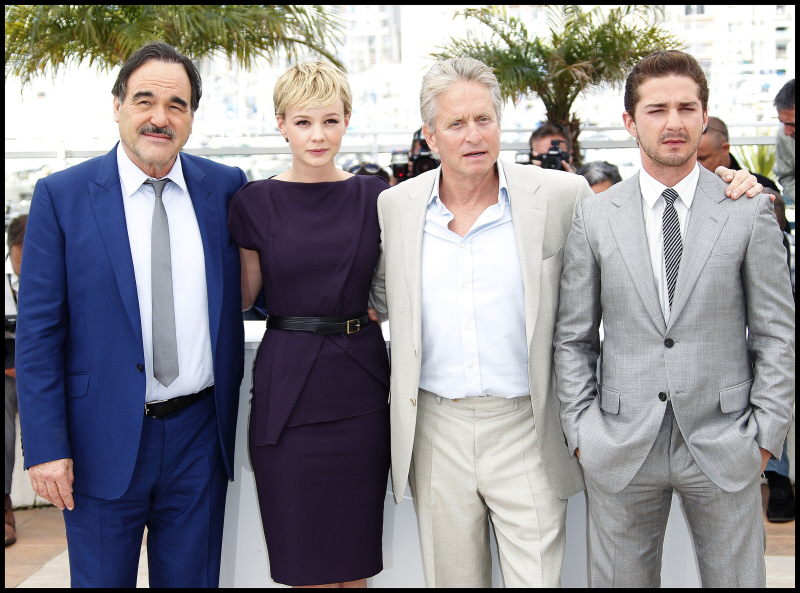 Doesn't little Carey Mulligan look so adorable? These are photos from the Wall Street 2: Money Never Sleeps photo call in Cannes today. Carey is wearing a dark eggplant cap-sleeve dress that I would kill for, and kill to able to pull off as well as she does. Meanwhile, Carey's boyfriend Shia LaBeouf looks cute too, I guess. Michael Douglas and Oliver Stone, not so much. Oliver looks like a smacked ass with that mustache.
Anyway, as Shia does press for Wall Street, reporters are asking him about the Transformers franchise, and Shia is kind of biting the hand that feeds him. What's crazy is that this isn't the first time – several months ago he disrespected the franchise too. In Cannes, however, Shia merely keeps his comments to "I wasn't impressed with what we did" variety. If you're going to disrespect your own movie, I guess that's the way to do it – include yourself in the criticism.
Shia LaBeouf says the second "Transformers" movie got too big for its own good — but the third one brings the heart back to the franchise. LaBeouf, who starts work on the next "Transformers" sequel Tuesday, said the third installment will be the best one yet. The new script restores a human element that got lost in the second movie, LaBeouf said.

"When I saw the second movie, I wasn't impressed with what we did," LaBeouf said in an interview Thursday at the Cannes Film Festival, where his finance drama "Wall Street: Money Never Sleeps" is premiering. "There were some really wild stunts in it, but the heart was gone."

"Transformers: Revenge of the Fallen" was a runaway commercial success but was drubbed by critics. Michael Bay returns for the third time as director of the science-fiction franchise, which centers on dueling races of giant robots that bring their war to Earth. The next movie will have what the last one lacked — a sense of human consequences, LaBeouf said.

On the second movie, "we got lost. We tried to get bigger. It's what happens to sequels. It's like, how do you top the first one? You've got to go bigger," LaBeouf said. "Mike went so big that it became too big, and I think you lost the anchor of the movie. … You lost a bit of the relationships. Unless you have those relationships, then the movie doesn't matter. Then it's just a bunch of robots fighting each other."

With "Transformers 3," the toll of the robot war will be grave for our planet, LaBeouf said.

"There's going to be a lot of death, human death. This time, they're targeting humans," LaBeouf said. "It's going to be the craziest action movie ever made, or we failed."
[From The Associated Press]
Eh. What would I be saying if Megan Fox said this? I don't know. Megan wouldn't have given such a reasoned argument for why the film didn't work, honestly. She would yammered on and on about Michael Bay being Hitler.
Going back to Shia at Cannes for Wall Street - for much of the photo call, he and girlfriend Carey were taking some pains not to be photographed standing next to each other. I don't know if they just gave up at some point, but there are some really cute photos of the two of them shooting each other sweet looks… do you think the sex is good? I bet it is.
Header: Wall Street photo call at Cannes on may 14, 2010. Credit: WENN.
Written by Kaiser

Posted in Carey Mulligan, Shia LaBeouf

- Harry Styles & Kimberly Stewart going strong [Lainey]
- Demi Moore's new man is gross [D-Listed]
- Fug or fab: Emma Stone [Go Fug Yourself]
- Arrest warrant issued for Jenelle Evans [Reality Tea]
- Only God Forgives review [Pajiba]
- Hugh Jackman, scooter master [Buzzfeed]
- Who does Drew Barrymore call her sister? [Evil Beet]
- Cannes couples past and present [Popsugar]
- Arrested Development supercut [CDAN]
- Lea Michele's see through skirt [Celebslam]
- Cheating wife's lover escapes out of window [Movin925]
- Joe Francis is crazy [Starcasm]
23 Responses to "Is Shia LaBeouf disrespecting the 'Transformers' franchise?"