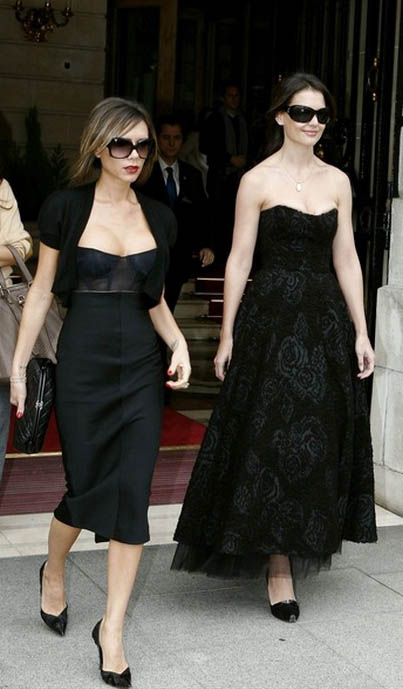 Katie Holmes and Victoria Beckham in Paris. October, 2006
Victoria Beckham sure is having a bad day today. Nobody wants her. According to the Daily Mail, Tom Cruise has had just about enough of Posh and her bad influence on wifebot Katie Holmes. He seems to feel that Katie and Posh have morphed into the same person, who I like to call Kosh. Apparently the weight Katie has lost recently isn't due to Tom refusing to feed her anything but barely water and vitamins. Instead it's due to Victoria's bad influence, and he wants to put a stop to their friendship. And as a little more salt in the wound, Fred Segal and Kitson have dumped Posh's denim line. Everyone's dumping poor Vicky.
Victoria Beckham's new best friends may be Hollywood's biggest stars – but Tom Cruise is concerned that the Spice Girl is rubbing off on his wife just a bit too much. According to my spies in LA, the actor is keen to put some distance between his actress wife Katie Holmes and Victoria, who have morphed into each other.

"Katie sees Victoria as a role model," says my mole. "She copies Victoria's look and even cut her hair the same way. But it concerns Tom that Katie has lost so much weight recently. She is very thin largely because she is following Victoria's strict 900-calories-a-day eating plan. She is copying Victoria's fad of eating seaweed shakes, frozen grapes and edamame beans. She is tiny."
[From the Daily Mail]
Every so often you hear a story about Victoria giving someone a piece of her mind. It always comes as a surprise since you never really hear her say anything publicly. I always assumed she lacked a voice box. But something tells me Tom's concern over Posh's influence in Katie's life may also have to do with the fact that she's openly stated she's not falling for Scientology. And we all know Tom has to control everything and everyone. It seems likely that Posh isn't the drone Tom requires in a person, and that's the real problem. Not that I'm supporting a 900 calorie a day lifestyle. But something tells me the problem has less to do with frozen grapes and more to do with Tom's paralyzing fear of his wifebot being deprogrammed.