Did Jon Gosselin lose his gut, or is he just sucking it in for a photo?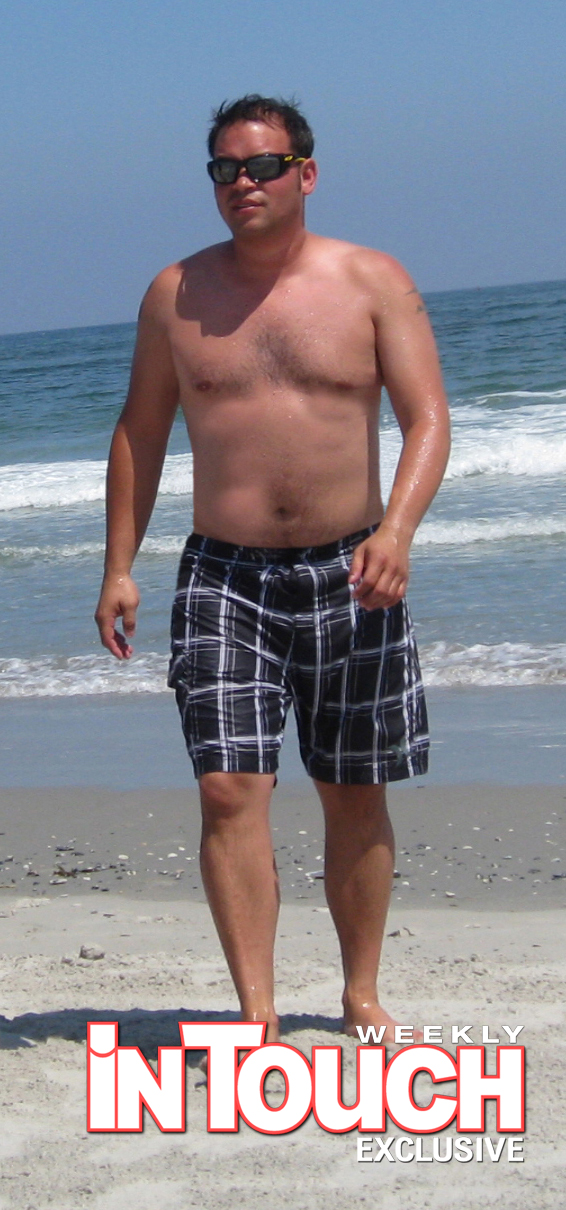 In Touch Weekly just sent us this photo (above) of a shirtless Jon Gosselin. They enclosed this story – "Jon Gosselin loses his beer belly". Now, I seriously don't doubt that Jon has lost some weight, because he was looking totally tubby for a few years. But is it just me, or is most of the "weight loss" just Jon sucking in his gut for the camera?
When Jon Gosselin took to the beach in Ocean City, N.J., on July 8, he looked like a new man. Donning dark shades and a plaid bathing suit, the dad of eight looked toned, tanned and healthier than ever while strolling the beach with his bikini-clad girlfriend, Ellen Ross. And there was one thing noticeably missing — his beer belly!

"Jon's made time for himself," says a friend of the reality star, who adds that Jon's kids were his main motivation to get in shape. "Jon's own dad never took care of himself and died at an early age, so Jon is doing whatever he can to ensure he'll be around for his kids as long as possible."

After his acrimonious split with Kate last year, Jon's life took a nosedive. He stopped going to the gym and eating Kate's healthy, home cooked meals, and plummeted into a wild bachelor lifestyle, which included lots of bar-hopping, heavy drinking and smoking.

He soon left the family's television show, Jon & Kate Plus 8, and acquired a reputation for constantly partying with a revolving door of young women. But now, Jon's friend says the tide has finally turned, and the family man is getting his life back on track. Says the pal, "He feels better and looks better than ever."
[From In Touch Weekly]
Well good for him for getting serious about his health. It makes me a little sick to think of him as some kind of bachelor-about-town with a "wild bachelor lifestyle." I mean, didn't he just sort of nail whatever random famewhore broad that said yes (Kate Major, Hailey Glassman), and does that really constitute "a revolving door of young women"? Ugh. Thinking about Jon's Tootsie roll peen makes me want to vomit.
Header: EXCLUSIVE In Touch Weekly photo, courtesy of ITW online.
Written by Kaiser

Posted in Jon Gosselin, Weight Loss

- Friends reunion on Ellen [Popsugar]
- Lindsey Vonn watches Tigers kids [Lainey Gossip]
- George Michael fell out of a car going 70mph [D-Listed]
- Real Housewives of Orange County recap [Reality Tea]
- New Man of Steel trailer [Pajiba]
- Jared Padalecki's hot bod [Buzzfeed]
- Doctors confirm Taylor Swift's new boobs [Evil Beet]
- Catherine Zeta-Jones finished treatment [CDAN]
- Anna Paquin hates the paps [Celebslam]
- Lance Armstrong is gross [The Blemish]
- What is Barbara Palvin wearing? [Moe Jackson]
- This is Petra Nemcova? [SVC]
40 Responses to "Did Jon Gosselin lose his gut, or is he just sucking it in for a photo?"