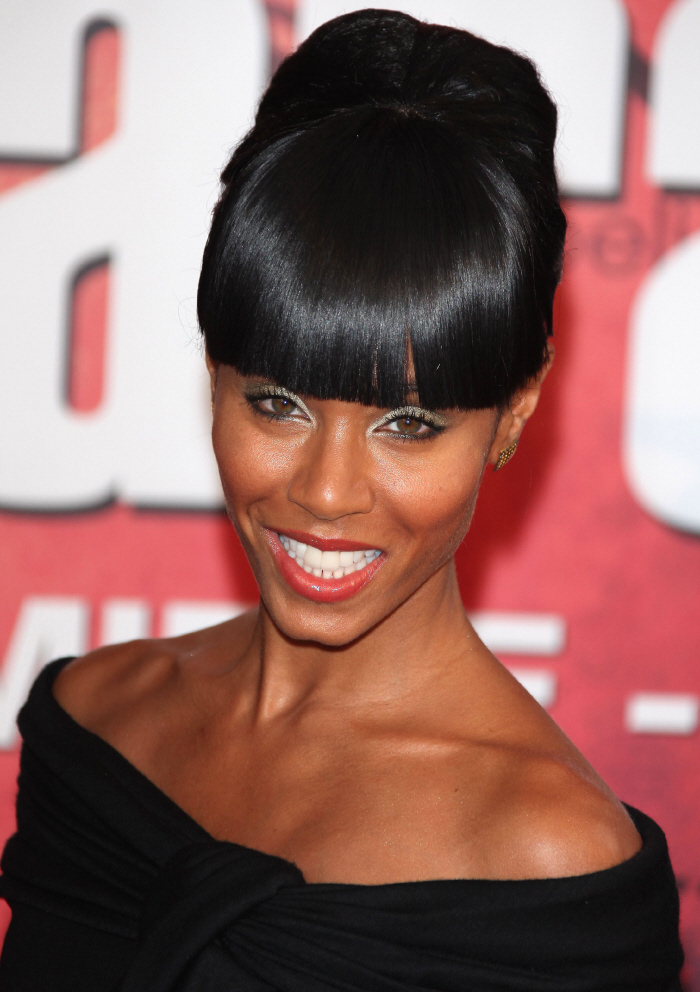 I've mentioned this before, but my new favorite feature at Us Weekly is their "25 Things You Don't Know About…" piece. I'm not sure how it works, if someone from Us Weekly speaks to the celebrity and just transcribes their list or if the celebrity just emails it in or whatever, but usually the lists are pretty awesome. Elizabeth Taylor even did one! Hers rocked. Anyway, this week's featured celebrity is Jada Pinkett Smith. Since it's my new favorite feature, I skimmed Jada's list and was actually surprised! She sounds kind of… cool. Not as cool as she thinks she is, but still a lot better than she usually comes across. Some fun facts: Jada hasn't had a drop of alcohol in more than 13 years (WHAT?) and Big Will doesn't make her list of favorite rappers (SHAME!).
1. I met my husband, Will Smith, when I was 19 and auditioned to be his date on The Fresh Prince of Bel-Air. They said I was too short to play the part.
2. Four years later, Will asked me to play his girlfriend on the show, but I said no because I thought he was too tall.
3. When I turn 60 and leave the red carpet, I am going to get the tattoo arm sleeve I have always wanted.
4. I won a lip-synching contest in high school performing "Baby I'm a Star" by Prince.
5. I haven't consumed alcohol in 13-plus years.
6. I finally love being a girl.
7. I find fame to be quite unnatural. Humans are not built for extreme adoration.
8. Jamey Johnson, Sugarland and Toby Keith are my favorite country artists.
9. I love religion and have contemplated going back to school to get a world religion degree.
10. If I had my way, I'd wear jewelry, a great pair of heels and nothing else.
11. First white guy I ever kissed: Michael Vartan…psych!
12. My favorite Latin singer/actor is Marc Anthony.
13. I have three pet red-tail boa constrictors, named Beauty, Logic and Passion.
14. My favorite metal bands are Mastodon, Crowbar and Skindred.
15. I brought home a dog and two cats from the streets of China after filming The Karate Kid.
16. I have over 40 filled journals.
17. I look at how one chooses to live her life as a piece of art.
18. This year, I'm devoted to building wells to provide clean water for villages across Africa through CharityWater.org.
19. The Smith family has already helped build several wells in Ethiopia.
20. I've produced a Broadway musical [Fela!]; now I want to perform in one.
21. Carol's Daughter's perfume My Life is my new scent.
22. My go-to outfit is a pair of black sweats and crisp white sneaks.
23. I like writing and receiving letters.
24. Our children, Trey [17], Jaden [12] and Willow [9], have taught me the most in life
25. Tupac and Mos Def are my favorite rappers.
[From Us Weekly]
She sounds almost like someone you want to hang with, right? If you can get past the boa constrictors, which I can. I like snakes. I wonder who the first white dude she ever kissed really was? John Travolta? I'm just throwing that name out there because Travolta was the first one I thought of. I'm looking through her credits, and I can't see any white boys she made out with. Damn, it really might be Michael Vartan!
By the way, do you think she's an alcoholic? Or did she just stop drinking for health reasons or diet reasons? I wonder. If she's not an alcoholic, and she just stopped drinking for other reasons, I'd suggest that she give alcohol another try, honestly. There have been so many times when I've been reading one her interviews when I wished both she and I could be sipping on something hard.
One more thing: this wig has got to go. It's TERRIBLE.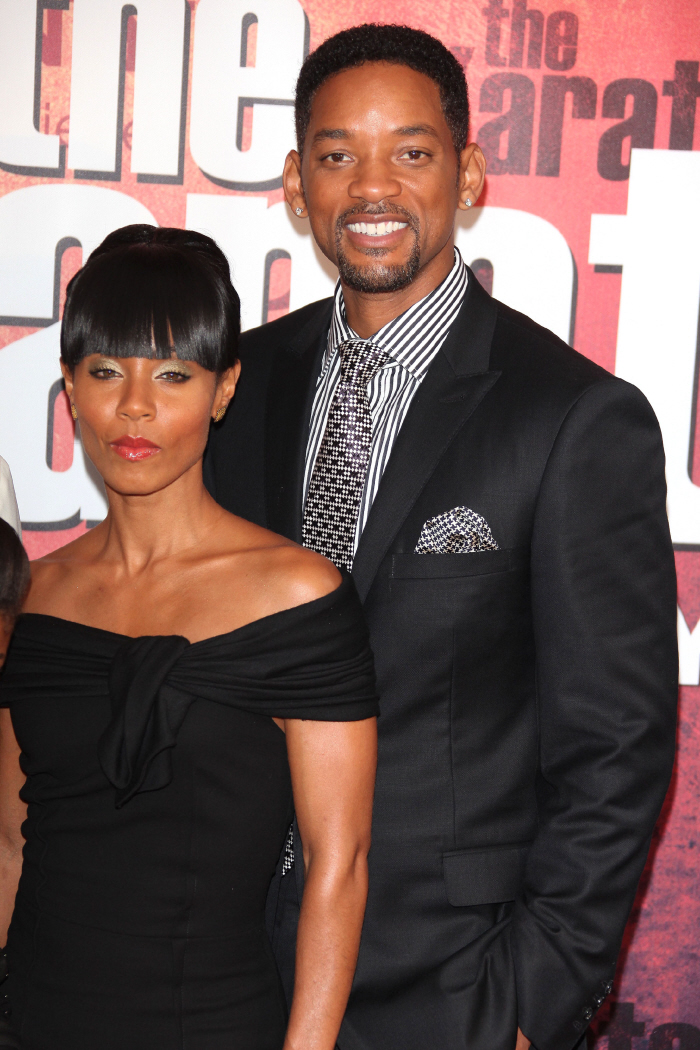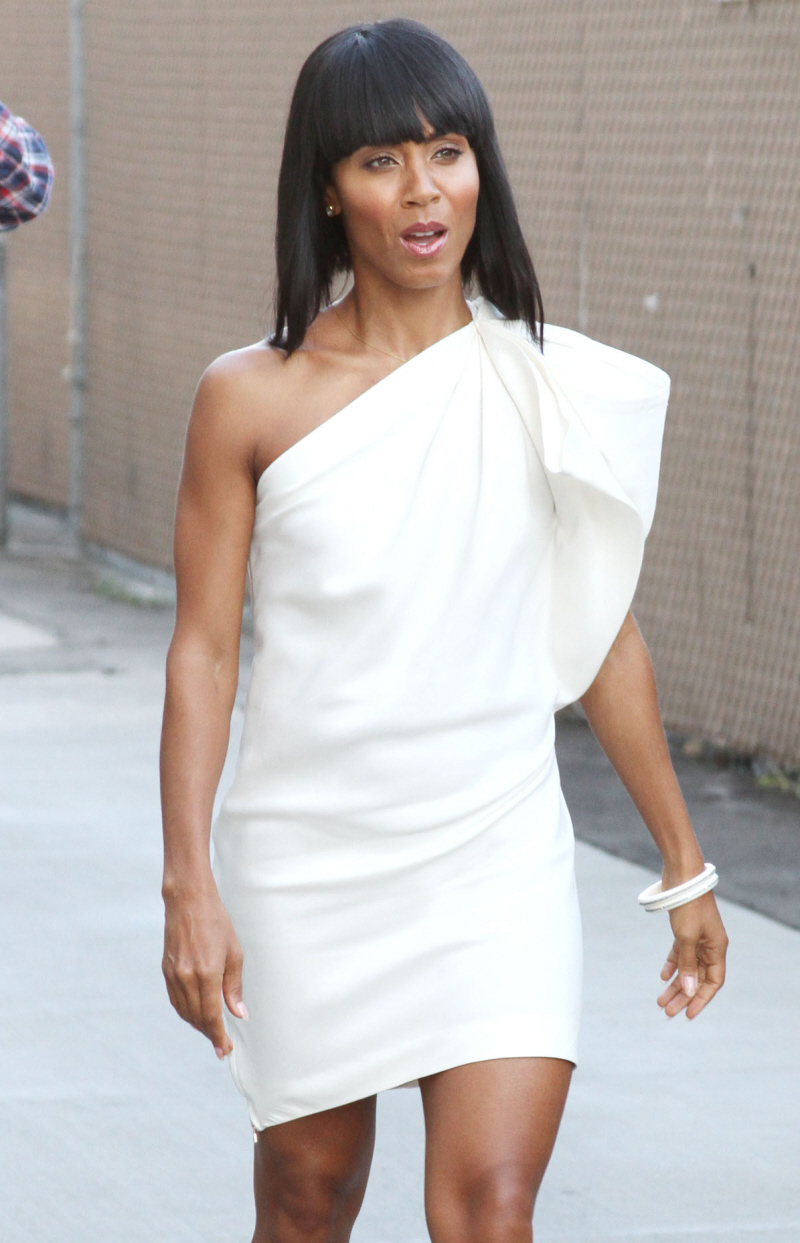 Jada in Paris on July 27, 2010, and in LA on the 29th. Credit: WENN.