Brangelina baby shower photos were stolen – here come the lawyers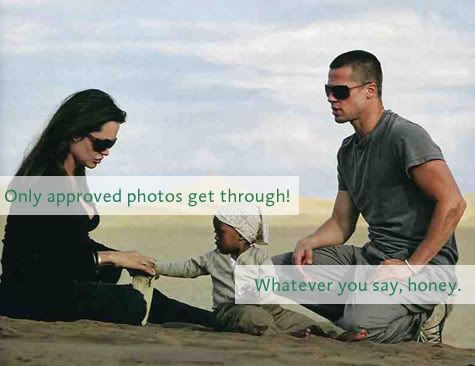 Predictably enough, Angelina Jolie and Brad Pitt's legal team have sent out notices to several blogs to pull the baby shower pictures that capture their clients in private moments. The digital card with the photos was stolen, they say. They never sent notice to us, but TMZ is a higher-profile site and was threatened with a lawsuit:
We understand that the person who stole the Stolen Photos, or an accomplice, has been offering them for sale to the various media outlets and celebrity content websites, and may have offered the Stolen Photos to you.
This letter is to provide you with notice that the Stolen Photos are copyright protected, to which my clients own right and title thereto. Any unauthorized publication, reproduction or dissemination of the Stolen Photos constitutes an infringement of my clients' copyrights in violation of the U.S. Copyright Act, Title 17 of the United States Code Section 101, et seq., and exposes you, and anyone else acting in concert with you, to civil liability, damages, injunctive relief and reimbursement of all attorneys' fees and costs incurred by my clients in connection with any copyright infringement action. Furthermore, if any monies are paid for the purchase of the Stolen Photos, you will be engaged in the purchase of stolen property.
In addition, under the circumstances that the Stolen Photos were taken, namely, at private and personal events on private property, my clients had a reasonable expectation of enjoying total privacy. The publication of the photos would therefore constitute a unlawful invasion and violation of my clients' right of privacy and would also be an unauthorized commercial appropriation of their names, likenesses and personas.
Anyone who publishes, disseminates, displays or otherwise exploits the Stolen Photos will be liable for substantial compensatory damages, punitive damages, and injunctive relief. If you publish or disseminate and of the Stolen Photos, our clients will take further legal action to protect their rights, including by the filing of a lawsuit seeking compensatory and punitive damages, statutory damages for copyright violations, and attorneys' fees.
We'll take 'em down shortly, but as much as people like Angelina and Brad – they're too heavy handed with legal and security tactics. This is the cost of fame. If you don't like it, then don't try to fight it with all your might and just stop making movies. You could be gracious about it and play it up for what it's worth, but no, you have to fight every picture tooth and nail.
I understand not wanting someone to publish all 450 pictures, but making a huge fuss and threatening bloggers for publishing three of the pictures is ridiculous.
It's like the music industry acting all indignant that people are copying digital music. It's the nature of the medium, and that's how these things work. Digital files spread – get over it, and use it to your advantage.
Angelina decided to close down an entire country to give birth. What gives her that right? Namibia's National Society for Human Rights claims that Angelina Jolie and Brad Pitt are acting like "Colonial Overlords" and that they have no right to use an entire government to shield themselves from the paparrazi. The NSHR said "To shut down a national border so she can give birth in peace is a massive abuse of power."
To shut down a bunch of websites so people can't see your cute baby shower pictures is also a massive abuse of power. It's not on the same scale, but they're abusive. Fans made them popular and fans pay for their luxurious lifestyle. Just because they do some charity work doesn't mean that they don't have to play the game.
Written by Celebitchy

Posted in Abusive, Angelina Jolie, Arrogant, Brad Pitt, Brangelina, Photos

- Zach Galifianakis is awesome [Buzzfeed]
- Prince at the Billboard Music Awards [D-Listed]
- Bieber's Billboard look [Go Fug Yourself]
- Married to Medicine recap [Reality Tea]
- Celebrity first marriages [Pajiba]
- The last Mad Men baffled a lot of people [Lainey]
- Karolina Kurkova's crazy hot dress [Moe Jackson]
- Jennifer Garner on set [Popsugar]
- Kitten vs. Lizard [CDAN]
- Doetzen Kroes' great butt [Celebslam]
- Shameless star Jeremy Allen White [OMG Blog]
- RIP Ray Manzarek [Bossip]
7 Responses to "Brangelina baby shower photos were stolen – here come the lawyers"