Are Sarah Michelle Gellar and Freddie Prinze Jr. having trouble?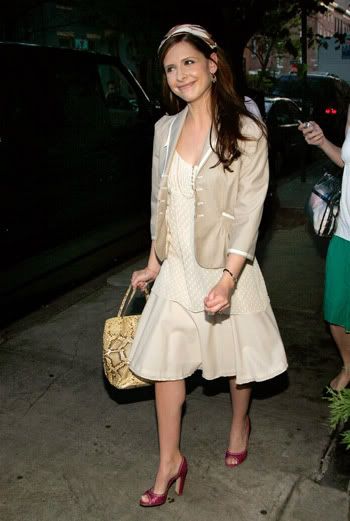 People are saying that Sarah Michelle Gellar and Freddie Prinze are living apart and may be ready to divorce. Gellar is currently working on the film "The Girls' Guide to Hunting and Fishing" while Prinze is starring in an ABC series, "Freddie." Prinze's TV work is said to be tearing the couple apart:
Sarah Michelle Gellar and Freddie Prinze Jr. have hit back at reports that Prinze's new TV show "Freddie" is coming between the couple.
The pair have been besieged by reports the show in "tearing them apart" and are on the verge of splitting since Prinze signed up to his new sitcom last year.
A source told the New York Daily News that, "Ever since he started that show Freddie things were over."
It has also been widely reported that they have been living apart in recent weeks.
The couple's representative, Leslie Sloane Zelnick, has vehemently denied the rumors, insisting the couple is still, "completely together."
Zelnick also added that they'll be spending the weekend together at Zelnick's house in Connecticut.
It's rather suspect that their publicist is saying they're coming over to her house at the weekend. That seems like an afterthought, and something she may have come up with while on the phone with the Daily News.
It's unknown whether they're actually having trouble, but Gellar is on baby watch since Cannes. We thought she looked pregnant at the film festival, as she was wearing ill-fitting gowns and held her hand over her stomach on the red carpet.
Reader Millie e-mailed me to say that she's still wearing loose tops on the set of her new film, and that she does look pregnant. Loose outfits are the style now, though, and it may not mean anything. Take a look at these pictures from "A Girl's Guide to Hunting and Fishing" and see for yourself. [via]
Prinze, 30, and Gellar, 29, have been married since 2002. We'll have to wait and see if their marriage is in trouble and/or if they're having a baby.
Written by Celebitchy

Posted in Babies, Relationship trouble, Sarah Michelle Gellar

- Friends reunion on Ellen [Popsugar]
- Lindsey Vonn watches Tigers kids [Lainey Gossip]
- George Michael fell out of a car going 70mph [D-Listed]
- Real Housewives of Orange County recap [Reality Tea]
- New Man of Steel trailer [Pajiba]
- Jared Padalecki's hot bod [Buzzfeed]
- Doctors confirm Taylor Swift's new boobs [Evil Beet]
- Catherine Zeta-Jones finished treatment [CDAN]
- Anna Paquin hates the paps [Celebslam]
- Lance Armstrong is gross [The Blemish]
- What is Barbara Palvin wearing? [Moe Jackson]
- This is Petra Nemcova? [SVC]
2 Responses to "Are Sarah Michelle Gellar and Freddie Prinze Jr. having trouble?"