George Clooney blocked Elisabetta Canalis's game (and destroyed her soul)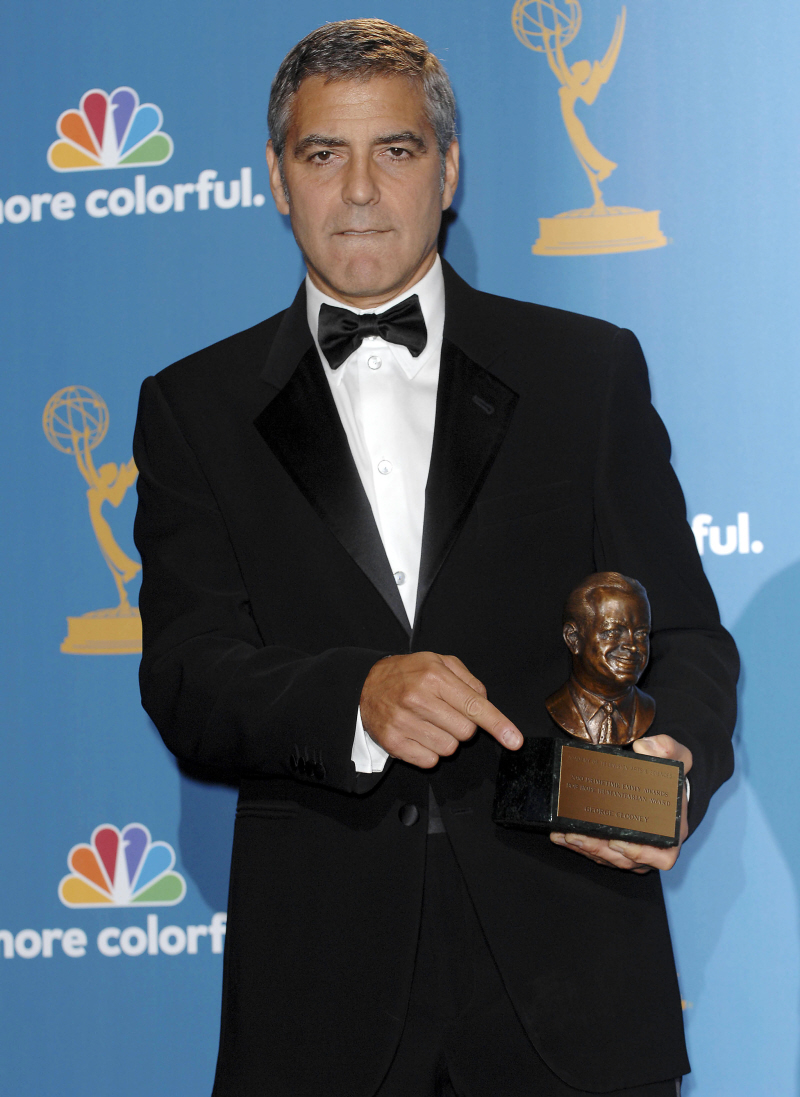 "You don't even want to know where this finger has been." - George Clooney
You have to go to Dlisted and read Michael K's take on George Clooney and Elisabetta Canalis backstage at the Emmys. He's hilarious, and I think he's totally on target with his "side-eye of DOOM" theory – basically that Elisabetta has the coked-out traumatized look of a hooker about to lose her meal ticket. The excellent photos with Michael K's commentary here.
Anyway, yes, Clooney brought Elisabetta to the Emmys, but he didn't let her walk the red carpet and he didn't let her speak to journalists and he didn't let her have her photograph taken for every agency (as far as I can see, only one agency got photos, and they were the only people allowed to shoot backstage). Basically, Eli had her game c-ckblocked by Clooney, and that's got to be depressing for her. But unintentionally hilarious for us, because we've seen it all before. Ah, Eli. You thought you were different, right? You thought your bodacious ass would get the ring? Sucker.
Another funny realization: whenever Clooney was asked about Elisabetta backstage, at the press pool, he deflected. When asked about how he met her, he responded: "She picked me up in Italy, Elisabetta… Where is she?" When asked about how they prepared for the evening, he said, "John Krasinski came over to my house with a bunch of guys and we played basketball. If you see him later, he's limping." E! News notes: "While G.C. was on stage, Elisabetta was sitting to the side of the stage with some security looking fab in an all white gown meanwhile sipping champagne and texting on her phone." Bored out of her mind, probably. She wanted to whore herself for the cameras. Too bad.
Of course, Clooney did have a lot to say about his award and what it means to be a humanitarian in the age of celebrity:
George Clooney's work in spearheading fundraising efforts in the aftermath of Hurricane Katrina five years ago, as well as assisting victims of the genocide in Darfur, was recognized at the Emmy's on Sunday evening, as he became the 2010 recipient of the Bob Hope Humanitarian Award. The A-list actor received a standing ovation as he took the stage to accept the honor, but humbly insisted that the audience be seated.

"It's embarrassing," he later said backstage. "You don't want to be awarded for doing what you're supposed to be doing."

Unlike so many in Hollywood who seem to take it upon themselves to become self-titled "experts" in areas other than the entertainment industry, Clooney claims not to inflate himself with any extra qualifications.

"I said I wasn't a Haiti expert. I was a fund-raising expert more than anything," he explained. "I don't particularly do more than anybody else in the position I'm in. I try to pick subjects that I can learn about and focus on and then do as much as I can."

And although so much attention these days is devoted to the party/prison/pokey adventures of Lindsay Lohan, Mel Gibson's racist rants, and Tiger Woods's string of scandalous affairs – Clooney wants the world to know that plenty of good can come from celebrity culture too.

"If you have a tremendous amount of heat from the spotlight, then you're able to shine a light in a different direction, and it's just deflecting," he continued. "My dad calls it a celebrity credit card that you try to cash in other places."

Clooney also firmly debunked those recent rumors that his relationship with model/actress Elisabetta Canalis had come to an end.

"My date today … She picked me up in Italy," he boasted, referring to Canalis who had followed him backstage.
[From Fox News]
George also had some nice stuff to say about his lover Brad Pitt, telling Access Hollywood that Brad Pitt has "been truly focused" on Make It Right NOLA, "He's done a great job. He's hit us all up on building houses there. I haven't seen anybody work as hard as he's done on that. He knows about architecture too and it's something that's a real passion of his." Wow, Clooney gets totally passionate about Brad… and nothing for Eli. Poor Canalis.
Written by Kaiser

Posted in Elisabetta Canalis, George Clooney

- Harry Styles & Kimberly Stewart going strong [Lainey]
- Demi Moore's new man is gross [D-Listed]
- Fug or fab: Emma Stone [Go Fug Yourself]
- Arrest warrant issued for Jenelle Evans [Reality Tea]
- Only God Forgives review [Pajiba]
- Hugh Jackman, scooter master [Buzzfeed]
- Who does Drew Barrymore call her sister? [Evil Beet]
- Cannes couples past and present [Popsugar]
- Arrested Development supercut [CDAN]
- Lea Michele's see through skirt [Celebslam]
- Cheating wife's lover escapes out of window [Movin925]
- Joe Francis is crazy [Starcasm]
49 Responses to "George Clooney blocked Elisabetta Canalis's game (and destroyed her soul)"