Michael Lohan sort-of acknowledges Lindsay's gay; takes it back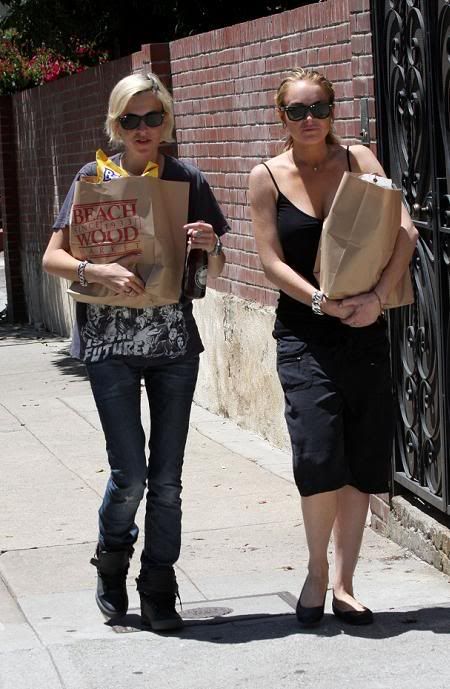 Michael Lohan sure is managing to steal a lot of attention away from Dina, especially considering this week is the premiere of her new crap-ass show Living Lohan. The Lohans have a very Charlie Sheen/Denise Richards relationship. You're constantly trying to figure out who you hate more, and who's the bigger liar. Although to Dina Lohan's credit, I've never heard any insinuations that she used to be a prostitute. Oops.
Dina is all over the talk shows this week, trying to pimp her new show/defend her parental pimping. It's not going so well. While you could argue that any publicity is good publicity, that's not really the case when Dina Lohan touches something. Dina has furiously been denying that daughter Lindsay and Samantha Ronson are anything other than really good friends, despite their constant lip locks. However Michael was a little more realistic – at least for about eight minutes – and told Us Weekly that it's obvious the two are in a relationship.
Michael Lohan isn't playing dumb when it comes to his daughter Lindsay's close relationship with deejay Samantha Ronson. Days after photos of them nuzzling necks in Cannes, France, surfaced, he tells Usmagazine.com in an e-mail their relationship "is evident to anyone with half a brain."

Still, he adds, "Just like the [topless] Marilyn Monroe spread, Linds is my daughter and there are just some things a father doesn't want to see or hear, regardless of whether they are true or false." His daughter, 21, "is a big girl, and she can make her own life choices. Then it is between her and God."

Michael — who volunteers for a Christian-based rehab organization — couldn't help but take a swipe at his ex Dina (who just debuted her new E! reality show). "Maybe her mother's life revolves around the tabloids and reports, but mine doesn't," Michael says. "I am into setting a good example and doing good things that don't deceive or exploit my kids.
[From Us Weekly]
I think I'd be able to take what Michael Lohan says a little more seriously if he'd stop promoting how wonderful he is. If he just responded without sounding like he's trying to sell himself, I might not want to slap him quite so hard.
Us Weekly and OK magazine are in some kind of feud. OK is reporting not just that Michael never made those comments, but that Us made them up, "In a desperate attempt to gain readers." Oooohhh, snap OK. They claim to have a real interview with Michael, in which he denies ever acknowledging Lindsay's gaiety. Yes I used that word that way on purpose. I've decided that's how we describe Lindsay's convenient level of gayness.
"I never said anything like this," Michael explains. "I've never even looked at the pictures of Linds and Sam, so how can I comment on this?"

Referring to his daughter's recent revealing pictorial in New York Magazine, he continues, "Just like the Marilyn Monroe pics, I've never looked at these photos either. This is just another way of some evil person spreading a vicious rumor to try to hurt my relationship with my daughter Lindsay."
[From OK]
That's coincidental, since Michael (or someone posing as Michael) referenced the Marilyn Monroe pictures in the Us Weekly article. I don't see how admitting his daughter is in a lesbian relationship would hurt his own relationship with Lindsay. Considering how self-righteous her father is, it might relieve her that she could talk openly and honestly with him about it. It's clear to everyone with eyes that Lindsay and Samantha are in a relationship. And frankly it might be one of the better decisions Lindsay's made in a while.
Here's Lindsay and Samantha carrying groceries back to Samantha's house in Los Angeles on May 16th. Images thanks to WENN.
Written by JayBird

Posted in Lindsay Lohan, Michael Lohan, Relationships, Samantha Ronson

- Friends reunion on Ellen [Popsugar]
- Lindsey Vonn watches Tigers kids [Lainey Gossip]
- George Michael fell out of a car going 70mph [D-Listed]
- Real Housewives of Orange County recap [Reality Tea]
- New Man of Steel trailer [Pajiba]
- Jared Padalecki's hot bod [Buzzfeed]
- Doctors confirm Taylor Swift's new boobs [Evil Beet]
- Catherine Zeta-Jones finished treatment [CDAN]
- Anna Paquin hates the paps [Celebslam]
- Lance Armstrong is gross [The Blemish]
- What is Barbara Palvin wearing? [Moe Jackson]
- This is Petra Nemcova? [SVC]
23 Responses to "Michael Lohan sort-of acknowledges Lindsay's gay; takes it back"