Alexander Skarsgard explains how the nude Rolling Stone cover was shot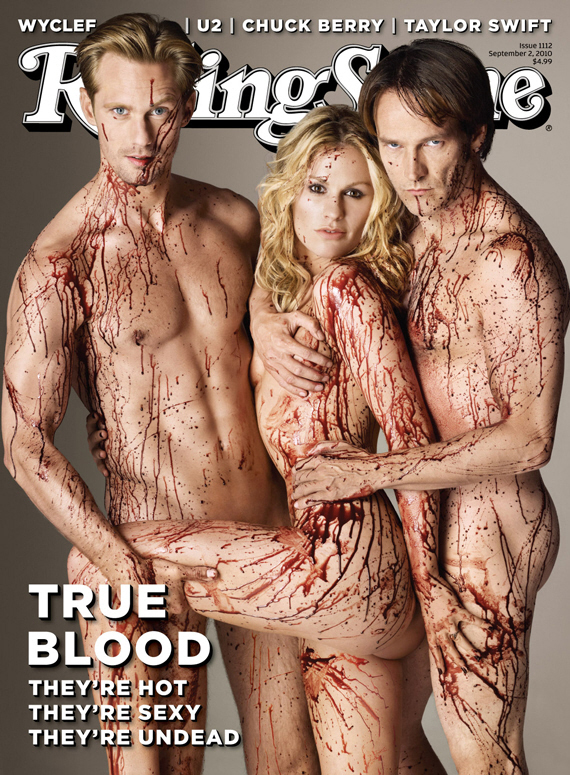 Alexander Skarsgard recently explained how the nude, covered in blood cover photo of Rolling Stone, featuring him posing with True Blood co-stars Anna Paquin and Steven Moyer, came about. The concept for the photoshoot wasn't to get everyone to take off their clothes, at least that was Skarsgard's impression. It was only after several hours of posing that the photographer asked if the subjects were game for some nudity. That's how they get you – just ask Miley Cyrus. Skarsgard gave this story in an interview with British GQ, when he was inevitably asked about his willingness to go naked.
Why do I "love being naked"? [Laughs] Because I was born that way? I didn't write the scripts but I don't mind it if it makes sense. It's about being comfortable and if it makes sense story-wise. The only time it can get awkward is if you feel exploited, like, "Why am I standing here naked?" and I've never felt that. There's always a reason for it on the show and it's always at great moments: fun, crazy scenes. So I really don't mind at all. The Rolling Stone cover just happened on the day. We showed up and we shot very PG-13 with our clothes on for basically the whole day, like six or seven hours. Then towards the end the photographer said, "I have this, these shots are beautiful and the magazine is going to be happy with them but I'd like to try something if you guys are game." He explained it and it was just one of those things in the moment where we all looked at each other, we'd spent all day with the photographer, we felt comfortable with him, we knew that he was great and the atmosphere was right and we were like, "F@*$ it, let's do it." No one thought that the magazine would go for it. They want to sell at Walmart. We thought this was going to be too offensive. But I guess they did. [Laughs] I'm glad they did! I liked it a lot. It was definitely more interesting than the safe version…
[From British GQ via Huffington Post]
He has such a laid back friendly personality. Now that he's no longer with Kate waste-of-space I think it's safe to fully admire him again.
Skarsgard is currently filming a science fiction movie called Battleship, co-starring Liam Neeson, Taylor Kitsch and Rihanna. I hope it's a decent film, although Rihanna's presence doesn't bode well for it. Brooklyn Decker is in it too. Skarsgard had nothing but praise for Rihanna's professionalism. He told GQ that she's "really really good in it" and that she expertly balanced her work schedule. "She's got a crazy schedule. She's really diligent and I'm impressed. We would work and then she'd fly to LA to perform at the MTV Music Awards and then fly back red eye, land, go straight to set, work all day. No complaints, nothing. She's really solid." So is Askars. Damn, is it summer 2011 yet? I may just have to rewatch old seasons of True Blood to get by.
Written by Celebitchy

Posted in Alex Skarsgard

- Harry Styles & Kimberly Stewart going strong [Lainey]
- Demi Moore's new man is gross [D-Listed]
- Fug or fab: Emma Stone [Go Fug Yourself]
- Arrest warrant issued for Jenelle Evans [Reality Tea]
- Only God Forgives review [Pajiba]
- Hugh Jackman, scooter master [Buzzfeed]
- Who does Drew Barrymore call her sister? [Evil Beet]
- Cannes couples past and present [Popsugar]
- Arrested Development supercut [CDAN]
- Lea Michele's see through skirt [Celebslam]
- Cheating wife's lover escapes out of window [Movin925]
- Joe Francis is crazy [Starcasm]
38 Responses to "Alexander Skarsgard explains how the nude Rolling Stone cover was shot"