Katie Holmes denies second pregnancy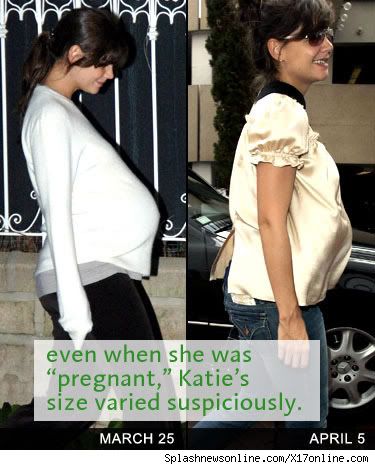 A "neighbor" of Katie Holmes was quoted speculating that she's pregnant again, but we highly doubt it. It would be difficult to get visibly pregnant so soon after the supposed birth of her last child.
Media and fans have been kept on their toes ever since the former 'Dawson's Creek' actress gave birth to Suri in April, as she has rarely been seen in public since then. Experts suspect the star has been hiding away because she is with child once again, and her neighbor seems to agree.
Katie's neighbor revealed to US Weekly, "I heard from a lot of people that Katie is pregnant."
But while the soon-to-be-married star was visiting Cruise's Holiday home on Monday in Telluride, Colorado, she wasted no time slamming the rumors.
Holmes insisted to US Weekly, "I am not pregnant again."
Meanwhile, Katie enjoyed a portion of her stay in Colorado with one of her girlfriends, where they drank coffee and 'window shopped'.
But of course the new mom was without her baby girl once again, which has proven discouraging to her fans.
Holmes then told a horde of onlookers, "Suri's doing great! She's back at the house."
About a month ago, some random person claimed to have seen a baby-like bundle from afar that might have been Suri. Now that Tom and Katie are in Telluride, Colorado, a store clerk says that they've actually seen Suri and she's "funny looking." If Suri were out in public, why aren't there paparrazi photos of it? Isn't Telluride a haven for the rich and famous? There must be photographers there.
A few eyewitness claim they even had a glimpse of mysterious Suri, as Katie Holmes engaged in an invigorating trek in the woods.
A waitress gushed, "She exists! I saw her thick black hair."
The magazine quotes locals as saying Suri has "small hands" and is "funny-looking."
A large percentage of people have camera phones and I know I carry a digital camera around with me all the time. Why aren't there any pictures of Suri if "eyewitnesses" actually saw her. The first picture of Violet Affleck was a blurry cameraphone photo that everyone posted right away. This is bullshit – no one saw that baby. Read TMZ's conspiracy timeline - it's rather convincing.
There's a tell-all book about Tom Cruise coming out by Princess Diana's biographer, Andrew Morton. He's done a lot of research, but there's no word as to when it will be published. You know it will contain a bunch of shocking revelations about the pint-sized cult spokesperson.
Meanwhile Tom and Katie also had a bag of groceries and a bunch of cherry soda delivered by private jet from Hollywood to Telluride. Their consumables travel better than I do.
Here is Tom Cruise presenting Steven Spielberg with the Golden Hugo award at the Chicago Film Festival this Saturday. [via] They supposedly had a falling out after Cruise talked too much Scientology crap during promotion for "War of the Worlds," and it's clearly important to Tom that he put those rumors to rest. He doesn't seem to care that people think his baby is fake, though.
Written by Celebitchy

Posted in Babies, Katie Holmes, Scandals, Tom Cruise, TomKat

- Harry Styles & Kimberly Stewart going strong [Lainey]
- Demi Moore's new man is gross [D-Listed]
- Fug or fab: Emma Stone [Go Fug Yourself]
- Arrest warrant issued for Jenelle Evans [Reality Tea]
- Only God Forgives review [Pajiba]
- Hugh Jackman, scooter master [Buzzfeed]
- Who does Drew Barrymore call her sister? [Evil Beet]
- Cannes couples past and present [Popsugar]
- Arrested Development supercut [CDAN]
- Lea Michele's see through skirt [Celebslam]
- Cheating wife's lover escapes out of window [Movin925]
- Joe Francis is crazy [Starcasm]
One Response to "Katie Holmes denies second pregnancy"