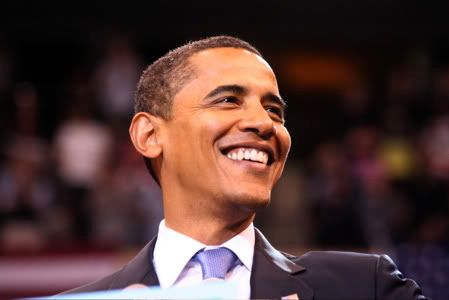 On Tuesday Senator Barack Obama sealed the contest for the Democratic nomination. Today Hillary Clinton sent out an email stating that she will withdraw her candidacy from the race: "I have said throughout the campaign that I would strongly support Senator Obama if he were the Democratic Party's nominee, and I intend to deliver on that promise." Celebrities have lined up to loudly endorse Obama from the beginning of his run (though a few notable celebs have been in Clinton's camp). In the last two days many of the Hollywood elite have spoken favorably about Obama, and it's expected that countless more will do so in the next few months.
George Lucas:
Lucas was in Japan on Wednesday to promote his latest film, "Indiana Jones and the Kingdom of the Crystal Skull," as Obama clinched the Democratic Party's nomination for president.

"We have a hero in the making back in the United States today because we have a new candidate for president of the United States, Barack Obama," Lucas said when asked who his childhood heroes were.

Obama, "for all of us that have dreams and hope, is a hero," Lucas said.
[From Yahoo News]
Oprah:
Oprah Winfrey says she is "euphoric" over Barack Obama clinching the Democratic presidential nomination.

"I've been doing the happy dance all day," she tells Entertainment Tonight. Winfrey, 54, has been a staunch supporter of Obama from the beginning of his campaign.

"I'm so proud of Barack and Michelle Obama and what this means for all of us … the new possibilities for our country," Winfrey says. The talk show host says she's willing to do whatever it takes to get her candidate elected.

"If he wants me to," she says, "I'm ready to go door to door."
[From Us Weekly]
Gwyneth Paltrow:
"I don't feel there's any lip service with [Obama]. I don't feel like he's one of those jaded politicos who say one thing and are talking out of both sides of their mouth. I also feel we've done such damage to our reputation – and as someone who lives outside America for half the year, I overhear things that I wish I didn't overhear. A lot of people in the West think that we're not very sensitive to the rest of the world, and I think that having a president called Barack Hussein Obama in 2008 says that we are part of the world, and we don't want to make unilateral decisions about the fate of all of us. I just pray to God that he wins."
[From Harper's Bazaar via The Huffington Post ]
Kate Walsh:
"I think this is a great movement in American history," Walsh tells Us exclusively. "The American people want a change in their government and Barack Obama is the best person to lead and serve and bring about the real changes people want. I am thrilled."
[From Us Weekly]
While people should certainly make up their own minds about who they're going to vote for, right or wrong, celebrities can have an impact. Bill Clinton's celeb connections were widely believed to positively impact his image in 1992. Obama seems to have gotten a massive amount of Hollywood support without directly courting it. The next five months will be very intense, and hopefully a time of great change.
Here's Senator Barack Obama delivering a speech at the American-Israeli Public Affairs Committee (AIPAC) yesterday. As a result, he was officially unendorsed by Hamas. Photos from Barack Obama's official Flickr photo stream.