Official pictures of Avril Lavigne's wedding, including the reception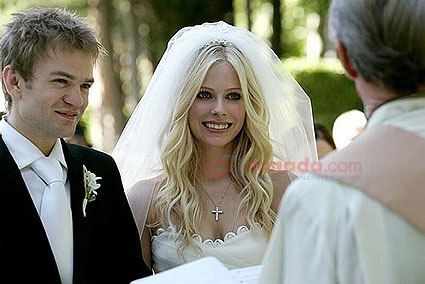 Avril Lavigne and Deryck Whibley were married last weekend in California, and Canada.com has the official photos. They're low quality, but clear and lovely, and show the happy couple exchanging rings, kissing, eating the cake, and taking off Avril's garter during the reception. Picture captions include details such as the chandelier that hung from the flower-draped awning under which they were married, and their four-tiered half-chocolate half-vanilla wedding cake.
Avril says that the ceremony was an emotional moment for her, and that she did her best to keep poised:
"I almost started crying as soon as I started walking down the first set of stairs," Avril told ET Canada. "I just told myself: 'You can't cry now, it's the beginning.' So I had to hold it all in and I wanted to keep my composure. And I did."
Guests took home guitar picks with the bride and groom's name, and custom gift boxes. I wonder how long it will take before they hit eBay.
Pictures from Canada.com. Some higher resolution candids of the cermony that were not published here before are at the end and are from ALavigne.com.br.
Written by Celebitchy

Posted in Avril Lavigne, Deryck Whibley, Photos, Weddings

- Who butchered the National Anthem? [D-Listed]
- Rob Lowe never ages [Lainey Gossip]
- What is Vanessa Hudgens wearing? [Go Fug Yourself]
- Summer guide to reality TV [Reality Tea]
- Game of Thrones recap [Pajiba]
- Tan Mom's music video [Buzzfeed]
- Amanda Knox is broke [Starcasm]
- Backstage at the Billboard Awards [Popsugar]
- Miley is still stuck in the 90s [Popoholic]
- Blind Items revealed: Adam Levine [CDAN]
- Hugh Hefner bought Crystal Harris a house [Celebslam]
- What happened to Aimee Teegarden? [The Blemish]
7 Responses to "Official pictures of Avril Lavigne's wedding, including the reception"