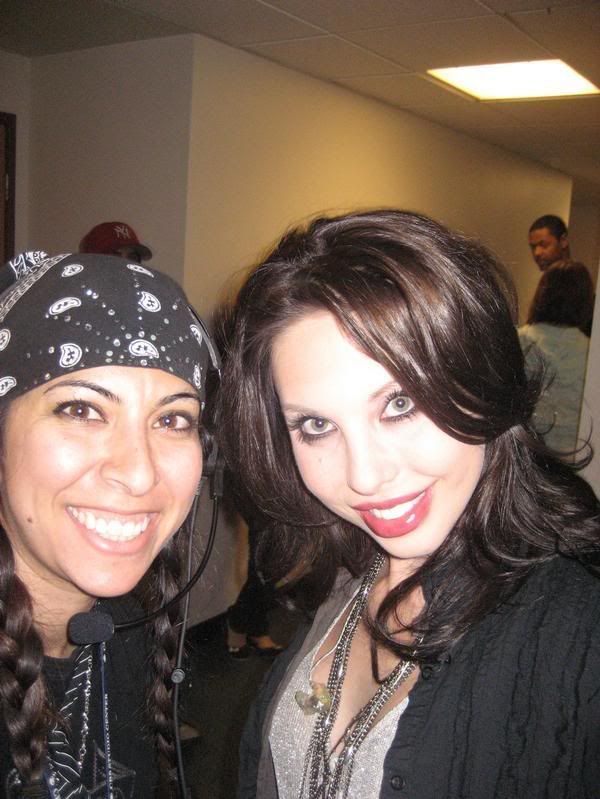 It can't be easy having a beautiful, talented, adored mom like Olivia Newton-John. And that pressure has definitely taken its toll on her daughter, Chloe. Back in 2007, she was photographed looking frighteningly thin, and later the family issued a statement that young Chloe was being treated for severe anorexia. Most recently, Chloe was seen on the reality show "Rock the Cradle," a talent competition for the offspring of celebs. Chloe finished third on that show, and proved that she does have some talent. But most people who saw her on that show couldn't get past the size of her obviously enhanced lips. Since the show ended, Chloe's lips have gotten even bigger and she's had a nose job, too.
Chloe Lattanzi has the voice to rival her famous mom Olivia Netwon-John, but it looks like the 22-year-old, who recently placed third on MTV's music competition Rock the Cradle, has decided to give nature a helping hand by plumping her lips way up and whittling her nose!

"I think she definitely had a procedure to increase the size of her lips," Dennis Hurwitz, M.D, director of the Hurwitz Center for Plastic Surgery tells Star. "She may have used a temporary filler."

Restylane and Juvederm are popular and go for about $800 per four-month treatment. "Or she may have had a permanent fat graft or silicone implant that would cost $5,000," explains Dr. Hurwitz.

Unfortunately, he adds, "She's overdone her lips. They have an unnatural, pouty look."
[From Star print version, June 23, 2008]
You can say that again! This girl is so young – it makes no sense for her to be messing with her face like this. The photos of Chloe taken prior to her surgeries reveal a very pretty girl, so I can't understand why she would elect to make her lips look so grotesque. And furthermore, what reputable plastic surgeon would agree to make someone's face look that way? I suppose if the price is right, it doesn't matter to the doctor.
I guess when you are young and rich from your famous parent, there isn't much else to do besides hate on yourself and mutilate your face. It's really sad. Whatever the case, it's clear between her bout with anorexia and her excessive surgery that the girl isn't happy with her appearance. Hopefully her mom can convince her to get some help with her issues before she goes to another plastic surgeon.
Picture note by Celebitchy: Chloe and her mom, Olivia Newton John, are shown on 12/10/05 below at Grammy Jam, thanks to PRPhotos. She's shown in the header in a photo with her backup dancer from Mani's myspace, and below in an early May still from "Rock the Cradle," thanks to Splash.
Before: 12/10/05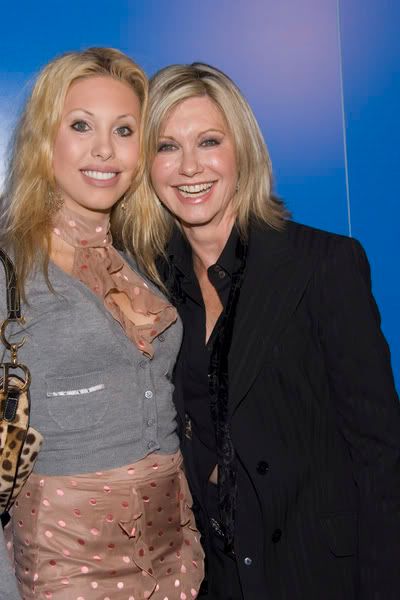 After: May, 2008