Kid Rock put in Swiss jail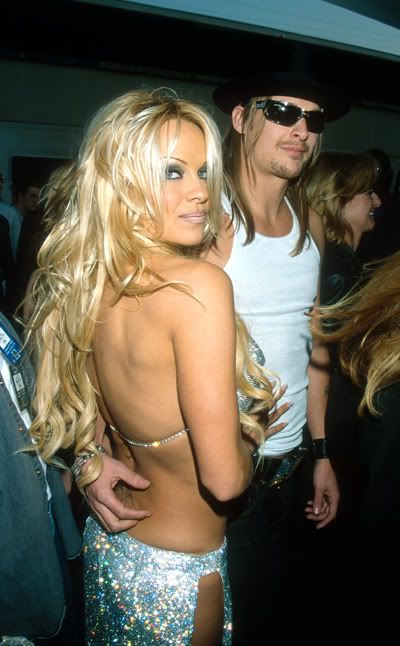 Kid Rock was temporarily placed in jail in Switzerland after a man was injured in a fight in his hotel room. It is assumed that he was involved:
Rock – real name Robert Ritchie – had been in the country to perform at the Montreux Jazz Festival on 30 June but was thrown into the clink after a brawl in his room left a man injured.
However, Rock, who has just got engaged to his longtime on/off girlfriend Pamela Anderson, was released without charge and is looking on the bright side of the incident – he's going to write a new song about it.
He chortles, "I just gotta figure out what rhymes with Switzerland!"
I live in Switzerland, and am continually amazed at how clean and well run everything is. The public pool near my house is nice enough for a four star resort, and I was at a rest stop by a clear lake with views of the alps last week. If Kid Rock was in jail, it was probably clean and totally adequate, if not comfortable.
Meanwhile Rock is engaged to buxom has-been Pamela Anderson, and there's a pretty believable rumor that they may get married next weekend:
Kid Rock and his new fiancée, Pamela Anderson, could be man and wife as early as next weekend, according to US reports.
The couple, who renewed their romance in St Tropez, France just two weeks ago before announcing their engagement, are reportedly planning a July 29 wedding.
According to American magazine Us Weekly, the couple is planning to exchange vows onboard the yacht where they fell in love all over again in St Tropez.
They are said to be planning a medium-sized wedding with 50-100 of their friends. I read on a bulletin board that they were already married, but I haven't seen that news anywhere else and don't think it's true.
Here is Pam Anderson on the beach in St. Tropez, because who really wants to look at pictures of Kid Rock? [via] It must be hard to find a colorist in the south of France. Kid Rock and Anderson are also shown at random older events.
Written by Celebitchy

Posted in Fights, Kid Rock, Pamela Anderson, Weddings

- Mariah Carey lip synced on American Idol [CDAN]
- Colin Firth is looking good [Lainey Gossip]
- Internet celebrity charged with murder! [D-Listed]
- What is Paz Vega wearing? [Go Fug Yourself]
- New bachelors on The Bachelorette [Reality Tea]
- Goodbye to The Office [Pajiba]
- Bachelor Sean's fiance cheats on him [Evil Beet]
- Britney Spears out with her man [Popsugar]
- Nina Dobrev works it [Popoholic]
- Cindy Crawford needs to lay off the 'tox [Celebslam]
- Who said it: Carrie Bradshaw or The Dalai Lama? [Buzzfeed]
One Response to "Kid Rock put in Swiss jail"