Shiloh Nouvel Jolie-Pitt to be the first wax baby at Madame Tussauds
A wax figure of newborn Shiloh Nouvel Jolie-Pitt will be unveiled at Madame Tussaud's museum today. The famous baby will be placed in an African-themed manger display. Just like her philanthropist parents, little Shiloh is earning even more money for charity:
Brad Pitt and Angelina Jolie's daughter Shiloh Nouvel Jolie-Pitt, has been chosen to be the first infant ever memorialized in wax by Madame Tussauds.
The wax statue of Shiloh will be unveiled today. As sources claim the statue will be displayed in an 'African-themed nursery' where it will rest in a woven basket. Waxen figures of Brad and Angelina will also be displayed beside Shiloh.
Visitors to the NY exhibit will be allowed to pose with waxen Jolie-Pitt tableau and Madame Tussauds has announced to donate $1 from every picture purchased to UNICEF. That's great a two months old baby is able to make so much of money for other less privileged kids. Shiloh's first pictures were sold for $4.1 million and the proceedings were given to charity.
When the pictures come out, we'll publish them here. In the meantime, here are the first pictures of little Shiloh that you've already seen. The little wax baby must be based on these. Awww.
Thanks to Celebguru for the story!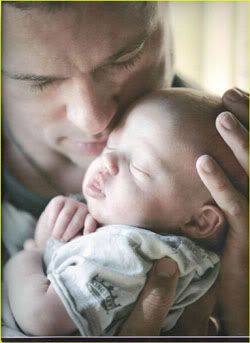 Written by Celebitchy

Posted in Angelina Jolie, Babies, Brad Pitt, Brangelina

- Friends reunion on Ellen [Popsugar]
- Lindsey Vonn watches Tigers kids [Lainey Gossip]
- George Michael fell out of a car going 70mph [D-Listed]
- Real Housewives of Orange County recap [Reality Tea]
- New Man of Steel trailer [Pajiba]
- Jared Padalecki's hot bod [Buzzfeed]
- Doctors confirm Taylor Swift's new boobs [Evil Beet]
- Catherine Zeta-Jones finished treatment [CDAN]
- Anna Paquin hates the paps [Celebslam]
- Lance Armstrong is gross [The Blemish]
- What is Barbara Palvin wearing? [Moe Jackson]
- This is Petra Nemcova? [SVC]
4 Responses to "Shiloh Nouvel Jolie-Pitt to be the first wax baby at Madame Tussauds"