Angelina Jolie and Brad Pitt are sleeping apart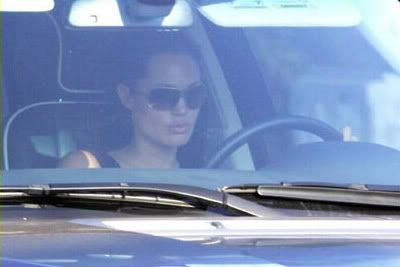 Their newborn is just over two months old, so this isn't that shocking, but Brad Pitt and Angelina Jolie are repotedly sleeping apart because Angelina wants to be near Shiloh while Brad needs his beauty sleep:
Sleep-loving Brad Pitt has apparently moved into a separate bedroom as Angleina Jolie takes care of the their baby Shiloh.
The Fight Club star is supposedly struggling to get his beauty sleep in following Shiloh's birth in May, so has decided to sleep in a different room to his gorgeous lover whilst she stays with their infant daughter.
A source tells The People, "She wants to keep an eye on her. Brad needs his sleep but he helps when he can."
This sounds like the time they were staying in that slum in Paris and Brad had to sleep on the couch because Angelina was pregnant and taking up the whole bed.
Star Magazine is reporting that Angelina is not happy with her stretch marks and post-partum body and that's the real reason she's keeping Brad out of the bedroom. She supposedly doesn't want to have sex, which is worrying Brad, but she just had a baby and that sounds pretty normal.
Dana at Dana's Dirt says that Angelina better put out soon or Brad will lose interest:
Brad's actually quite concerned but she's in denial and won't get help… and he's worried because she was usually so into sex and now she isn't… I guess that's normal, it's only been a few months, but he might start to get a wandering eye if she keeps holding out on him….
If he did it with you, he'll do it to you ANGELINA!
Here's Angelina driving around, looking fierce. Shiloh is said to be in the back seat, but that's not big news since it's not like Suri, whose supposed baby seat or stroller has never been photographed.
Pictures from Just Jared.
Written by Celebitchy

Posted in Angelina Jolie, Babies, Brad Pitt, Brangelina, Photos, Relationship trouble

- Friends reunion on Ellen [Popsugar]
- Lindsey Vonn watches Tigers kids [Lainey Gossip]
- George Michael fell out of a car going 70mph [D-Listed]
- Real Housewives of Orange County recap [Reality Tea]
- New Man of Steel trailer [Pajiba]
- Jared Padalecki's hot bod [Buzzfeed]
- Doctors confirm Taylor Swift's new boobs [Evil Beet]
- Catherine Zeta-Jones finished treatment [CDAN]
- Anna Paquin hates the paps [Celebslam]
- Lance Armstrong is gross [The Blemish]
- What is Barbara Palvin wearing? [Moe Jackson]
- This is Petra Nemcova? [SVC]
6 Responses to "Angelina Jolie and Brad Pitt are sleeping apart"