Penelope Cruz in a bikini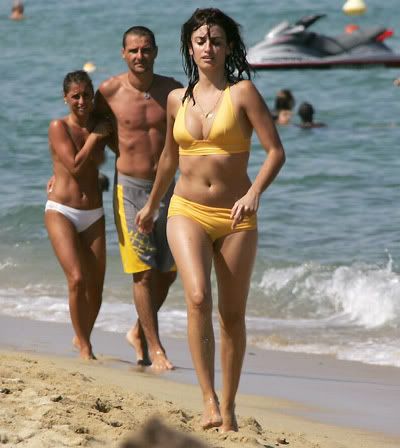 Penelope Cruz says that acclaimed Spanish director Amoldovar made a "woman" out of her in the soon-to-be-released "Volver." Her butt was specially enhanced for the film, and Cruz enjoyed playing a role that was, uh, meatier than she's typically cast in:
'Pedro made a woman out of me,' Penelope laughed. 'He kept the camera always on my breasts and my bottom. He said my breasts should look like I have been a mother, and so should my bottom. He wanted the bottom to be very big so he worked with the costume designers to fit the dresses and skirts so that I would look as if I had an ample bottom.'
When I started working at 16, the kind of parts I was offered were always interesting but, of course, all had elements of being the girl.
'But I think if I want to have a long career I have to look for the meat on the part, and the meat doesn't have to be the butcher's best cut. Some of the roughest cuts are the sweetest,' she proclaimed.
That means not limiting her energies to Hollywood fare. 'I would never leave Europe. Here, women work when they are older; it's part of the culture, despite the obsession with weight and looks.
She says that she looks forward to working when she's 50, and getting more of those meatier roles.
Penelope Cruz looks great in a bikini and shopping on 7/30 with what one bulletin board poster describes as "a gay guy." She is in Hollywood's playground, Saint Tropez. Some of the pictures have a woman topless in the background and are sort of NSFW.
It's probably true that Cruz' companion is gay, but he must not have very good self esteem if he let her go out in an orange dress while carrying a purple purse.
Pictures [via]
Written by Celebitchy

Posted in misc

- Zach Galifianakis is awesome [Buzzfeed]
- Prince at the Billboard Music Awards [D-Listed]
- Bieber's Billboard look [Go Fug Yourself]
- Married to Medicine recap [Reality Tea]
- Celebrity first marriages [Pajiba]
- The last Mad Men baffled a lot of people [Lainey]
- Karolina Kurkova's crazy hot dress [Moe Jackson]
- Jennifer Garner on set [Popsugar]
- Kitten vs. Lizard [CDAN]
- Doetzen Kroes' great butt [Celebslam]
- Shameless star Jeremy Allen White [OMG Blog]
- RIP Ray Manzarek [Bossip]
One Response to "Penelope Cruz in a bikini"