Eddie Murphy might retire from making movies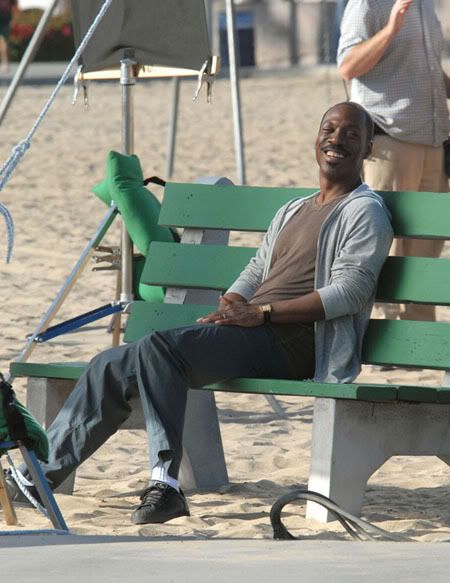 Once the biggest box office draw in Hollywood, Eddie Murphy's career over the last 10 years has been iffy at best. For every decent performance, like the ones he gave in "Bowfinger" and "The Nutty Professor," there are 5 or six really horrible movies, such as "Norbit," "Pluto Nash," "The Haunted Mansion," "Showtime," and "Beverly Hills Cop 3." If it weren't for the "Shrek" movies, he'd have no successful films at all in the last decade. It looks like Eddie's decided that film is no longer his medium of choice, anyway: the actor dropped some hints in a recent interview that he's looking to get back into standup comedy instead.
Eddie Murphy has hinted he wants to retire from acting.

The 'Beverly Hills Cop' actor is considering returning to his previous career as a stand-up comedian.

He told US TV show 'Extra': "Thirty years and I have close to 50 movies and it is like, 'Why am I in the movies? I've done that part now. I'll go back to the stage and do stand-up.' "

Although Eddie, 47, confirmed 'Beverly Hills Cop 4′ is in production, he admitted he didn't want to do it because it "wasn't ready to be done".

The actor also confessed he isn't a fan of 'Beverly Hills Cop 3′ but was motivated to sign up to the sequel by the huge money on offer.

He said: "The third one was horrible, so I didn't want to do another one.

"The producers wrote some s**t down on paper and I said, 'Is this your phone number?' and they said, 'This is how much we're going to pay you.' I said, 'Let's go shoot it! I don't care if the script isn't right.' "

Meanwhile, 'Beverly Hills Cop 4′ director Brett Ratner has hit out at reports that the movie will have a PG rating.

He said: "Don't believe everything you read on the internet. Believe me, this is going to be a hardcore 'R' Beverly Hills Cop. I start shooting next year."
"'This is how much we're going to pay you.' I said, 'Let's go shoot it! I don't care if the script isn't right.'" Well, he may be a money grubbing whore, but at least Murphy is honest about his motivation. I'll bet that is the exact conversation that got Harrison Ford to do this last Indiana Jones movie. But I do have to wonder if Murphy could still cut it as a standup comedian after living the pampered Hollywood life all these years. Jerry Seinfeld tried it, and his new material just wasn't the same. And something tells me that Eddie's famous "She got half" routine just wouldn't be as funny these days, what with a love child he doesn't acknowledge and a wife of less than a week. And if he was only considering retirement before, perhaps after this latest movie, "Meet Dave," comes out, he'll really start looking into it. It looks like yet another steaming pile of turd.
Eddie Murphy is shown filming scenes in Santa Monica on 6/17/08, thanks to WENN.
Written by MSat

Posted in Careers, Eddie Murphy

- Harry Styles & Kimberly Stewart going strong [Lainey]
- Demi Moore's new man is gross [D-Listed]
- Fug or fab: Emma Stone [Go Fug Yourself]
- Arrest warrant issued for Jenelle Evans [Reality Tea]
- Only God Forgives review [Pajiba]
- Hugh Jackman, scooter master [Buzzfeed]
- Who does Drew Barrymore call her sister? [Evil Beet]
- Cannes couples past and present [Popsugar]
- Arrested Development supercut [CDAN]
- Lea Michele's see through skirt [Celebslam]
- Cheating wife's lover escapes out of window [Movin925]
- Joe Francis is crazy [Starcasm]
20 Responses to "Eddie Murphy might retire from making movies"