Khloe Kardashian spends 173 minutes in jail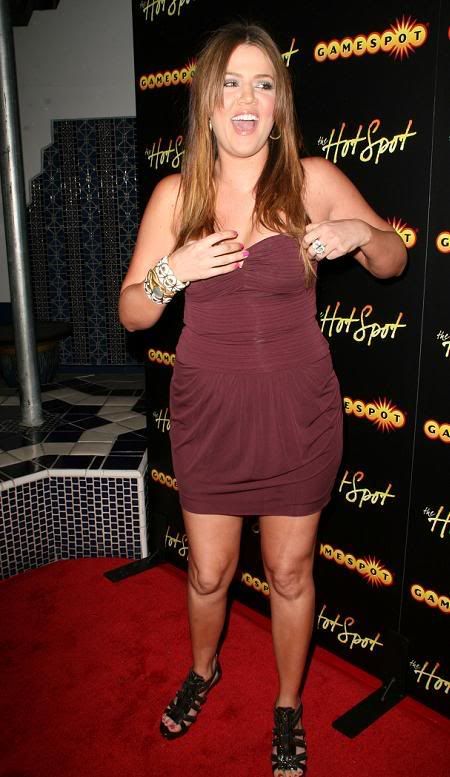 Khloe Kardashian. Just the name makes me want to sucker punch someone in the face. Yeah, I'm that kind of girl. Or at least I'm in that kind of mood. I understand that Kim, Kourtney, and Khloe's mom Kim likes Ks. Great. Awesome for you. But she managed to give Kim a normal K name, instead of finding some dumbass way to spell an otherwise good C name. Is it any wonder Kim is the only "successful" Kardashian daughter? Khloe's racking in the DUI's, Kourtney is… well I don't know what the hell she's doing, but that's my point. I blame this whole debacle on their mom.
Because her name sucks, Khloe sucks, so Khloe got a DUI. She was ordered to serve 30 days in jail [People originally erroneously reported that it was 3 days – which we repeated here], which of course in Los Angeles translates to several minutes. Khloe was in and out in under three hours – not exactly record time, but you could see how they wouldn't be as worried about her as they were with someone like Nicole Richie or Lindsay Lohan.
With the jails too full of more serious offenders to find room for her, Khloe Kardashian served less than three hours of her 30-day sentence on Friday in a DUI case. Kardashian, 24, who appears on E!'s Keeping Up With the Kardashians, was processed into the Lynwood, Calif., jail for women at 10:36 a.m. and released at 1:29 p.m., according to the Los Angeles Sheriff's Department.

The department, which runs the city's jails, has an early-release policy for nonviolent offenders due to overcrowding. Kim Kardashian's younger sister was sent there after she surrendered to the Van Nuys courthouse and was booked at 8:52 a.m. The Lynwood jail is the same facility that housed Paris Hilton for most of her term in an alcohol-related driving case.

Kardashian served her brief time for violating probation following a DUI arrest. Kardashian was arrested for DUI in March 2007, and was sentenced to three years probation. On July 3, she was sentenced to 30 days in jail after failing to complete roadside cleanup duty and enroll in an alcohol education class.
[From People]
I understand that DUIs are generally considered nonviolent crimes. I can see why women sentenced for them don't put in as much time as murderers. But I think it sends a really bad message. Khloe Kardashian knew that she could do something she didn't want to do – roadside cleanup duty – or she could go to jail for three hours. It makes sense she chose jail instead of doing her time properly.
Starlets know they won't have to pay any real consequences. Part of her sentence was to do something she didn't like – and do it for a while. Probably in the sun. Photographers would probably show up. It would be embarrassing. Why should someone as grand as Khloe Kardashian stoop to that level? Going to jail was much easier and more dignified for her. Of course we'd be talking about a whole different story if she knew she had to serve 30 entire days. Then we'd have some great pics of Khloe dragging a bag around a freeway.
Considering her choices, I no longer feel badly calling Khloe the behemoth monstrosity that she is.
Here's Khloe outside the Villa Lounge in Los Angeles on Tuesday. Images thanks to WENN.
Written by JayBird

Posted in DUI, Jail, Khloe Kardashian, Legal Troubles

- The Blemish interviews Carmen Electra [The Blemish]
- Rumer Willis joins Pretty Little Liars [Lainey Gossip]
- Morgan Freeman falls asleep during interview [D-Listed]
- Fug or fab: Isla Fisher [Go Fug Yourself]
- Tamra Barney confirms spinoff [Reality Tea]
- Movie franchises that rebounded [Pajiba]
- Why Dylan McKay is the perfect boyfriend [Buzzfeed]
- Saoirse Ronan could have been a Lohan [Evil Beet]
- GIFs from Cannes [Popsugar]
- Cat massages a dog [CDAN]
- Heather Graham is so pretty [Celebslam]
- What is Lucy Hale wearing? [Moe Jackson]
23 Responses to "Khloe Kardashian spends 173 minutes in jail"