Leighton Meester for Allure: completely awkward or totally adorable?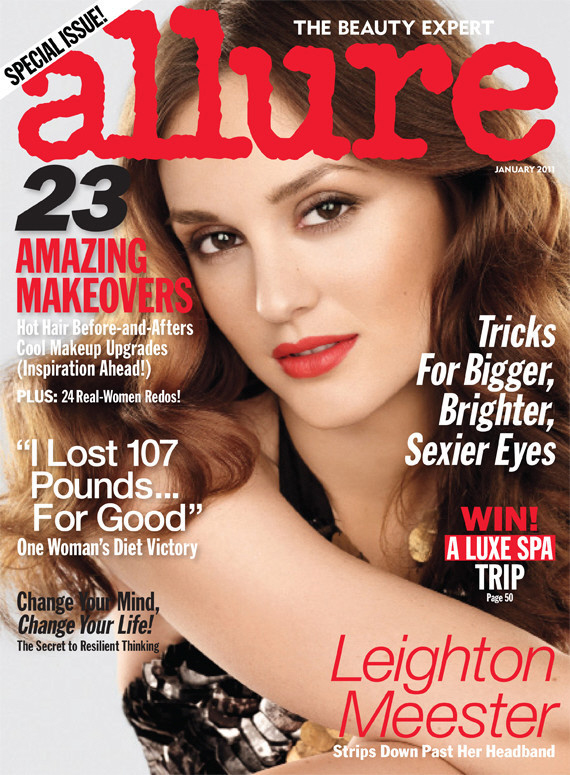 Leighton Meester is the cover girl for the January issue of Allure Magazine, to promote her supporting role in Country Strong, the musical that was just SHUT OUT of the Golden Globes (poor Goopy). I know many of you don't care about her, but I really like Leighton. I think she's way prettier than Blake Lively, and more interesting too. I think she's pretty in that really adorable/cute way, much like Rachel McAdams, who I think looks like she could be Leighton's sister. But why did Allure take such a cute girl and make her pose like this for the cover? It's so… awkward. And fug. It makes it seem like the real cover star is Leighton's arm, not her face. Ugh. Here are some highlights from the interview:
On the Chuck and Blair love affair:
"I can really relate to it–not necessarily because it's this dramatic, tumultuous relationship, but because the way they love each other is very real, and not for the sake of being dramatic. It's actual love. There's nobody for each other but them."

On her former life as a partier:
"We had craaaazy parties, we had DJ's, bands, an ice luge, a fire twirler. One of my roommates burned off her bangs on the stove trying to light a cigarette."

On Country Strong:
Meester has a string of promising movies on the way, including Country Strong, a Nashville drama in which she sings and costars with Gwyneth Paltrow and Tim McGraw. "Gwyneth's just chilled out, well-balanced," Meester says. She's not uppity in any way. She's got a family and kids and a really healthy lifestyle." And her take on McGraw? "He's a prankster, a flirt. He'll make up a little song about you. He's got a devious twinkle in his eye." When Country Strong wrapped, Paltrow and McGraw presented Meester with a meaningful parting gift: "A guitar," she says, with a flicker of pride. It has become Meester's constant travel companion; she's teaching herself to play and has begun writing songs that are very different from the perky dance music she's recorded in the past. "The stuff I'm doing now is a little more complementary to my heart and my vibe," she says.

On her ex, Sebastian Stan:
In her early 20s, Meester was in a relationship with actor Sebastian Stan, who appeared on Gossip Girl, but she's enjoying being single these days. "I don't see the point in dating. I hate it," she says. "It's wonderful to be in love. And it's definitely wonderful to cuddle and have sex and get to experience life with somebody. But it's OK if you don't find him and you're 24. You can find it someday."

On the supposed rivalry with costar Blake Lively:
For years, the actress has batted away speculation of friction between herself and Gossip Girl costar Blake Lively. "It's unfortunate when women are pitted against each other," Meester says. "Like with Sex and the City. People say, 'They're jealous of each other.' Come on! They're all rich, successful, great actresses." In a breathless voice, she mocks the male-driven stereotype of the Hollywood catfight: "'When women fight, it's usually with pillows and in bras and panties! Sometimes, they accidentally kiss!'"

On working out:
"I hate working out for the sake of working out—it's a chore. I hate going to the gym, and I don't really care to do it," says Meester. "The one thing I love is yoga, and I do it at least four or five times a week. It's pretty fast-paced. I never get bored."

On her love life:
"It's wonderful to be in love. And it's definitely wonderful to cuddle and have sex and get to experience life with somebody. But it's OK if you don't find him and you're 24. You can find it someday."
See, she's a better interview too, as opposed to Blake Lively's Anna Wintour name-dropping. I would like to see Leighton with someone really interesting too – part of me wants to see her with Ed Westwick, but that's probably a no-go. Who is single? Let's see… Garrett Hedlund? Ooh… how about Colin Farrell? THAT would be hot.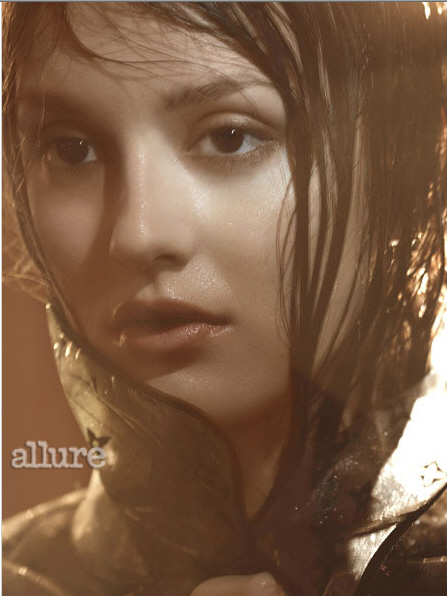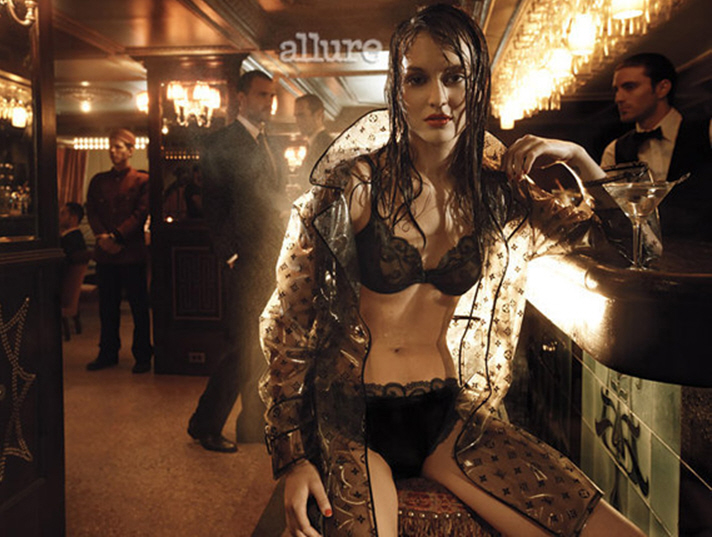 Photos courtesy of Allure.

Written by Kaiser

Posted in Leighton Meester

- Mariah Carey lip synced on American Idol [CDAN]
- Colin Firth is looking good [Lainey Gossip]
- Internet celebrity charged with murder! [D-Listed]
- What is Paz Vega wearing? [Go Fug Yourself]
- New bachelors on The Bachelorette [Reality Tea]
- Goodbye to The Office [Pajiba]
- Bachelor Sean's fiance cheats on him [Evil Beet]
- Britney Spears out with her man [Popsugar]
- Nina Dobrev works it [Popoholic]
- Cindy Crawford needs to lay off the 'tox [Celebslam]
- Who said it: Carrie Bradshaw or The Dalai Lama? [Buzzfeed]
30 Responses to "Leighton Meester for Allure: completely awkward or totally adorable?"