Christina Aguilera's childhood abuse heartache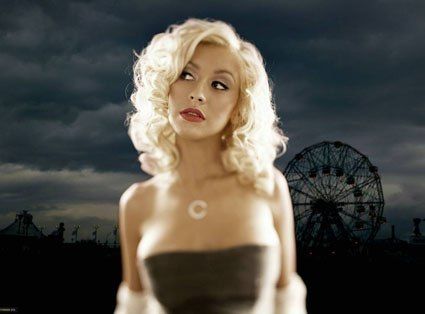 Christina Aguilera told USA Weekend magazine that she suffered from her father's abuse while her family was stationed on a military base. She says that domestic abuse is common on military bases in her experience. Starpulse runs the quote from the article with commentary that she's "attacking" military bases, but she seems to be speaking about her childhood and doesn't overgeneralize:
Speaking exclusively to USA Weekend magazine, Aguilera says, "We lived on Army bases when I was little, and it (domestic violence) was happening a lot. The MPs (military police) would come, but a lot of them were doing the same things (to their wives and kids). I was surrounded with domestic violence, not only in my home but my friends'."
Aguilera has never been one to shy away from the abuse she experienced as her mother and father fought and often writes about her memories in songs like "I'm OK" and new song "Oh Mother."
She adds, "It's therapeutic for me to talk about it. It gives me a reason to understand why I went through what I did."
That's too bad that Christina had to go through that as a child and it's good that she found a decent man like Jordan and didn't pick another creep like her dad. It's hard to take her seriously as a person, though, when it's rumored that she doesn't even look interviewers in the eye. Still, she should be commended for talking about her difficult childhood.
Here is Christina in a Robert Sebree Photoshoot (via Gossipin) and in Seventeen Magazine (from Hollywood's Best)
Written by Celebitchy

Posted in Abusive, Christina Aguilera, Magazines, Photos

- The Blemish interviews Carmen Electra [The Blemish]
- Rumer Willis joins Pretty Little Liars [Lainey Gossip]
- Morgan Freeman falls asleep during interview [D-Listed]
- Fug or fab: Isla Fisher [Go Fug Yourself]
- Tamra Barney confirms spinoff [Reality Tea]
- Movie franchises that rebounded [Pajiba]
- Why Dylan McKay is the perfect boyfriend [Buzzfeed]
- Saoirse Ronan could have been a Lohan [Evil Beet]
- GIFs from Cannes [Popsugar]
- Cat massages a dog [CDAN]
- Heather Graham is so pretty [Celebslam]
- What is Lucy Hale wearing? [Moe Jackson]
4 Responses to "Christina Aguilera's childhood abuse heartache"