Lindsay Lohan announces Samantha is taken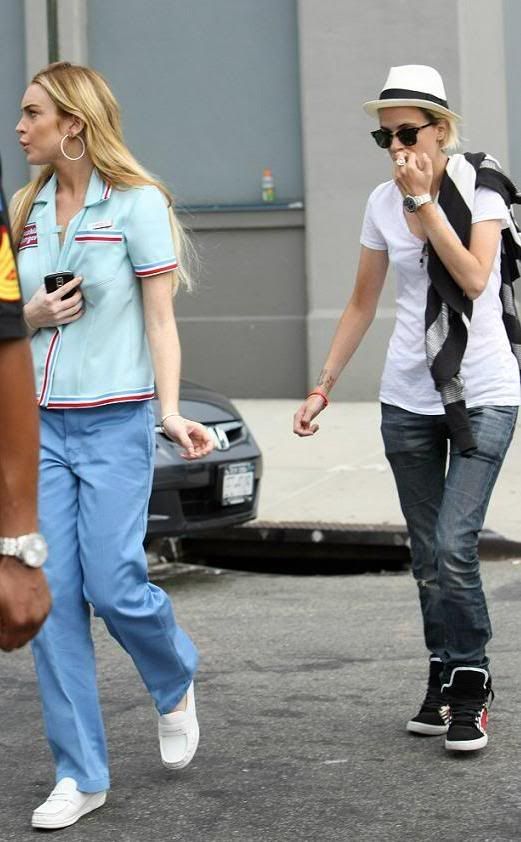 Lindsay Lohan seems to be only about two steps away from officially announcing her relationship with Samantha Ronson to People. Linds followed Sam to her DJ gig at the Ultimate White Party at Shrine at the MGM Grand in Connecticut. Apparently she was pretty shy at first, generally hiding out in the deejay booth for most of the evening. But later on the Lohan we all know (and sorta/kinda/maybe love) emerged, as Lindsay mingled with the crowd and photographers.
… Seated in front of a black door, Lohan kept her head down, and alternated between sipping from Ronson's sake glass and a bottle of water. She didn't even dance until Ronson played Aerosmith's "Walk This Way." But her self-consciousness set in after the camera flashes started, and she retreated to the corner.

Later in the night Lohan grabbed one lensman's camera and was overheard saying, "I want to show all these people how it feels, so I'm going to take their picture," before going berserk with it. Running from side to side of the DJ booth, Lohan snapped a few pictures of Ronson while she was spinning before turning the camera on the crowd. Guests seated next to the booth were the subjects of a particularly long series of pictures because Lohan thought, "they look the sketchiest."

At 1am, when the party wrapped up, Lohan grabbed the microphone and declared, "She's taken!" after everyone began yelling Ronson's name. Security moved quick when the crowd of 1,200 partiers wasn't leaving the venue. "Lindsay snapped a little bit, and said she needed to get out of there right away. The lights were on, everyone could easily see her and they were all trying to get a picture," said one insider.
[From the Daily News]
OK! Magazine claims that the phrasing was a little different, and what Lindsay actually said was, "'And no she's not single!'" But the point is still pretty much the same. It seems like the two are obviously becoming more and more comfortable with their relationship, and slowly making clear that the rumors aren't just rumors. On a side note, I did find the description of Lindsay's behavior with the camera kind of annoying, in a vintage Lohan fashion. Regardless, I bet we see the two of them announcing their love on the cover of People within the next two months.
Here Lindsay and Sam on the set of Ugly Betty on Tuesday in Queens. Images thanks to Fame.
Written by JayBird

Posted in Gay Issues, Lindsay Lohan, Relationships, Samantha Ronson

- Harry Styles & Kimberly Stewart going strong [Lainey]
- Demi Moore's new man is gross [D-Listed]
- Fug or fab: Emma Stone [Go Fug Yourself]
- Arrest warrant issued for Jenelle Evans [Reality Tea]
- Only God Forgives review [Pajiba]
- Hugh Jackman, scooter master [Buzzfeed]
- Who does Drew Barrymore call her sister? [Evil Beet]
- Cannes couples past and present [Popsugar]
- Arrested Development supercut [CDAN]
- Lea Michele's see through skirt [Celebslam]
- Cheating wife's lover escapes out of window [Movin925]
- Joe Francis is crazy [Starcasm]
33 Responses to "Lindsay Lohan announces Samantha is taken"