Charlize Theron and Stuart Townsend's big fight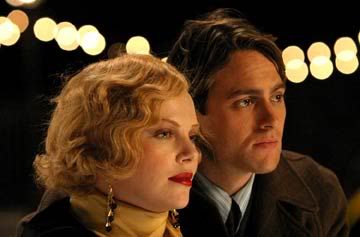 Oscar winner Charlize Theron and her boyfriend of five years, Irish actor Stuart Townsend, are said to have had a spat while out a Hollywood restaurant last week. The Mirror reports that Charlize showed up 45 minutes late for dinner and that Stuart lectured her for it in front of their embarassed friends:
The couple, who've been dating for five years, had agreed to meet [at the Hungry Cat restaurant in Hollywood] before attending a Radiohead concert with two pals last week.
But 33-year-old Irish hunk Stuart was afraid Charlize had messed up their schedule and launched an ugly attack when she finally arrived. The 31-year-old Monster actress pleaded with her man to forgive her for being late – but Stu didn't seem in the mood.
A source at the restaurant tells us: "Charlize sat teary eyed as Stuart acted like a schoolmaster, lecturing her in front of their friends – like she was a tardy student."
Diners looked shocked as Stuart's diatribe went on and on.
"Charlize kept trying to apologise, but he wouldn't let it go, calling her rude in front of their two guests," adds the source.
The scolding subsided momentarily while a waitress took their meal orders, with Charlize ordering only a drink.
Says our mole: "Charlize was really embarrassed. She pleaded: 'I'm so sorry I was late, and I'm sorry you had to wait.
But I'm here now,' before soothing him with kisses and caresses until he finally let up.
"He eventually gave in and said: "I forgive you, but don't let it happen again." A restaurant employee confirmed: "Charlize and Stuart did come in for dinner last week. They came before a Radiohead concert. They were very late to their table."
This might have happened, but The Mirror lost all credibility for me when they claimed Nicole Kidman was out at a party when she was really outside the Creative Artists offices.
I wouldn't be surprised if they only information they had is that Charlize was late to dinner while her boyfriend and their friends waited.
What I want to know is when are these two getting married? They had some trouble back in March, with reports that they had broken up, but now that they're back together and supposedly doing fine it's about time Townsend popped the question. Charlize has been wearing what looks like an engagement ring on her left ring finger, so these two may be engaged already.
Written by Celebitchy

Posted in Charlize Theron, Relationship trouble, Stuart Townsend

- Zach Galifianakis is awesome [Buzzfeed]
- Prince at the Billboard Music Awards [D-Listed]
- Bieber's Billboard look [Go Fug Yourself]
- Married to Medicine recap [Reality Tea]
- Celebrity first marriages [Pajiba]
- The last Mad Men baffled a lot of people [Lainey]
- Karolina Kurkova's crazy hot dress [Moe Jackson]
- Jennifer Garner on set [Popsugar]
- Kitten vs. Lizard [CDAN]
- Doetzen Kroes' great butt [Celebslam]
- Shameless star Jeremy Allen White [OMG Blog]
- RIP Ray Manzarek [Bossip]
3 Responses to "Charlize Theron and Stuart Townsend's big fight"