Lisa Marie Presley expecting twins

Lisa Marie Presley is the latest celebrity to join the twin trend. I was desperate to have them, reducing my fat pregnant prison sentences by nine months, and now we've got people popping them out all over Hollywood. For Lisa Marie, the source of the twins is no mystery since they run on both sides of her family:
The singer's mother, Priscilla Presley, has confirmed her daughter is expecting a double bundle of joy this autumn.

Priscilla reveals, "She wanted it really to be kept a secret for a long time, and I think women should, because they should be able to announce what they're having and when it's time to make the announcement."

The new arrivals will follow a family tradition – Lisa Marie's rock legend dad, Elvis, was a twin, and Priscilla has twin brothers.
I wouldn't call twins a 'family tradition' when it is really more genetics. With twins on both sides of the family I'm surprised that Lisa Marie hasn't had twins during one of her previous pregnancies. She has a 19-year old daughter Dannielle and a 16-year-old son Benjamin from her first marriage. She is currently married to music producer Michael Lockwood.
I'm not sure how Lisa Marie feels about her mother blabbing all around town that she's having twins, I have a family member who can't keep his mouth shut, so now he's always the last to know news. I want to tell people myself! Priscilla has in the past sort-of confirmed the twins to paparazzi. I think she's just very excited – it must be nice to have new grandbabies when your others are getting all grown up.
I'm not sure when Lisa Marie is due to have her babies but it must be getting close as Pink threw her a baby shower last weekend, and it is six months since the news of her pregnancy was confirmed.
Other celebrity mothers to have twins or announce twin pregnancies include Jennifer Lopez, Rebecca Romijn, Marcia Cross, Julia Roberts, Angelina Jolie and Holly Hunter.
Lisa Marie Presley is shown on 4/7/08 outside Madeo restaurant with husband Michael Lockwood. Credit: WENN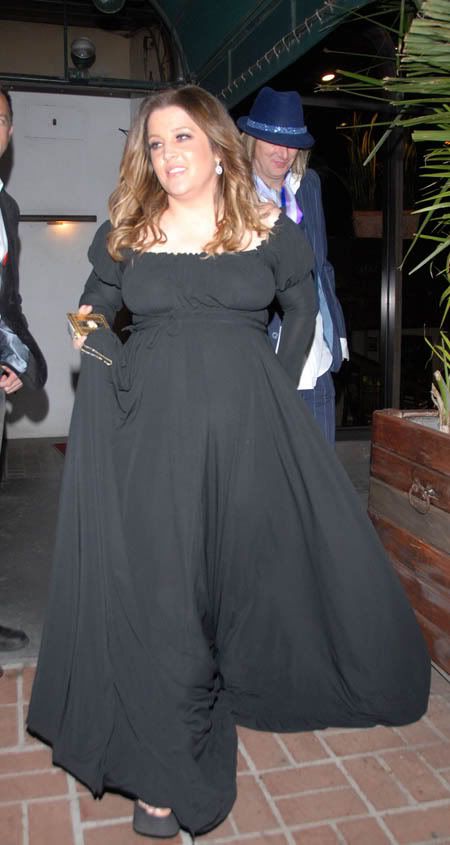 Written by Helen

Posted in Lisa Marie Presley, Priscilla Presley

- Mariah Carey lip synced on American Idol [CDAN]
- Colin Firth is looking good [Lainey Gossip]
- Internet celebrity charged with murder! [D-Listed]
- What is Paz Vega wearing? [Go Fug Yourself]
- New bachelors on The Bachelorette [Reality Tea]
- Goodbye to The Office [Pajiba]
- Bachelor Sean's fiance cheats on him [Evil Beet]
- Britney Spears out with her man [Popsugar]
- Nina Dobrev works it [Popoholic]
- Cindy Crawford needs to lay off the 'tox [Celebslam]
- Who said it: Carrie Bradshaw or The Dalai Lama? [Buzzfeed]
12 Responses to "Lisa Marie Presley expecting twins"