Angelina Jolie completes Brad Pitt's emasculation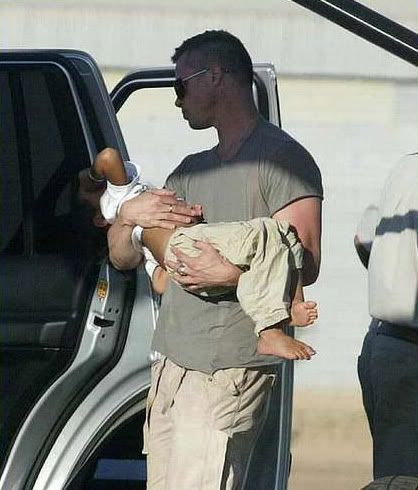 Brad Pitt has been seen in Namibia with a mohawk hairdo – just like little Maddox's! Since the Jolie-Pitts are in the sticks now, and Jolie has been said to cut Maddox's hair herself, the most logical conclusion is that Jolie cut Pitt's hair into the ridiculous new style:
Brad, 42, sported his daring 'do while playing softball with Maddox in Namibia, Africa, where he and Angelina Jolie, 30, are awaiting the imminent birth of their baby, along with Maddox and his 15-month-old sister Zahara. So why the new 'do?
Here's a clue.
In an interview last December, Angelina's New York-based stylist Ted Gibson revealed that the
actress insists on cutting Maddox's Mohawk herself.
Did she give Brad the chop, too? Looks likely!
Brad carries a daddy bag, lets his wife move the family around at will, and apparently allows her to cut his hair any way she sees fit! He's a rather accommodating guy.
In related news, Brad has three construction crews working overtime to finish his Hollywood home in time for the birth of his first biological child with Angelina. In order to make sure the construction does not disturb his neighbors, he ordered all loud work stopped in the evening. He also visited several neighbors personally and promised to throw a cocktail party when he returns. What a nice guy. He'll have to see what Angelina wants to do, though, because she might not be ready to move back to Hollywood for quite a while.
Pictures [via]
Written by Celebitchy

Posted in Angelina Jolie, Brad Pitt, Photos

- Mariah Carey lip synced on American Idol [CDAN]
- Colin Firth is looking good [Lainey Gossip]
- Internet celebrity charged with murder! [D-Listed]
- What is Paz Vega wearing? [Go Fug Yourself]
- New bachelors on The Bachelorette [Reality Tea]
- Goodbye to The Office [Pajiba]
- Bachelor Sean's fiance cheats on him [Evil Beet]
- Britney Spears out with her man [Popsugar]
- Nina Dobrev works it [Popoholic]
- Cindy Crawford needs to lay off the 'tox [Celebslam]
- Who said it: Carrie Bradshaw or The Dalai Lama? [Buzzfeed]
One Response to "Angelina Jolie completes Brad Pitt's emasculation"