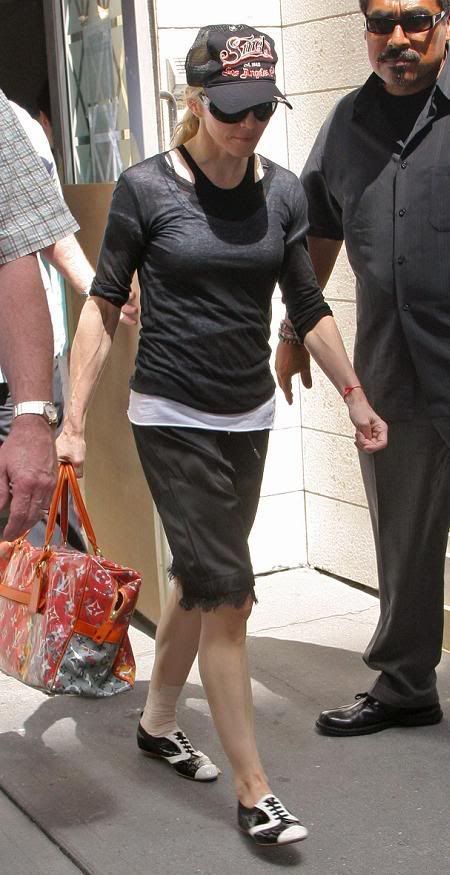 Madonna officially turns 50 tomorrow, but nobody's allowed to wish her a happy 50th- at least not to her surgically altered face. A-Rod's alleged soul mate is forbidding the number 50 from being displayed or uttered at her upcoming birthday bash, because according to the Kabbalah religion, she's really on 36. Hey, no wonder this religion is catching on with celebrities.
Madonna has it on very high authority that she is, in fact, 36.

Not only that, but the grand lady of pop has slapped a gagging order on anyone whispering the number… shhh… 50 at her star-studded celebrations tomorrow.

Guests at her country pile are under strict instructions not to give any cards, cakes or presents bearing the number 50 or face the wrath of the muscle-bound Material Girl.

But how could we have got it so wrong?

Well, using ancient techniques known only to a select few, the high priests of Kabbalah have calculated her spiritual age by channelling the energy of the poptastic one. And it's, um, 36.

How convenient.

So does that mean that in 1994 she was actually 22?
You know, I think for my 39th birthday next year, I'm going to take a page from Madge's book and declare myself spiritually 24. Yeah, that was a pretty good year for me- I could still rock a bikini back then. Anyone who wishes me a 'Happy 39th' will be thrown out on their ass and slapped. Because if Madonna can do it, I can too! Of course, I won't have her man arms or cheek implants, but that's ok.
Picture Note by JayBird: Here's Madonna heading to Kabbalah on Monday. Images thanks to Bauer Griffin.