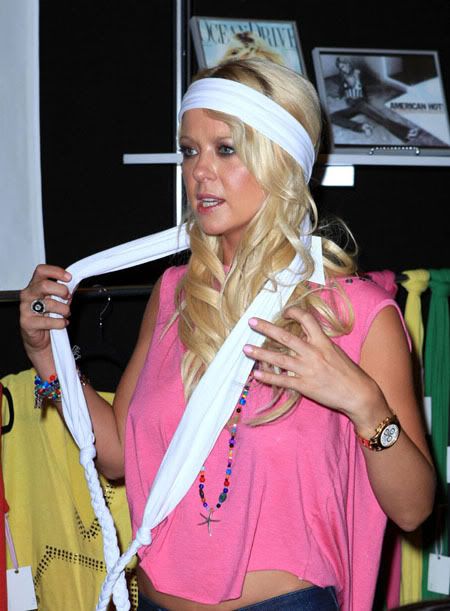 Apparently, you don't have to be famous, talented, have taste, or even know how to design clothing to have your own line anymore. If you have ever been on television, even if it's only on one of those gossip shows "Worst Dressed of the Year" specials, you too can have your own clothing label. Non-actress Tara Reid, who is more well known for her drunken antics than any films she's starred in, was seen pimping out her new line of hoochie wear over the weekend in Las Vegas.
Tara Reid has turned her personal style into a clothing line called 'Mantra' so that you and all your loved ones can get her look without having to shop on Hollywood Boulevard.

The washed-up star's collection of t-shirts, dresses, bikinis, ponchos and hoodies priced at $65-180 will be decorated with beads and charms that tell a different 'story' about the wearer, such as 'I'm not wearing anything under this' (see above). Tara elaborates in a statement:

* 'It's about putting into the universe what you want in life: Red means love, pink is friendship, green is lucky, black is protection. You're gonna have a story when you wear this bikini or when you put this dress on: You'll either get love or meet a new friend or you might meet a guy.'
Oh, Tara. I really wish I could stop making fun of you, but you just make it so darn easy. But then again, if Heidi Montag, the most vile of all famewhores, can have a clothing line, I suppose it's fair game for Tara as well. At least she actually had a career at one time. Which reminds me: are any of those "American Pie" kids doing anything these days? Will we soon see that kid who played Stifler coming out with his own line?
Tara Reid is shown at Christian Audigier presents 'When I Move You Move' tradeshow held at Caesars Palace in Vegas on 8/26/08. Credit: Judy Eddy / WENN. For photos of her new line, see Pacific Coast News