Jessica Simpson 'lost and desperate' on stage, says critic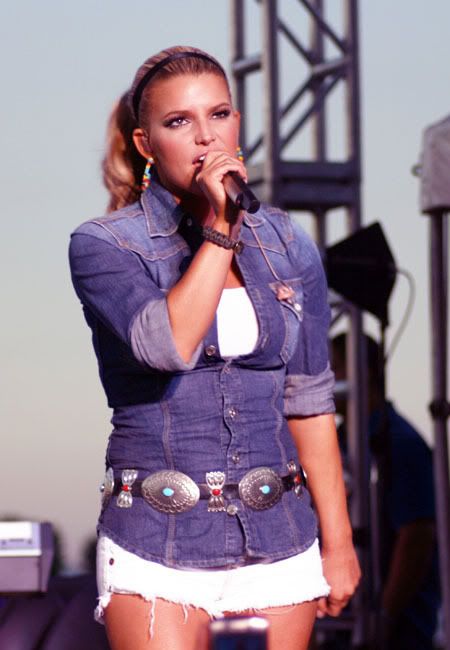 A critic at Jessica Simpson's performance Wednesday night in Niagara Falls, Canada says she talked incessantly to the crowd ahead of nearly every song, and told inane and pointless stories. She also wasn't that great in concert and should have stayed with pop music, according to John Law at the Niagara Falls review. He says the crowd of people paying $70 a ticket were happy enough with her chatty and subpar performance, though:
This cowgirl seems completely lost and desperate for approval on stage.

It made for a bizarre and often frustrating show. Simpson needs to explain in exhausting detail what every single song is about, and the endless banter kills any momentum. She's still living in a reality show, convinced everyone is so fascinated with her personal life, they'd rather hear her talk than sing.

How bad was it?

Before the new song "Man Enough," she said her man must be ready for anything – including the possibility she's pregnant with an alien.

Before "Remember That," a song about abuse, she said God wanted her to record it "so I could stand up here and be witness to you guys."

Before the Dolly Parton-penned "Do You Know," she talked about the night she screwed up the lyrics to "9 to 5" with Dolly in the audience. She was so bummed, "I told my daddy I'm never going to sing again … I'm going to ignore this gift God gave me…"

Sporting a blue and white farmgirl's dress, she assured us she felt "older and wiser" after a rocky few years. The therapy session was underway.

"You're My Sunday" off the new album was dedicated to boyfriend Tony Romo ("because he always asks, 'How was your Sunday?'"), while ex-hubby Nick Lachey gets grilled in the bitter "When I Loved You Like That," where our girl basically says she carried his cheatin' ass all those years.

A cover of Shania Twain's "Whose Bed Have Your Boots Been Under?" might also be dedicated to him. Nick may want to skip this tour.

An audience of Jess-heads ate it up. Unlike her tour opener in Wisconsin, where she was booed opening for Sara Evans, this crowd was here only for her. And they paid $70 a ticket for the privilege.

Armed with that confidence, Simpson opened up about God, divorce and, um, flatulence.

"I do pass gas a lot," she said. "I guarantee it smells like roses."
[NFReview.com via US Weekly]
This girl is a complete idiot, but she's made an entire career out of capitalizing on her idiocy and it seems to work for her. She doesn't need to remind people that she blew it on stage at the Dolly Parton tribute at the Kennedy Center, and if she did vow never to sing again to ignore her "God-given gift," she should remind us of that, either. People will soon be asking her why she didn't take her own advice. Surely she could continue flogging her shoes, purses and personal life without branching out into a new music genre and trying to talk throughout her concerts to conceal her inadequacy.
Jessica Simpson is shown performing at the Indiana state fair on 8/7/08. Credit: WENN
Written by Celebitchy

Posted in Jessica Simpson

- Zach Galifianakis is awesome [Buzzfeed]
- Prince at the Billboard Music Awards [D-Listed]
- Bieber's Billboard look [Go Fug Yourself]
- Married to Medicine recap [Reality Tea]
- Celebrity first marriages [Pajiba]
- The last Mad Men baffled a lot of people [Lainey]
- Karolina Kurkova's crazy hot dress [Moe Jackson]
- Jennifer Garner on set [Popsugar]
- Kitten vs. Lizard [CDAN]
- Doetzen Kroes' great butt [Celebslam]
- Shameless star Jeremy Allen White [OMG Blog]
- RIP Ray Manzarek [Bossip]
38 Responses to "Jessica Simpson 'lost and desperate' on stage, says critic"