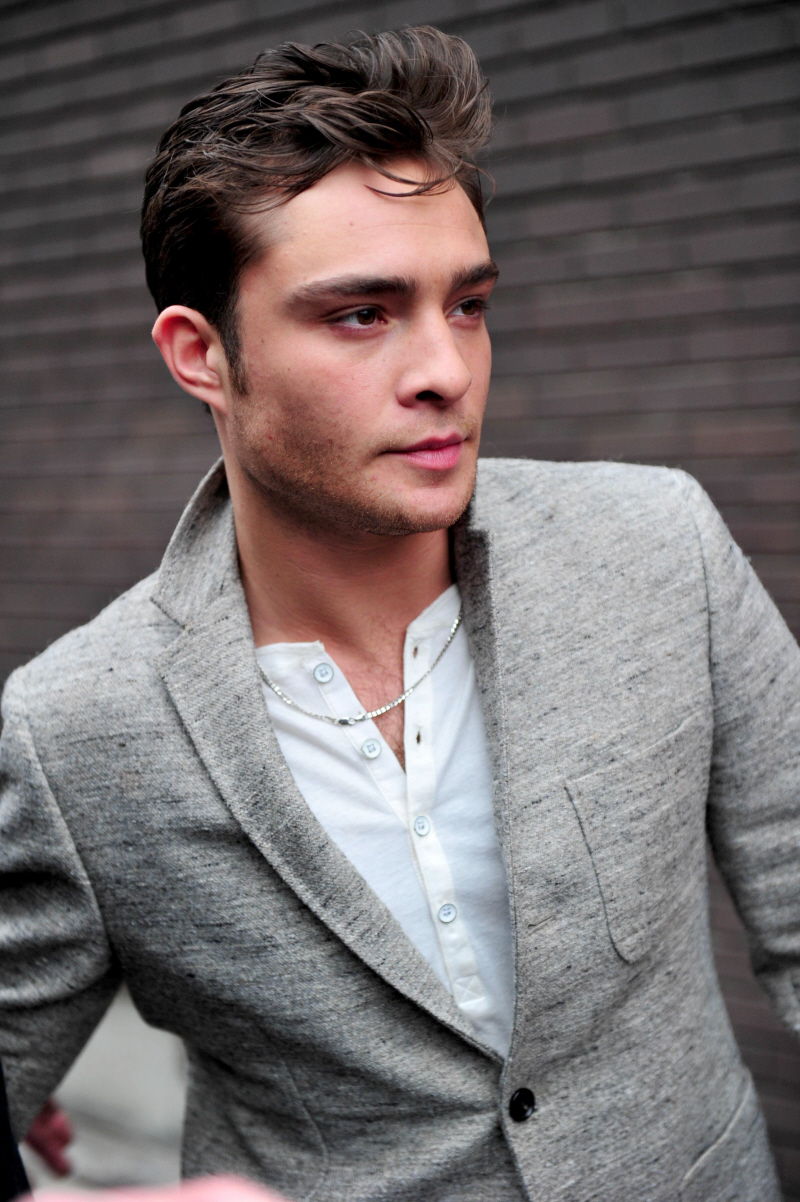 It's been a while since I've written about my love Ed Westwick. I don't even watch Gossip Girl – but I'm just obsessed with him. He's so pretty and fancy and dirty and sleazy. I love it. These are photos of Ed in London today, wearing some kind of buttony blouse/blazer combination. The boy dresses like a budget Jude Law. I love that about him too. He looks really short in these photos – how tall is he? Let me look it up. He's five foot eight. SHORT. Damn. That's like Tom Cruise shortness. Anyway, while in London, Ed has been doing press for… Gossip Girl, I guess. And maybe for his new film, Chalet Girl. You can tell that he really thinks highly of himself from these interview excerpts:
'Gossip Girl' heartthrob Ed Westwick says he isn't looking for love at the moment because he is concentrating on his career. He says his busy career stops him from finding love. The 'Gossip Girl' star – who has previously dated his co-stars Jessica Szohr and Leighton Meester – insists he is happy to not be in a relationship at the moment because he is prioritising his professional life over everything else.

When asked if he was looking for love by British talk show host Lorraine Kelly on her breakfast TV programme 'Lorraine', he said: "No, I'm focusing on my career actually. It takes up a lot of time and commitment."

When he isn't working, Ed – who stars in new comedy movie 'Chalet Girl' – likes to forget about acting by playing the guitar. However, he likes to strum his instrument at unusual times of the day – something he believes upsets his neighbours.

When quizzed about his passion for music by Lorraine, he said: "I'm not in a band, I'm now just a brilliant solo artist … I've got this fantastic guitar I bought not long ago which is a 1957 Les Paul Junior, I've got this tube amp from 1952 as well, so I annoy my neighbours in my apartment building by blaring music out at 4 o'clock in the morning."

In another interview, Ed discussed his relationship with the actress JESSICA SZHOR, claiming that it 'blossomed' and then 'wilted'. In an interview with Tatler Magazine, Westwick said his breakup from Szohr had left him "kind of on a warpath". The couple reportedly split back in April 2010, and Westwick said, "Everyone's dated each other, and then broken up, or whatever. It's natural that romance would blossom. Blossom and then wilt. The wickedness of women! The heartbreakers, God damn them. I've learnt. And I feel stronger and wiser".

In yet another interview, Ed spoke about love, saying: "It's incredible, it's intoxicating. To fall in love with someone at first sight is fine, but in order to have a working relationship you need to realise that love is just one thing in a whole relationship."

The 23-year-old star has previously revealed he has a crush on singer Cheryl Cole, but he now believes too many men are interested in the British star – who has been romantically linked with Black Eyed Peas member will.i.am and dancer Derek Hough since splitting from now ex-husband Ashley Cole last year – and thinks she may need some time away from the spotlight.

He told Britain's Cosmopolitan magazine: "Everyone is obsessed with her right now so it's freaking me out. I think she needs to chill out, disappear and give me a call."

Discussing his dating style, the handsome star reveals he likes to be confident but not cocky.

He said: "You have to have a degree of confidence. I'm not uber-confident in that respect, but if you like someone you've got to go for it because if you don't ask, you'll never know."

The British actor is best known for playing 'Chuck Bass' on Gossip Girl, however, Westwick has revealed his desire to move on and play different roles, he said, "To be completely honest, I'm ready to do something else. Really ready to do something else".
What would become of him if he left Gossip Girl? You never know with the British actors. If he was American, I would say that Gossip Girl would be as good as it gets, but considering the quality of British programming, if Ed left Gossip Girl, he might have a fighting chance at more career success elsewhere. You never know. Ooh, he also has a small part in the J. Edgar Hoover bio-pic starring Armie Hammer and Leo DiCaprio! Good for him.
Thank you for letting me indulge my crush!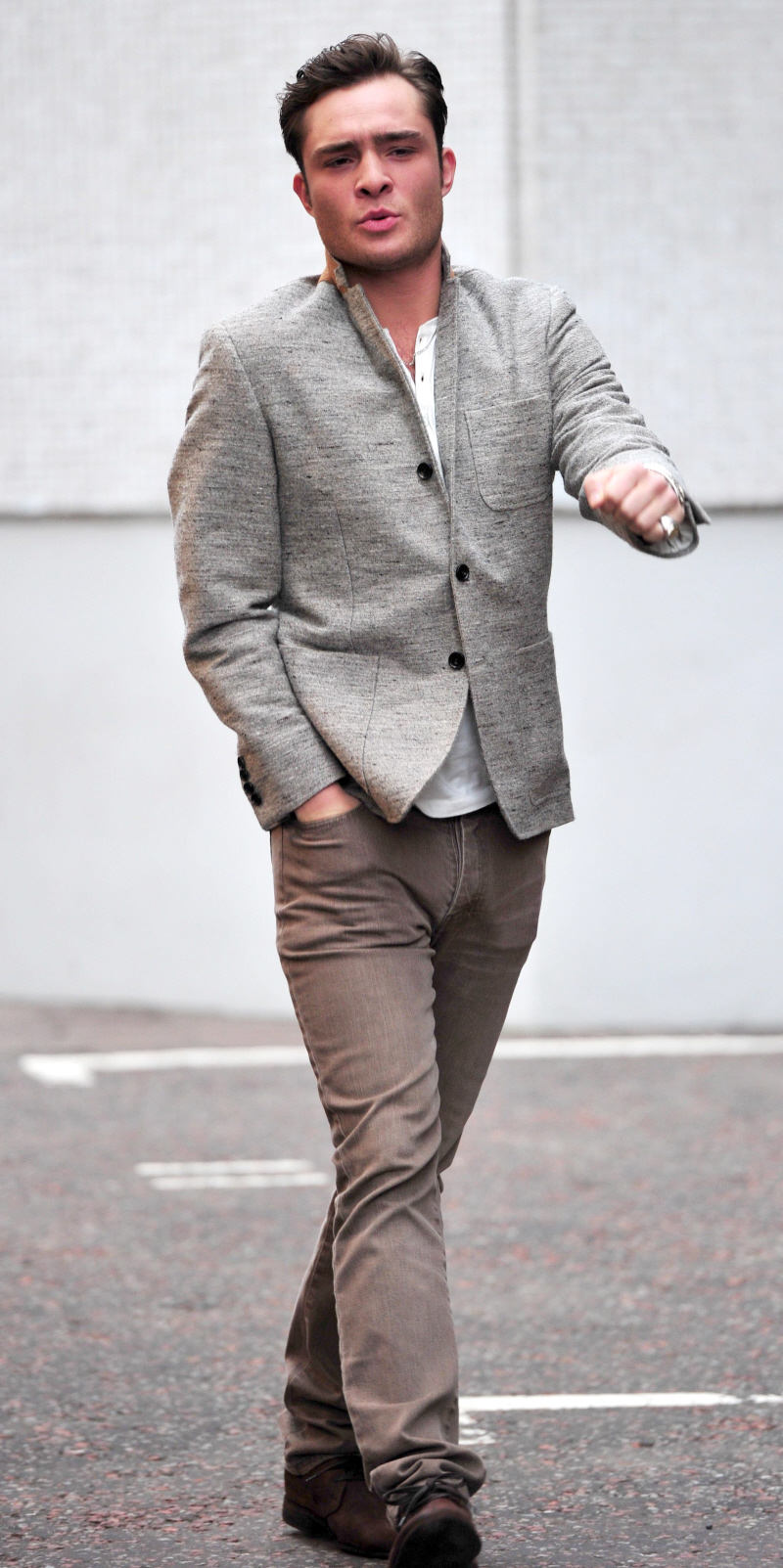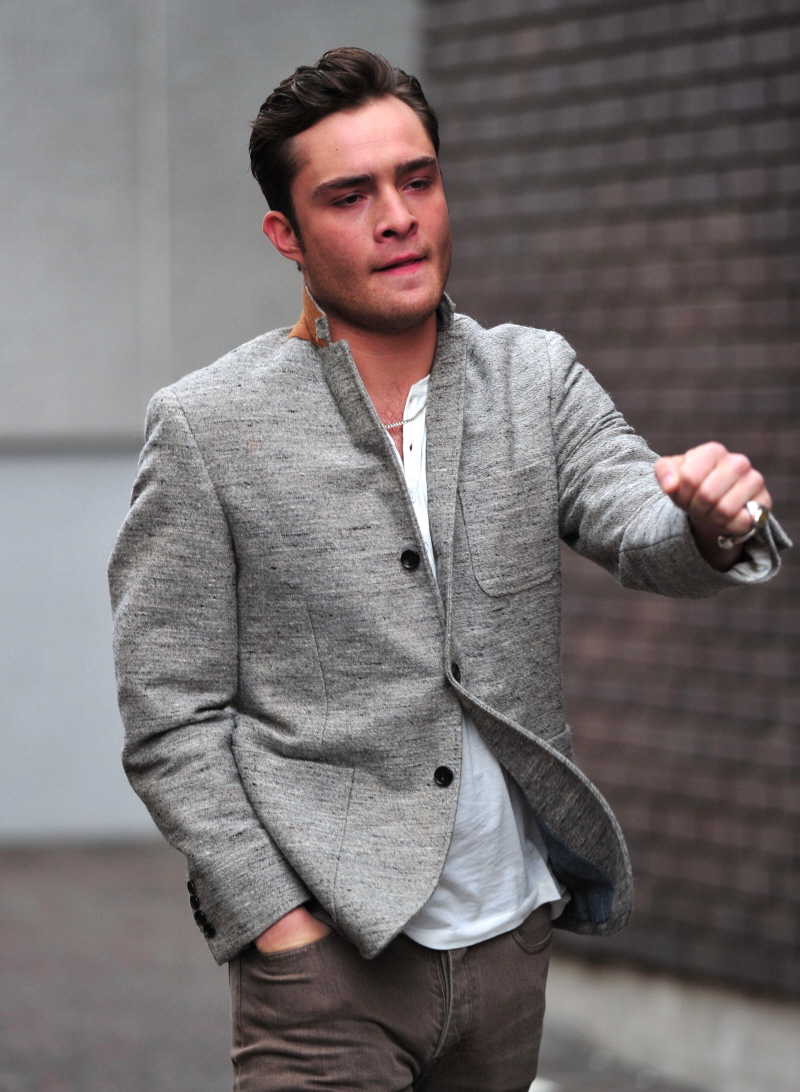 Photos courtesy of Fame.