Charlie Sheen & Brooke Mueller finally reach divorce settlement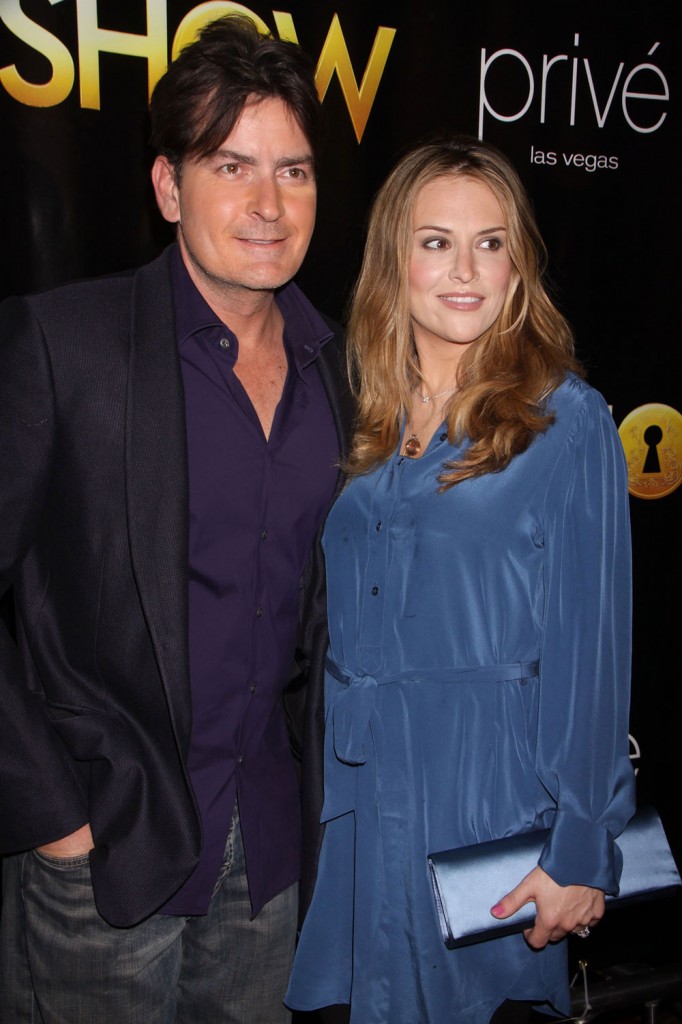 I have to admit that I knew that Charlie Sheen and Brooke Mueller weren't divorced yet, because I pay close attention to these stupid details for my job. It seems like they should have been long over, but given the immense undeserved wealth that Charlie is so intent on squandering there are plenty of details that needed to be worked out. The settlement has been all squared away, and a judge signed off on it but ruled that they won't be officially single until May 2 for some reason. Brooke has said that Charlie isn't cheating on her because they're separated anyway, so it's not like an officially married status is keeping Charlie from starting his hooker family.
Brooke is going to get $55,000 a month in child support along with a $500,000 signing bonus for marrying Charlie and at least $300,000 extra. (Her prenup stipulates that she gets $300,000 per year of marriage and they were together for over a year.) So Brooke is going to make some money off of this, but considering that Charlie makes $1.2 million an episode it's not like she's getting even 7% of his income for one year. (Based on the amount of episodes last year and factoring in child support.)
Los Angeles Superior Court Judge Hank Goldberg finalized Sheen's divorce from his ex-wife Brooke Mueller Sheen, but the pair will not be legally single until May 2.

The actor and Brooke Sheen filed dueling divorce petitions in November, citing Christmas Day 2009 as the day of their breakup. Charlie Sheen was arrested in Aspen, Colo., that day on suspicion of domestic violence against his wife. He later resolved the case and spent 30 days on probation.

The former couple will split the royalties from baby portraits of them and their twin sons, and the actor will keep his Hollywood Hills home, court records show. The Sheens signed a prenuptial agreement before their May 2008 wedding, which called for Charlie Sheen to pay Brooke Sheen more than $750,000.

The pair will share legal custody of their sons, although physical custody is granted to Brooke Sheen with substantial visitation time allotted for the actor. He is required to pay $55,000 a month in child support, according to the agreement filed with the court.
[From The Huffington Post]
Doesn't it seem like Charlie treats hookers better than the women he marries? They probably make more per hour, that's for sure.
There are all sorts of other stories about Charlie. In Touch reports this week that he's not taking at home "rehab" seriously, no sh*t Sherlock, and that he has those fake teeth over his gold fillings because his teeth are ruined from years of drug abuse. Charlie recently smiled for some paparazzi photos without his fake teeth on and his gold teeth look much better than they did in the TMZ video.
Charlie is expected to go back to work on the Two and Half Men set by the end of the month. He's offered to cover 1/3 of the salary of the crew, who work as freelancers and go unpaid when the show is on hiatus, in the interim. EW estimates that it will run him around half a million.
If Charlie can hold it together enough to do his job the show will probably go on. His image isn't even taking a hit from it. A new poll shows that more people think of him favorably after this latest scandal.
Photos are from 2008 and 2009. Credit: WENN.com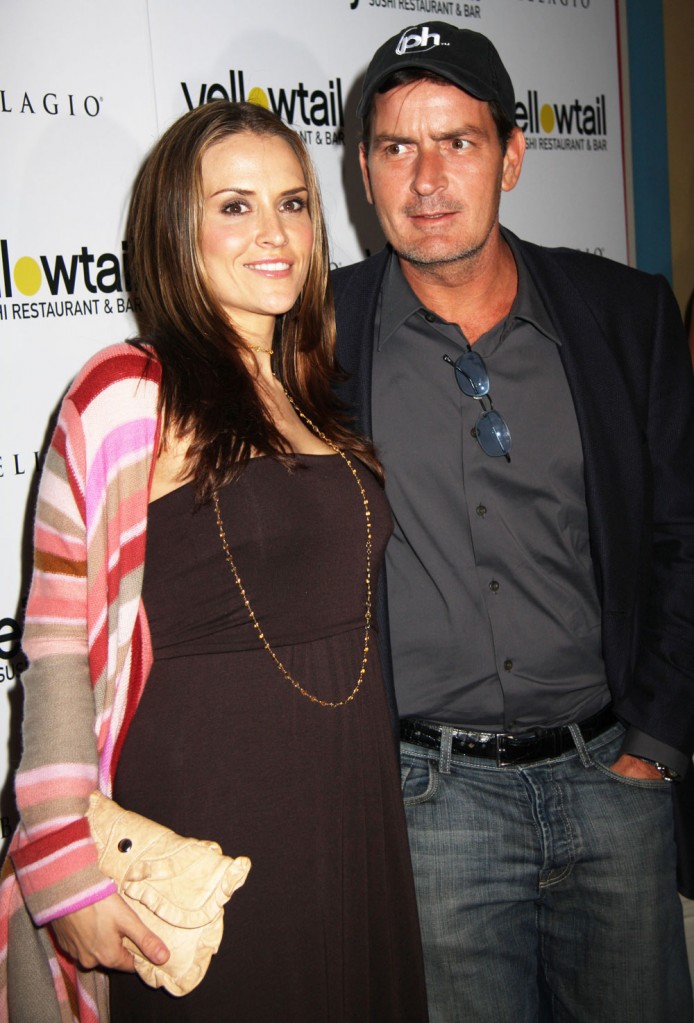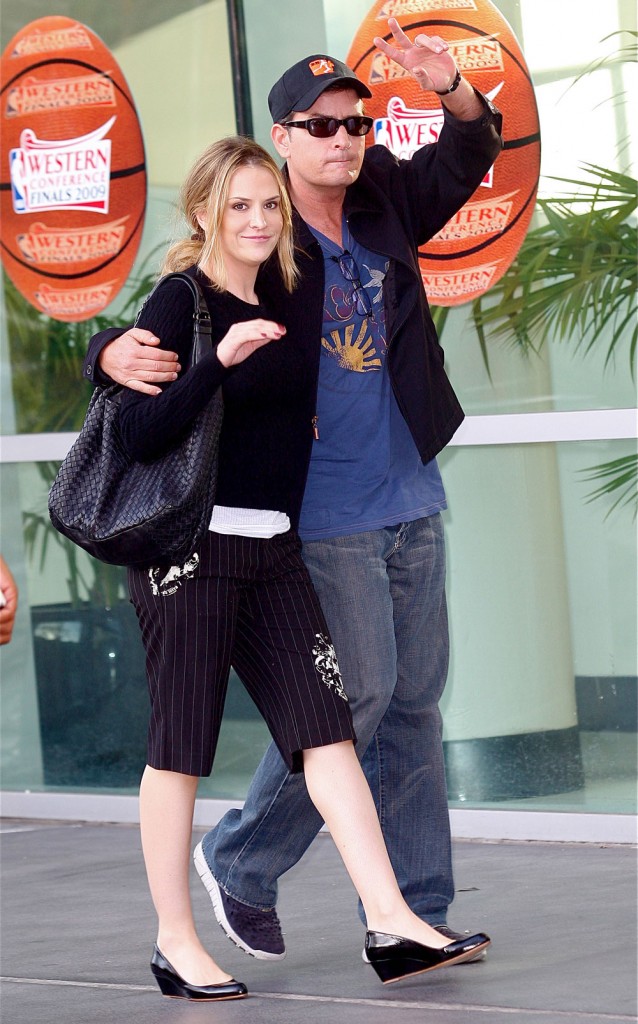 Written by Celebitchy

Posted in Brooke Mueller, Charlie Sheen, Divorces

- The Blemish interviews Carmen Electra [The Blemish]
- Rumer Willis joins Pretty Little Liars [Lainey Gossip]
- Morgan Freeman falls asleep during interview [D-Listed]
- Fug or fab: Isla Fisher [Go Fug Yourself]
- Tamra Barney confirms spinoff [Reality Tea]
- Movie franchises that rebounded [Pajiba]
- Why Dylan McKay is the perfect boyfriend [Buzzfeed]
- Saoirse Ronan could have been a Lohan [Evil Beet]
- GIFs from Cannes [Popsugar]
- Cat massages a dog [CDAN]
- Heather Graham is so pretty [Celebslam]
- What is Lucy Hale wearing? [Moe Jackson]
23 Responses to "Charlie Sheen & Brooke Mueller finally reach divorce settlement"