Channing Tatum's mostly clothed GQ photo shoot: still hot, or still a caveman?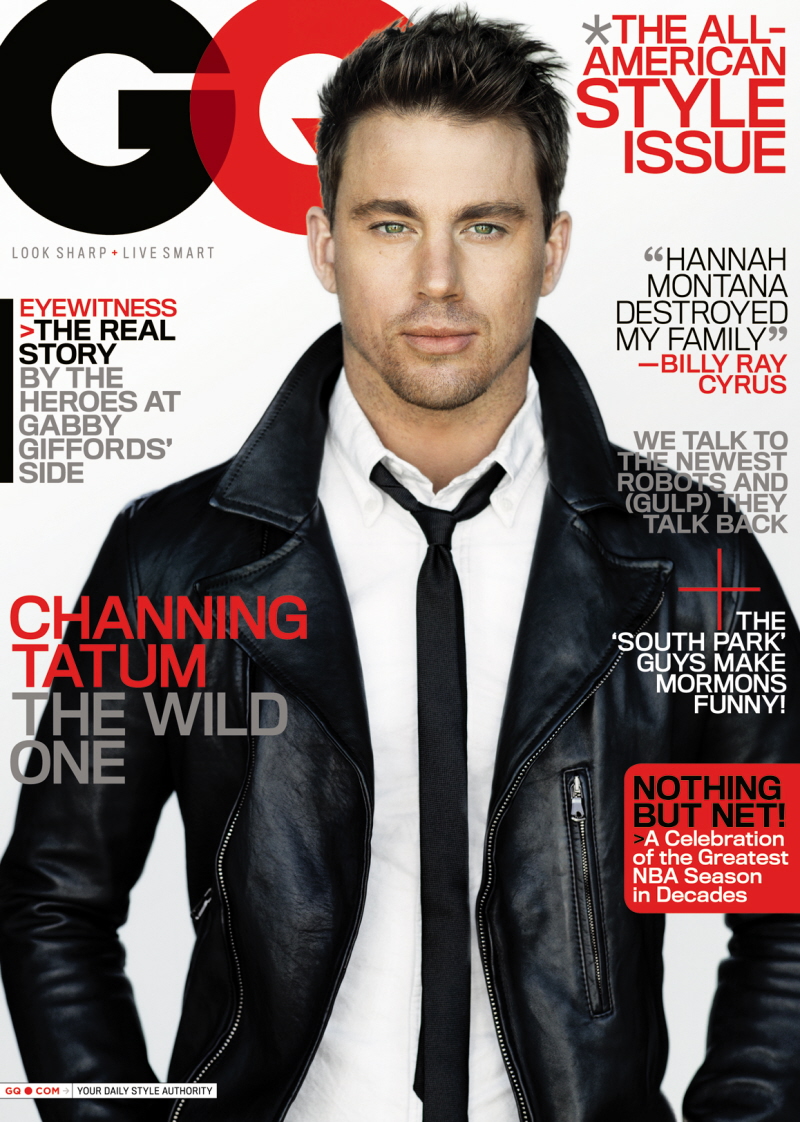 As I mentioned earlier this morning, I am a fan of Channing Tatum. Not his work specifically, but him as a person. I think he's funny and sweet and very much like the good ol' boys hustlers I grew up with. Anyway, there's a special treat for those of us who like him – he's the March cover boy for GQ Magazine! He's done GQ before – he was their cover boy in 2009, where he posed shirtless in nearly every shot. In this cover shoot, they let him keep on his clothes for the most part. BOO. GQ hasn't released their interview yet, but they did send us this little preview, and I can safely say that Channing sounds like he gave yet another great interview. The boy just does his thing, and he has no qualms about spending 24 hours with a journalist and getting hammered:
Channing Tatum has to be one of America's most fun movie stars, he's also crazy (it's his life motto). Don't believe us? Just ask Jessica Pressler, our writer who spent twenty-four hours deep in the California Desert with "Chan" armed with glow sticks, tequila, snacks, and Snuggies.

Before camping out together (don't worry, he called his wife first!), the pair spent the night bar hopping through a tiny mining town, mingling with the locals, and touring the area's abandoned bordellos.

During their journey, Tatum opened up about his stint as a stripper, "I'm not ashamed of it. I don't regret one thing. I'm not a person who hides sh*t"; being type casted as a beefcake, "No one's calling me for lawyer roles. I still have a lot to prove to myself"; and why doing his own stunts is important, "I think people pay money to see the actor go through a wall. I want to be like, 'Holy sh*t, Johnny Depp actually jumped off that building. That guy's f*cking crazy. I want to be him.'"
[From GQ]
Yes, he probably won't be cast as a lawyer anytime soon. But it may happen eventually. And hey, it's not so bad being a beefcake. Lots of male actors would love Channing's reputation as an easy-going beefcake steadily building his resume. Hey, Channing just worked with Ron Howard! And now he's starring as a Roman something in ancient times. So, it's not like he's only getting parts where he plays the dim-witted dancer boy. I would like Channing to do more comedy, honestly – he's so funny in interviews, it would be interesting to see him steadily build a comedic portfolio.
Oh, and he's totally going on HGF this week!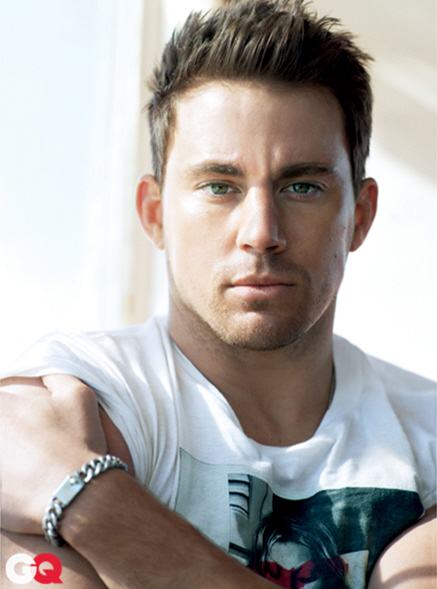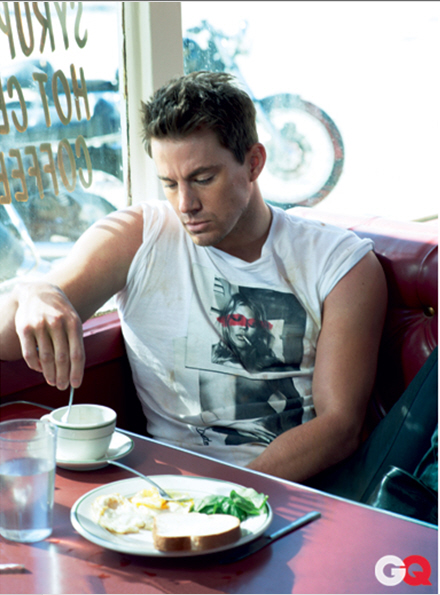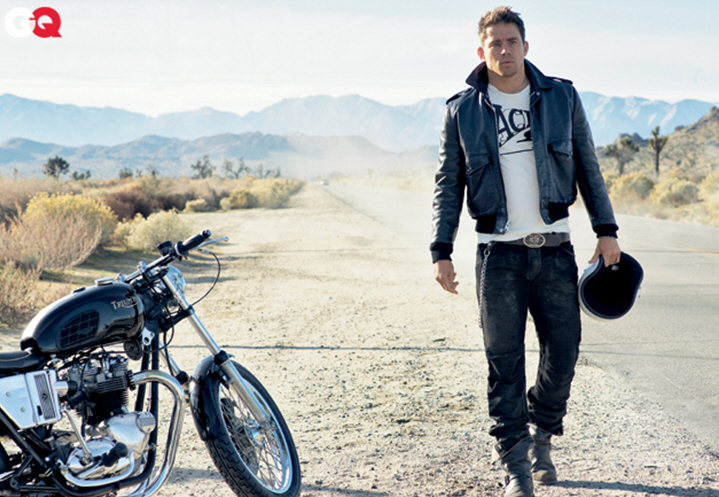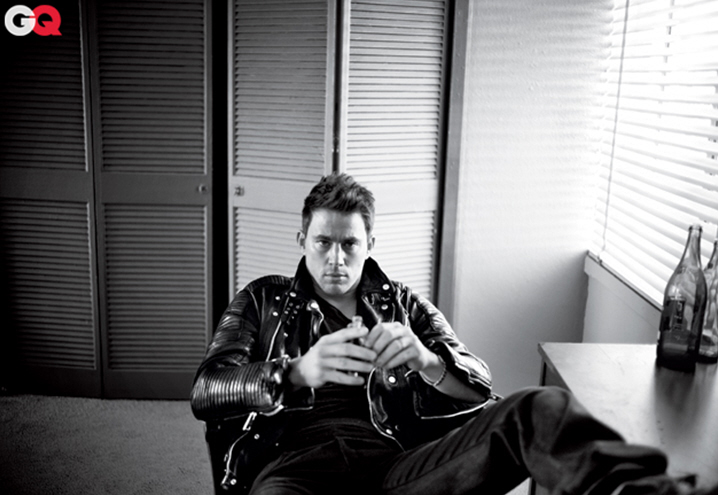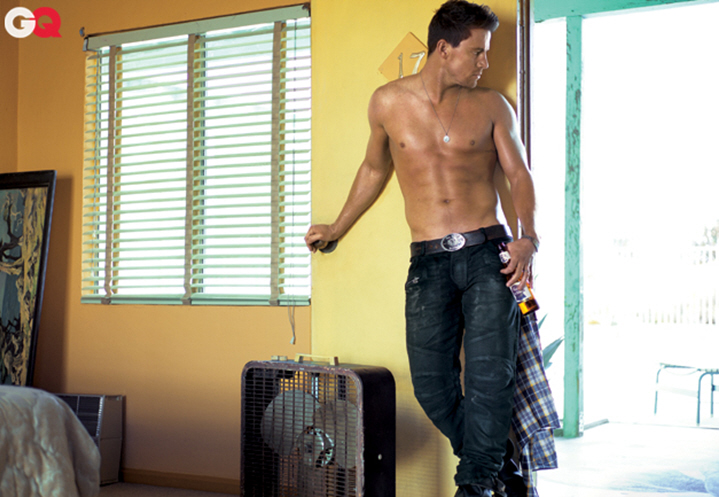 Photos courtesy of Nathaniel Goldberg/GQ, more pics at GQ's slideshow.

Written by Kaiser

Posted in Channing Tatum

- Harry Styles & Kimberly Stewart going strong [Lainey]
- Demi Moore's new man is gross [D-Listed]
- Fug or fab: Emma Stone [Go Fug Yourself]
- Arrest warrant issued for Jenelle Evans [Reality Tea]
- Only God Forgives review [Pajiba]
- Hugh Jackman, scooter master [Buzzfeed]
- Who does Drew Barrymore call her sister? [Evil Beet]
- Cannes couples past and present [Popsugar]
- Arrested Development supercut [CDAN]
- Lea Michele's see through skirt [Celebslam]
- Cheating wife's lover escapes out of window [Movin925]
- Joe Francis is crazy [Starcasm]
35 Responses to "Channing Tatum's mostly clothed GQ photo shoot: still hot, or still a caveman?"