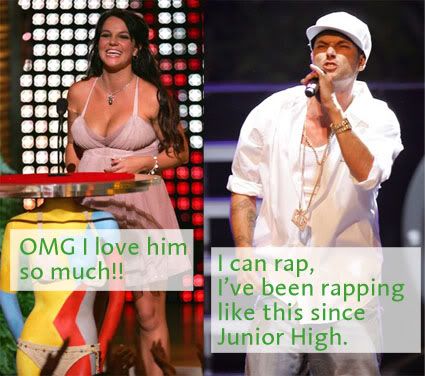 Bigwigs in the hip-hop community have dismissed Kevin Federline's piss poor attempt to break into the rap industry by getting his former pop star wife to bolster his lack of talent. Magazine editors say he's not really notable, and if he is, it's only for a brief laugh:
Elliot Wilson, editor in chief of XXL magazine, hadn't seen Federline's TV debut. Still, he called it a "YouTube disaster" — something to be laughed off in hip-hop circles.
"I just think we ignore him," Wilson told The Associated Press on Monday. "He's a joke, basically. … I just don't think he gets it. He doesn't get that he's Britney's man and it's hard to take him seriously."
Jermaine Hall, executive editor of King magazine, echoes that sentiment.
"The thing that really hurts him is the fact that he's perceived as Britney's husband," Hall, who had yet to see the performance, told the AP. "You know, kinda like Britney's second — I don't even want to say second in command, but — he's like the Britney Boy. He's like Mrs. Spears, and it's kinda hard to get over that perception."
That last guy was pretty generous in his quotes. If K-Fed had any talent it wouldn't really matter that he's Britney's husband. I would like to see him get his ass handed to him in a freestyle rap competition with any halfway decent street rapper. Did you see "8 Mile?" K-Fed writes his rhymes ahead of time and they're awful. There's no way he has enough skill or brains to diss someone on the fly – he would get laughed off the stage.
Here is K-Fed in mercifully few shots of his god-awful performance at the Teen Choice Awards, along with some of Britney. Thanks to BreatheHeavy.com for the pics.