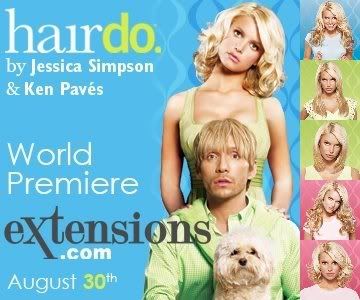 As I mentioned last week, I am freeing Celebitchy from Movable Type and moving to blogger-friendly open source WordPress. The closer I get, the more I want to take advantage of WordPress' ease of use and quicker publishing. Movable Type really is a clunky pain, and I would not recommend it to anyone, although it did the job for a while.
I need to work on the WordPress conversion for the rest of the week, (I know I said I would do this last week, but I'm dragging my feet.) Right now I think I'll be able to report some gossip for the rest of the week, just not as much as I normally do. Thanks for bearing with me.
Here's some of the gossip today.
- Jessica Simpson's new hair extensions [Faded Youth]
- You Tube to pimp Paris' album, sell out entirely [CelebGuru]
- Robbie Williams is a closet case [CityRag]
- Owen Wilson is not as hot as his brother, Luke [Agent Bedhead]
- Britney Spears mourns K-Fed's non-career [I'm not obsessed]
- Shannon Elizabeth is really bendy [Bastardly]
- Matt, Jake, Lance catfight! [DListed]
- Matthew McConaughey shirtless [Hot Momma Drama]
- A guy paid six figures to go to the Beckham World Cup party, but got treated like an outcast by their staff. He's suing them [Glitterati]
- Lindsay Lohan in a leopard bikini [yeeeah]
- Mollygood points out that she wore that same leopard bikini at the beginning of the summer, and both Lindsay and the bikini are a little worse for wear Mollygood]
- No wonder Lindsay Lohan turned out the way she did. Check out her dad's prison art [Jossip]
- Video of Rhianna lipsynching at the TCAs [Juicy News]
- Video of Orlando Bloom making a dumb joke at the TCAs [Best Week Ever]
- How Jessica Biel got her bubble butt [Chic Mommy]
- "Material Girls" sucks [Girls Talkin' Smack]
- Surprisingly, many of the Fall Pilots suck [Pajiba]
- Pete Doherty missed his own wedding to Kate Moss, 'cause he's in jail/rehab [Socialite's Life]
- Proof that Paris Hilton wears colored contacts [Jordan is your Homeboy]
- Ashlee Simpson's horse mouth [Gallery of the Absurd]
- Matt Damon and George Clooney on the set of "Oceans 13″ [Celebrity-Moms]