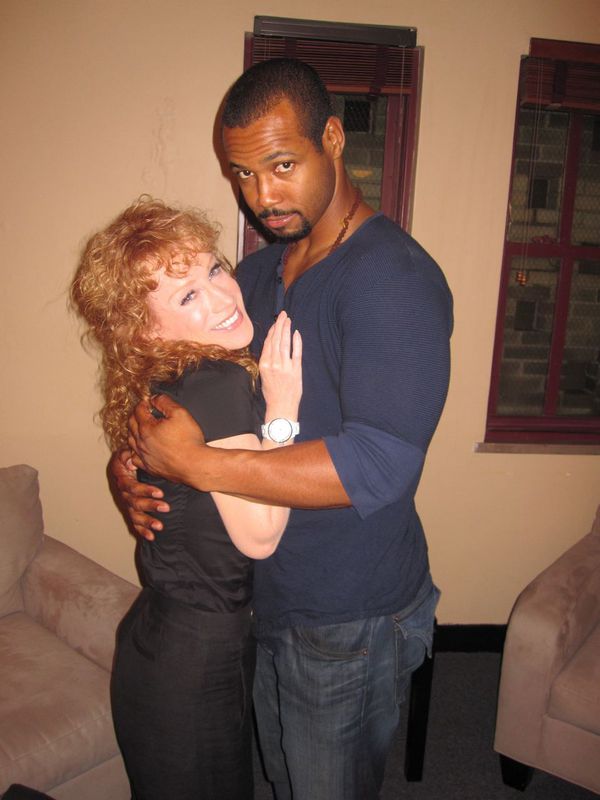 Funnygirl Kathy Griffin, 50, may have scored the guy we all wish our man could be, Old Spice hottie Isaiah Mustafa, 37. She tweeted a photo of the two of them together a few months ago, an things may have heated up since, although Isiah's rep says they're "just friends." Is that "with benefits" because you know Kathy would love to break off a piece of that. Hell just about any woman would.
A source tells me that Griffin and Mustafa first met months ago. Maybe it was back in August at the Creative Arts Emmys, where they did a joint interview on the red carpet with our own Kristin Dos Santos? Not longer after that, Griffin tweeted a pic of the two of them with the post reading, "A gift from me 2 u. Here I am with the super hot Old Spice Guy. Feel free to photoshop ur face over mine."

Our source says they started spending more time together within the last month or so. The source wouldn't describe the relationship as "romantic," but says, "They're getting to know each other."

Mustafa's rep tells me, "Isaiah said they are just good friends and have a blast hanging out." The former football player was most recently linked to Scream star Neve Campbell.

Mustafa was not only spotted at Griffin's Trevor Project benefit concert in L.A. in December, but the two were also together earlier this month at Cher's final performance of her Las Vegas show. I actually saw them at the Sin City airport the following morning hopping on a flight back to L.A.

Mustafa was also with Griffin at the Grammys last week. Then last night, they were spotted sitting together and chatting at the Costume Designer Guild Awards at the Beverly Hilton Hotel.
[From E! Online]
I think Kathy is hysterical and I don't know much about the Old Spice guy other than an interview or two I've watched with him, but he seems down to earth and like a decent guy. As E! mentioned he was last linked to Neve Campbell but that was a couple of months ago. If these two are going to the airport together they're probably more than just friends. For Kathy's sake I hope this is happening and good for her!
This interview is from last August: