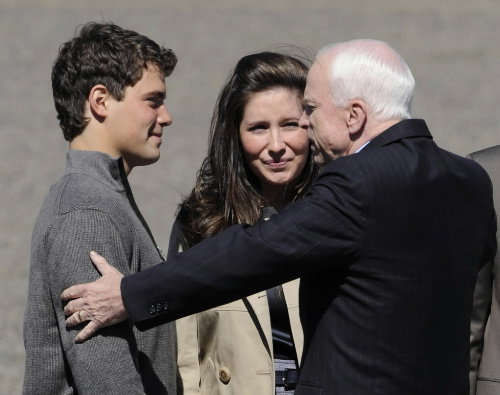 The father of Bristol Palin's unborn child has finally spoken to the press after months of silence. Levi Johnston spoke to the Associated Press today. He generally came off as a nice, simple, slightly naive kid. When he talked about what kind of dad he's going to be, he listed a few of the fun "guy" things, noting, "'I'm going to take him hunting and fishing. He'll be everywhere with me.'" I got the impression that he's genuinely going to try his best, but that he doesn't yet fully appreciate how much work that's going to be.
Even though he seems like a pretty normal 18-year-old, I felt kind of torn between begrudgingly liking him and reminding myself that this is all still related to politics and thus he may have received coaching. Johnston recently dropped out of high school (he would have been a senior) to work as an apprentice electrician – presumably due to the impending birth of his child. The interview was kept pretty simple – there weren't any deep, probing questions about his feelings or what Bristol's long-term education plans are. But all in all I think he came across as a fairly decent kid – who's got a lot to learn.
On rumors:
Levi Johnston, who's having a baby with the daughter of Republican vice presidential candidate Gov. Sarah Palin, can't believe all the things he's hearing. No, he wasn't held against his will on the campaign trail. No, he's not being forced into a shotgun wedding with 17-year-old Bristol Palin. "None of that's true," Johnston, 18, said in a rare interview with The Associated Press…

On being told what to say:
He agreed to talk despite the presidential campaign's advice in the days following Gov. Sarah Palin's nomination to avoid the media. "They're not telling me anything right now," Johnston said as he checked his Blackberry. "It's pretty chill." Not surprisingly, Johnston was a little shocked when he learned about Bristol's pregnancy, but he says he quickly embraced the prospects of fatherhood.

On being a dad:
Johnston hinted he's expecting a boy, but he declined to discuss baby names. "I'm looking forward to having him," he said. "I'm going to take him hunting and fishing. He'll be everywhere with me."

On his MySpace page:
For starters, he said his much-maligned MySpace page was a joke — the one that claimed he said: "I'm a … redneck," referring to a common stereotype of poor, rural, white Americans and "I don't want kids." Johnston said his friends created the page a few years ago, and he had nothing to do with it.

On getting married:
"We were planning on getting married a long time ago with or without the kid," he said. "That was the plan from the start." While Johnston provided few details about next summer's wedding, the planning has started: A cousin will likely be his best man, and he has asked two hockey buddies, Ben Barber and Dane Wilson, to be groomsmen. Barber doesn't think anyone pressured Johnston into marriage. "If he thought it wasn't the right thing to do he probably wouldn't do it," he said.

On hunting and tattoos:
He's hunted bears, sheep, elk, and caribou. Some of the antlers are scattered about his yard. Last July on a caribou hunt he lost a ring that Palin had given him. He said he decided to tattoo her name on the finger and not bother with more rings because he'd just lose them anyway.

On his image:
Johnston is an avid hunter. He's dark haired, tall and muscular, sports a bit of stubble and drives a red Chevy Silverado truck. While Barber said his friend is a celebrity now, Johnston said it hasn't changed him. "I'm still the same old boy," said Johnston. "I'm just a workin' man."
[From the Daily News]
The thing that made me wonder if he'd been coached was his response to what he thought about Barack Obama. Johnston said "'I don't know anything about him. He seems like a good guy. I like him.'" I can't think of a better answer. He also said he doesn't know much about politics, so that'll buy him out of most complex questions in the long run.
It's hard not to wonder how much of Johnston's personality is him and how much is really a campaign advisor. Either way, he came off as nice and decent, even if it didn't exactly seem like he was disclosing his deepest feelings. Hopefully both he and Bristol will grow into being good parents.