Mariah Carey's over the top nursery in Life & Style: do you care?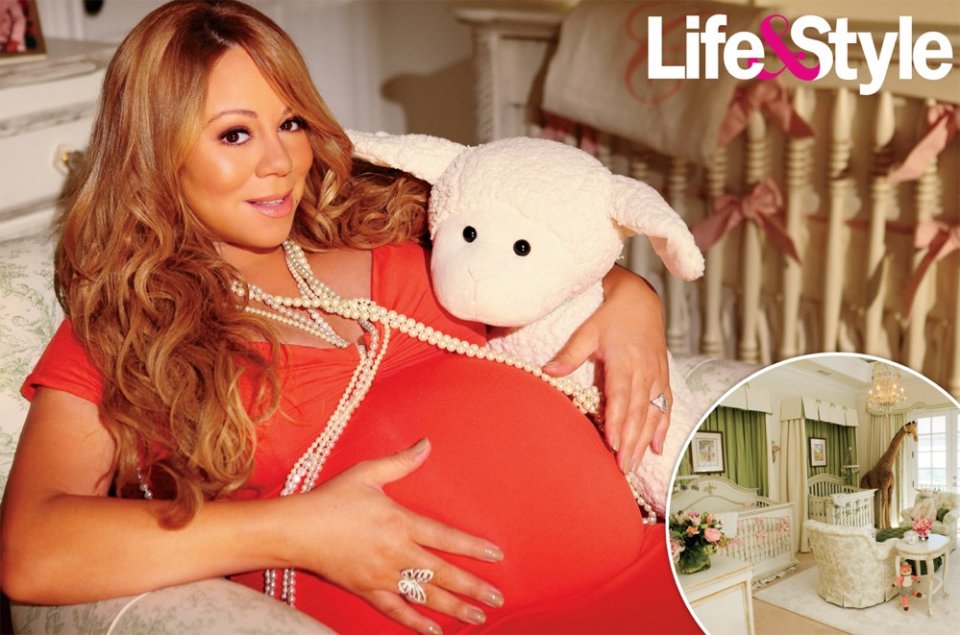 So Mariah Carey gave Life & Style exclusive access to her nursery, all decked out and ready for the royal twins to grace it with their presence. Normally this would rate a full cover, but instead Mariah is on the sidebar and the unsurprising news of the latest bachelor breakup gets higher billing. That's kind of sad for Mariah, only I bet her Life & Style cover didn't sell that well, and we just saw Nick clutching her pregnant boobs on the cover of OK! UK. She's overexposed in several meanings of the word and people are kind of shrugging at her at this point.
I mean I wish her well and everything, and I'll coo over those babies when they arrive, but this is the route Mariah should have been going all along – show the nursery, give an interview fully clothed saying she's looking forward to being their mom. Instead she's overselling, getting half naked and talking to every outlet like a Kardashian. I get it, she's excited, and I bet that Nick has a lot to do with this because he has that radio show and is just a very affable, talk to the press kind of guy. She needs to give it a rest already, though. Here's some of what she told In Touch:
Soon, Mariah Carey won't be the only one wailing high notes at home! Mariah and husband Nick Cannon give Life & Style an exclusive first peek at their newborns' breathtaking nurseries—one in their luxe Bel-Air, Calif., estate and the other at their NYC apartment! Both rooms are filled with comfy chairs, plush stuffed animals and the parents-to-be's personal touch!

"I wanted to create a beautiful, tranquil, cozy environment for the babies," Mariah tells Life & Style in an exclusive interview. "Everything matches, but pieces are individualized to celebrate the twins as separate entities."

Separate — but equally glam! "Designing the LA nursery with Gail Sedigh of AFK Furniture and world-famous decorator Mario Buatta was so challenging because I had such specific ideas I wanted implemented. I feel like I'm bringing two individuals into the world, so I wanted to do more than cookie-cutter styles in blue and pink." And dad Nick agrees. He wanted the twins' side-by-side cribs accented with pink and green bedding instead of the traditional pink and blue.

Mariah's favorite part of the twins' LA nursery? The cloudscape, star-speckled ceiling. "The ceiling has orangey-pink clouds in a blue sky with golden stars twinkling. It's based on two songs I wrote that are fan favorites: 'Underneath the Stars' and 'Close My Eyes,'" Mariah tells Life & Style. "Sometimes I just sit in the nursery and stare at the ceiling because I love it so much. To me, it symbolizes wanting my children to dream as big as possible and to let their imaginations be unbridled." Mariah also incorporated her favorite winged insects, butterflies, into the nursery and super-soft stuffed-animal lambs, what the singer endearingly calls her fans.

Mariah has also been busy coordinating a nursery for the twins at her NYC apartment. "I prefer the East Coast schooling over the West Coast," Nick tells Life & Style. "But there are other things that come into play, like work."

While Mariah has enjoyed her pregnancy, she and Nick are certainly ready for the arrival of their son and daughter! "Being a mother is probably the hardest job in the world. I feel like, in a lot of ways, children come into the world to teach us," Mariah says. "It's going to be a delicate balance between raising them around glitz and glamour and keeping them grounded. One thing I'm sure of is that I'll be grateful for the twins every day, no matter what."
[From Life & Style received via e-mail]
Why is Mariah hustling so much? She's reminding me of J.Lo a little, in that she has to tout her lifestyle to afford that lifestyle. I mean I know she's made millions as a recording artist and from her perfumes but does anyone else get the sense that she's overextended?
Maybe she's just really overjoyed to share every detail with her fans, though. She also seems to be in a very stable relationship with a guy who adores her. Nick just gushed about her for the umpteeth time, telling People "I'm in awe of my wife. She is the most beautiful, strong person I've ever met. Seeing her go through this and have to literally just relinquish everything that she's always been, and sacrifice her being for her children, is just the most beautiful thing I've ever seen." I never expected these two to last this long and now they're going to become parents. Good for them, but they should still tone it down a little. Nothing they do is understated on any level. Look their nursery has a little chandelier in it and mini placesettings for two. That tiny table just slays me.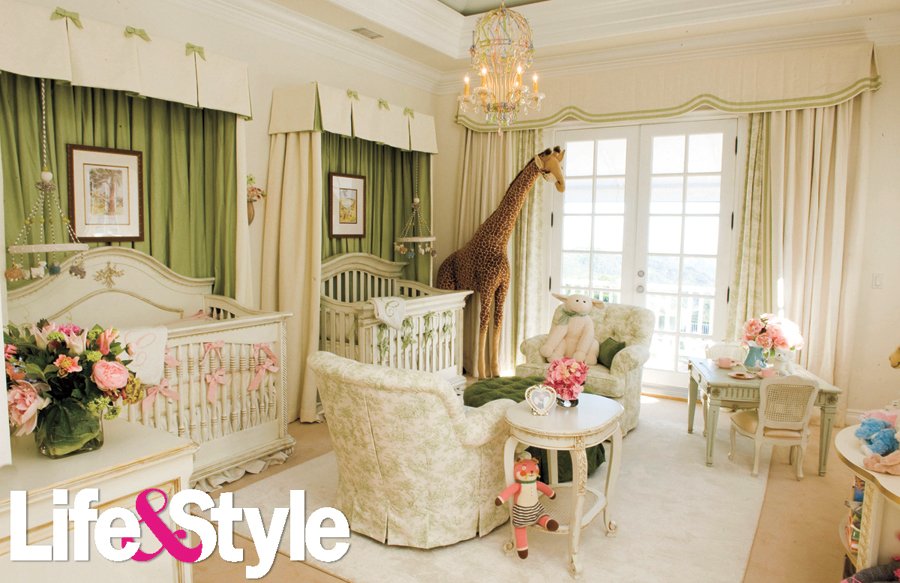 Written by Celebitchy

Posted in Babies, Mariah Carey, Nick Cannon, Photos

- Who butchered the National Anthem? [D-Listed]
- Rob Lowe never ages [Lainey Gossip]
- What is Vanessa Hudgens wearing? [Go Fug Yourself]
- Summer guide to reality TV [Reality Tea]
- Game of Thrones recap [Pajiba]
- Tan Mom's music video [Buzzfeed]
- Amanda Knox is broke [Starcasm]
- Backstage at the Billboard Awards [Popsugar]
- Miley is still stuck in the 90s [Popoholic]
- Blind Items revealed: Adam Levine [CDAN]
- Hugh Hefner bought Crystal Harris a house [Celebslam]
- What happened to Aimee Teegarden? [The Blemish]
87 Responses to "Mariah Carey's over the top nursery in Life & Style: do you care?"