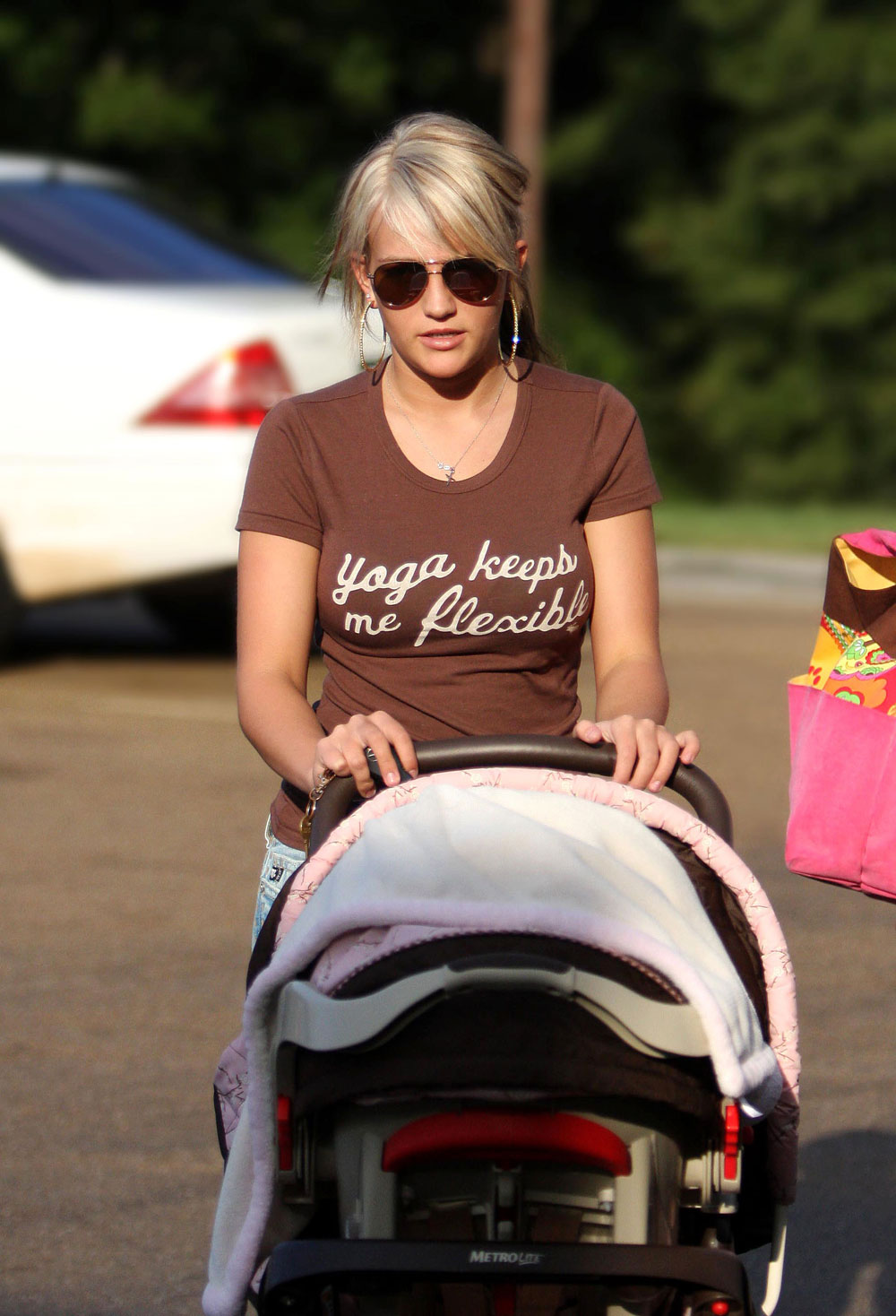 The National Enquirer is running a follow-up story about 17 year-old Jamie Lynn Spears' alleged second pregnancy. Despite denials straight from Spears and her camp, The Enquirer is standing firm with the story they broke last week that she fell pregnant with her second child less than three months after having her first.
According to sources quoted in the Enquirer, Jamie Lynn's 19 year-old maybe ex-fiance told her he didn't want the baby and was upset that she got pregnant. It also incensed the young dad that he had to read about it at the grocery store first as she had yet to tell him. And how is this for ironic justice – Lynne Spears, Jamie's mom, found out that her daughter was pregnant yet again when she was out hawking her tell-all book:
"After he read about Jamie Lynn's pregnancy in The Enquirer, Casey told her, 'You can't have this baby!' He was so angry that he threatened to leave her for good," revealed a source close to the Spears family.

"He never planned to have another baby with Jamie Lynn so soon, and he told her that if she couldn't tell him something so important, than he didn't want to be with her anymore.

How Lynne Spears found out about the second pregnant
And now we've learned that Jamie Lynn told her mom the news while Lynne was out promoting her book "Through the Storm."

"Jamie Lynn and her mom were on the phone fighting about her getting back with Casey. Lynne shouted that Casey had humiliated her and cheated on her with girls she knows right under her nose," said the insider.

"That's when Jamie Lynn blurted out, 'I'm having another baby! I will be with Casey forever. We're a family."

Shocked, Lynne ordered Jamie Lynn not to tell a soul, even Casey, said the source.

"Then Lynne read Jamie Lynn the riot act about how stupid it was for her to get pregnant again, and Jamie Lynn accused her mom of trying to ruin her relationship with Casey," said the source.

"But Lynne things Casey got Jamie Lynn pregnant on purpose because he sees her as his meal ticket. Now Lynne is desperately trying to talk Jamie Lynn out of having this baby," said the source.

Meanwhile, Casey is seething that Lynne advised Jamie Lynn to keep the pregnancy from him, insiders say.

"Casey believes he should have been told about the pregnancy right away. He says he's tired of Jamie Lynn letting Lynne control her life…

"Now, he and Lynne are openly talking about how much they hate each other."
[From The National Enquirer, print edition, October 27, 2008]
Jamie Lynn was spotted out without engagement ring, so whether she's pregnant or not it does seem like there's truth to the breakup and cheating rumors. The two are back together for now, though, reports the Enquirer. I trust the National Enquirer above the other tabloids due to their solid record of breaking stories that end up being true. MSat keeps reminding me that the NE was the first to come out with the news of Jamie Lynn's first pregnancy. They may very well have a source close to Jamie Lynn and Casey, and they had a lot of insider information about Casey's cheating.
They call the source "a family friend," and last week they say that a "family member" confirmed the news. Britney and Jamie Lynn do have an aunt who has spoken to the press in the past and there are probably more relatives out there, like her weird uncle, who would spill details to the tabloids for cash. All that said, it's possible their source has incorrect information or is lying for their own purposes. The only way we'll know for sure is to wait and see if Jamie Lynn starts to show again. If this was true and she followed her mother's advice we may never know.
The NE reports that "she seems determined to stand up against pressure to have the baby" and say that she is convinced it's a little boy and has even confirmed the pregnancy with a doctor. She also sadly seems to think that another child will help heal her tenuous relationship with Casey, especially if she has a boy. Despite all the ways that Jamie Lynn seems more mature than her older sister, if this is true she sure seems to be repeating a lot of her mistakes.
Here are photos of Jamie Lynn shopping at Walmart on 10/11/08 that you've already seen. Credit: Bauergriffinonline