VMAs were a bit of a bore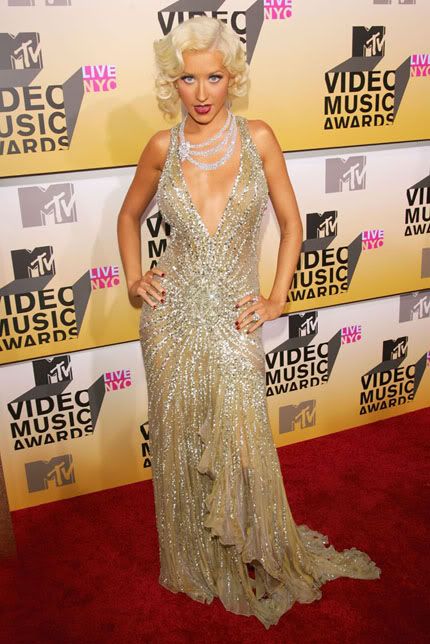 The VMAs were rather tame this year by several accounts. It's hard to top Madonna making out with Britney and XTina, when James Blunt wins two awards and The Black Eyed Peas get "Best Hip-Hop" for the abominable "My Humps" you know you've got problems.
Despite the lack of memorable moments the VMAs weren't entirely predictable. Both Shakira and The Red Hot Chili Peppers won consolation prizes, and many of the top awards went to unexpected artists.
Performances by Beyonce, Shakira, and Justin Timberlake were said to be decent, but not incredible.
Is it possible that the "MTV Video Music Awards" have actually become boring? The live broadcast from Radio City Music Hall was a night of shout-outs, praises to God and numerous calls to "make some noise." But there were very few shocks and no iconic moment from the awards show that just a few years ago found Madonna and Britney Spears kissing. The only thing that came close was Lil' Kim presenting in a prison uniform. –
Boston Herald
---
Where are Eminem and Triumph the Insult Comic Dog when you need them?
Despite Shakira's ever-gyrating hips, Justin Timberlake's SexyBack and the obscured image of a naked midget, last night's MTV Video Music Awards had about as much spontaneity as an episode of Cribs. – London Free Press
Here's a list of winners:
Video of the Year: Panic! At the Disco, I Write Sins not Tragedies
Best Male Video: James Blunt, You're Beautiful
Best Female Video: Kelly Clarkson, Because of You
Best Group Video: The All American Rejects, Move Along
Best Rock Video: A.F.I., Miss Murder
Best R&B Video: Beyonce featuring Slim Thug and Bun B, Check On It (Pink Panther)
Best Dance Video: Pussycat Dolls featuring Snoop Dog, Buttons
Best Rap Video: Chamillionaire featuring Krayzie Bone, Ridin
Best Hip-Hop Video: The Black Eyed Peas, My Humps
Best Pop Video: Pink, Stupid Girls
Best New Artist: Avenged Sevenfold, Bat Country
Viewer's Choice Award: Fallout Boy, Dance, Dance
Best Video Game Soundtrack: Marc Ecko's Getting Up
Best Video Game Score: Elder Scrolls IV: Oblivion
Ringtone of the Year: Fort Minor, Where'd You Go
Best Editing: Gnarls Barkley, Crazy
Best Cinematography: James Blunt, You're Beautiful
Best Direction: Gnarls Barkley, Crazy
Best Choreography: Shakira featuring Wyclef Jean, Hips Don't Lie
Best Art Direction: Red Hot Chili Peppers, Dani California
Best Special Effects: Missy Elliot, We Run This
And here are photos of some arrivals at the VMAs including Christina Aguilera, Paris Hilton with a ridiculous pompadour, Jessica Simpson, Vanessa Minnillo, Shakira, Beyonce, Rihanna, Kelis, Ludacris, Justin Timberlake, Nick Lachey, Diddy, Andre 3000, Ciara, Jared Leto, and Queen Latifah.
Thanks to Gossip Rocks for these photos.
Written by Celebitchy

Posted in Photos

- Mariah Carey lip synced on American Idol [CDAN]
- Colin Firth is looking good [Lainey Gossip]
- Internet celebrity charged with murder! [D-Listed]
- What is Paz Vega wearing? [Go Fug Yourself]
- New bachelors on The Bachelorette [Reality Tea]
- Goodbye to The Office [Pajiba]
- Bachelor Sean's fiance cheats on him [Evil Beet]
- Britney Spears out with her man [Popsugar]
- Nina Dobrev works it [Popoholic]
- Cindy Crawford needs to lay off the 'tox [Celebslam]
- Who said it: Carrie Bradshaw or The Dalai Lama? [Buzzfeed]
Pages: 1 2 3 4 5 6 7 8 9 10 11 12 13 14 15 16 17 18 19 20 21 22 23 24 25 26 27 28 29 30 31 32 33
7 Responses to "VMAs were a bit of a bore"