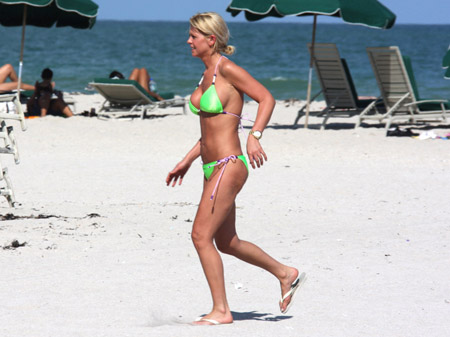 They way celebs are photographed is super unfair. Imagine a bunch of paparazzi are following you around on the beach, shooting you at 10 frames per second. As much as you try to ignore them, you're probably not acting as natural as you can, and the odds are that someone's going to catch a few shots of you (gasp!) blinking, or about to sneeze, or a million other ordinary activities that make you look asinine when frozen on film.
Tara Reid's beach bigfoot walk is a great example. Though I have no way to prove it, I bet she's walking like a normal person, and not like she'd rather be skulking through the woods of the Pacific Northwest. But some jerk of a photographer thought it was good to put up on a photo agency's website, and some bigger jerk of a writer thought it was even funnier to use as the header for her story.
It's hard not to make fun of Tara Reid. She just gives us so many opportunities. And when you're wandering around on the beach in a bright neon string bikini in late October, it's a little obvious that you're aiming for the gossip columns.
Tara is legendary for her botched cosmetic surgeries. So much so that I can't even tease her about it – I just feel badly for her. Yet never once has that stopped her form parading around in a bikini in front of a bunch of photographers. You might think to yourself, "Wait, I remember that day last year when Tara Reid was in a sweater." Wrong. The image was just so upsetting that they had to Photoshop a sweater onto her. Can you imagine if they did that to the photo up top? She really would look like bigfoot.
Tara, we know you probably want to do some damage control after your comments last week. But this is not the way to go about it. Getting people to feel badly because your mind is broken and your boobs are unsupported won't get you anywhere in life except a porn film. Which is probably where your career is headed anyway. Nevermind.