Howie Mandel talks more about OCD: "I'm a professional neurotic"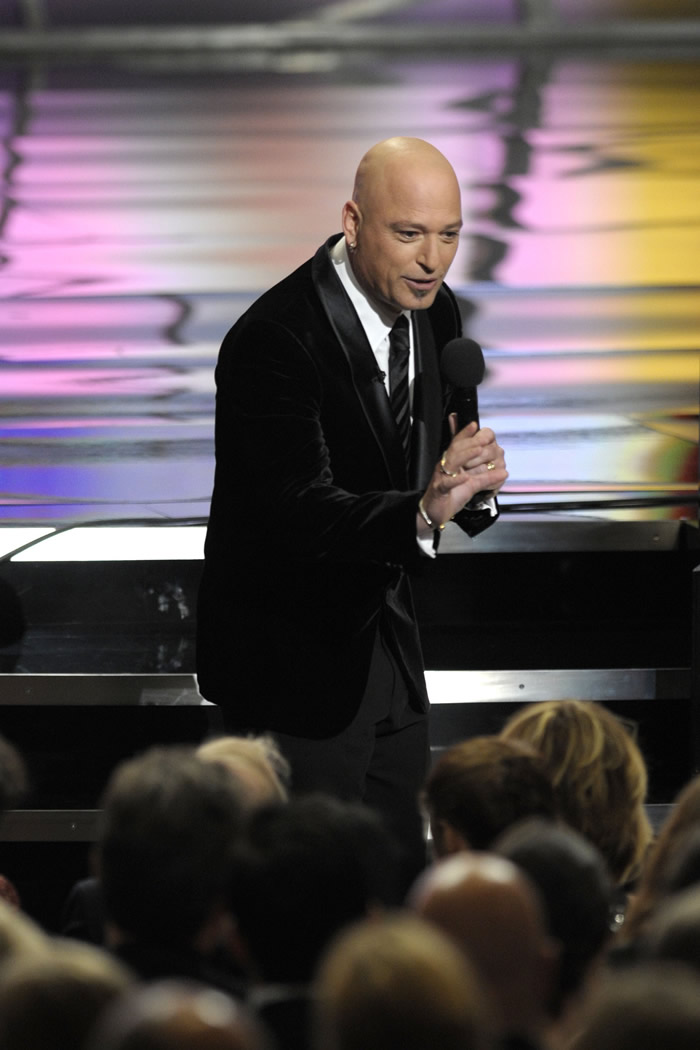 I love Howie Mandel and always have loved his inherent spirit of goofiness. Of course, most people know him these days as a primetime game show host and current judge on "America's Got Talent," but Howie's been around since the 1970s in his continuing capacity as a stand-up comedian. While I've always followed his career, I admit to losing track of him at some point and then being delighted to rediscover him (during my college days) in the late 1990s when Howie stepped in as a guest host on "Regis and Kathie Lee." Soon afterward, Howie got his own daytime talk show, and he filmed an episode specifically geared towards revealing his OCD. The poor guy! I still remember the look on his face when they called in a specialist to unveil all of the germs lurking on Howie's desk. Indeed, it was a quasi-magical moment for me, for I realized that Howie and I had that horrible affliction in common.
Since then, Howie's written a book about his OCD battle, and also talked (perhaps a bit too much) during a Letterman interview about his illness as well. Of course, Dave asked Howie the practical question; that is, what of medication? Naturally, Howie revealed that he was taking medication, but most people with OCD will realize that meds (usually Luvox and/or Xanax is prescribed) just don't work. In fact, nothing works, and there's no such thing as just "getting over it." While there are behaviorial strategies that can help a patient endure some semblance of "normal" behavior, the disease is always present and nagging in the back of one's mind. It's a truly miserable, prison-iike existence, and I suspect that Howie suffers immensely (at all moments) but still has to make a living, so he's developed some strategies involved with hotel rooms and air travel. If I could afford this sort of thing, it's the way I'd do it too. Well, other than the head-shaving part.
Are you worried about bedbugs in hotel rooms?
When those outbreaks happen and it hits the news I garner comfort in going, 'Uh uh now the world is coming over to my side.' I love that everybody's paranoid and taking precautions. I've been sleeping in a cocoon and not touching the comforters as it was so I've been safe. I check really closely. I travel with a magnifying glass, a black light. I don't touch their sheets. I take mine, everything is sealed in plastic. I take towels and make a path. I'm a professional neurotic.

Wow.
It's not wow, it's How.

Do you still do stand-up?
200 days a year.

I'm fascinated by that, because you have a serious problem with germs and yet you continue to put yourself in stressful environments like hotel rooms.
This side of the Mississippi I fly back on the same night. If I'm in the northeast I have my own place up in Toronto where I stay. That's not to say I don't stay in hotels but I'm very particular on where I stay and how I stay. For the most part I live on a plane and I'll fly privately because of my phobia with germs.

I think it's important for me to be out there, outside of New York and Los Angeles. I really keep my finger on the pulse on what is tickling the fancy of the public. It's either to do it when you're in Iowa or when you're in L.A. think and wonder if people in Iowa would like that.

Do you shave your head for cleanliness?
I did it originally for a movie, not one I was in, I was going to watch one and I didn't want to block people's view with my curly jewfro. No, I did it for a part in a movie but it felt so clean and now I have more of my face to wash.

Can you relate to Howard Hughes?
Sadly I do, he functioned and did well in life and it scares me as depicted in the DiCaprio movie, he's in a room at the end naked and peeing in bottles. I've said this many times before I'm really not that far from him. I live on the edge and I can see without the therapy and medicine how that's not so far fetched. That's almost terrifying. I can hug, I can't shake hands. I can't get past the hands. I know it makes no sense.
[From Popeater]
See, Howie knows (just like everyone else with true OCD) that these thoughts are not rational, yet he cannot stop himself from thinking them. No amount of therapy or medication will ever make it go away, but he's still out there performing on an almost nightly basis. So while the OCD truly runs his life (unlike people who are merely concerned about catching the swine flu or organizing their library "just so"), Howie's living with his condition in the best way possible. That's certainly commendable, but I'm sure it also helps that his wife has stuck by him all these years. She must be a real trooper, for God only knows how she's put up with all of the madness; I've lost a few boyfriends myself over the years just because they can't put up with the OCD stuff.
Here's a few pictures of Howie out in public (with his long-suffering wife and doing his "fist bump" handshake with Simon Cowell) before he undoubtedly ran home for a Silkwood shower. Stay strong, Howie.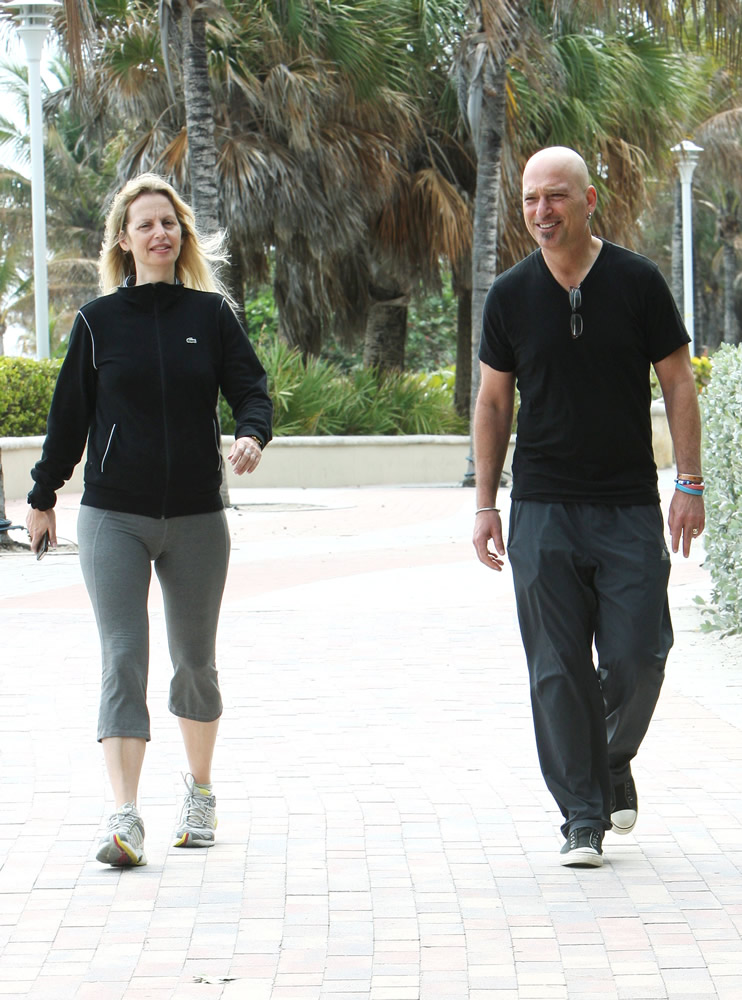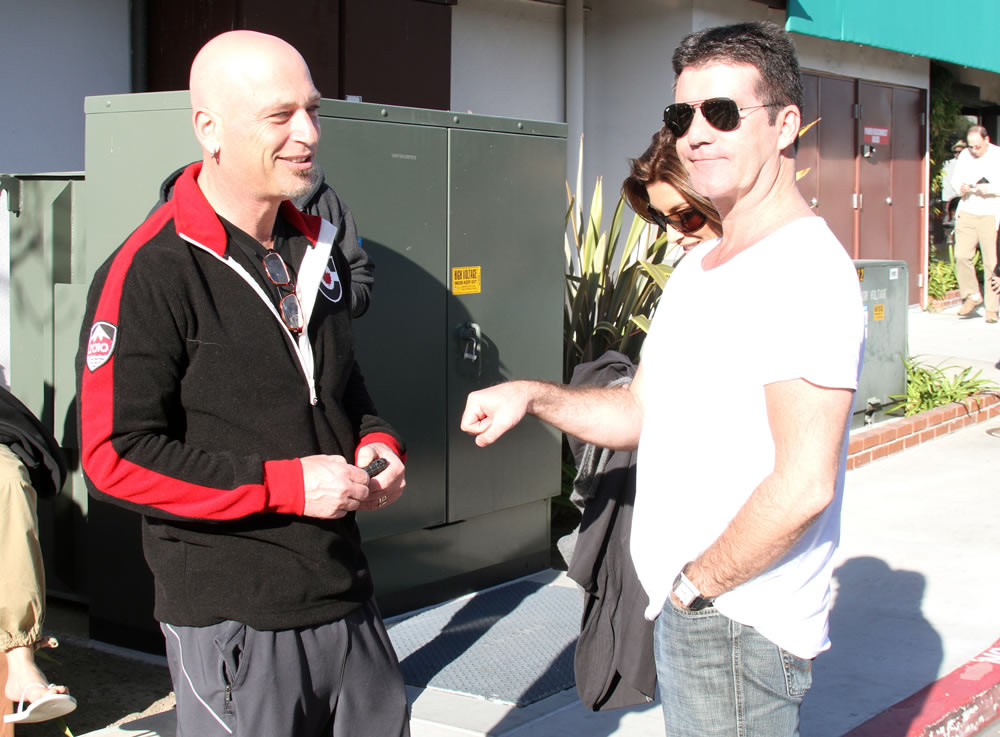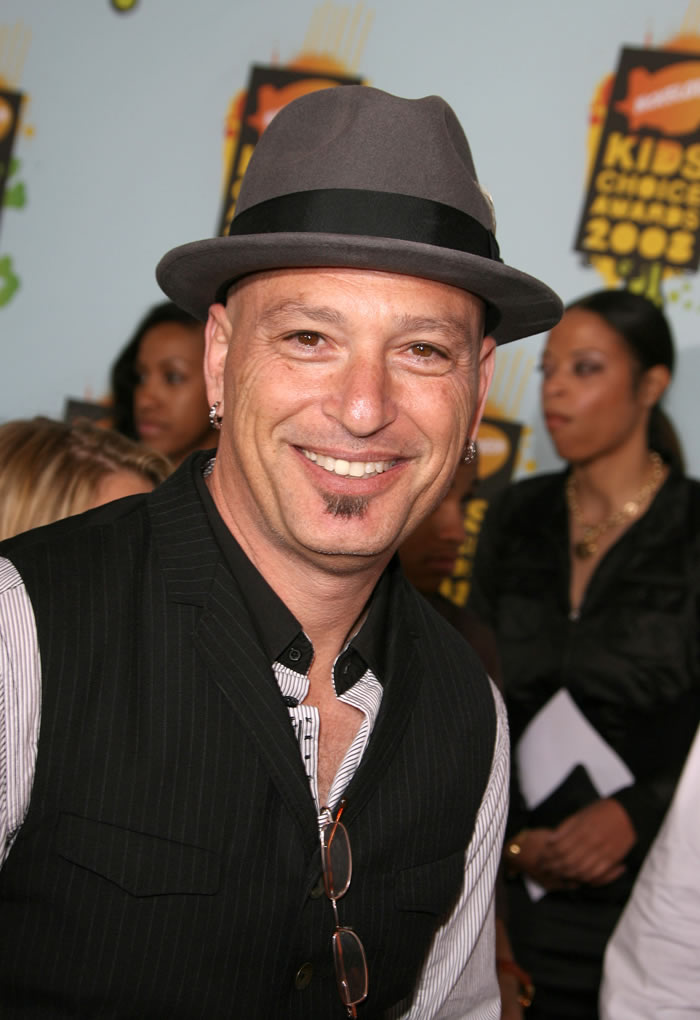 Photos courtesy of WENN and Fame
Written by Bedhead

Posted in Howie Mandel

- Harry Styles & Kimberly Stewart going strong [Lainey]
- Demi Moore's new man is gross [D-Listed]
- Fug or fab: Emma Stone [Go Fug Yourself]
- Arrest warrant issued for Jenelle Evans [Reality Tea]
- Only God Forgives review [Pajiba]
- Hugh Jackman, scooter master [Buzzfeed]
- Who does Drew Barrymore call her sister? [Evil Beet]
- Cannes couples past and present [Popsugar]
- Arrested Development supercut [CDAN]
- Lea Michele's see through skirt [Celebslam]
- Cheating wife's lover escapes out of window [Movin925]
- Joe Francis is crazy [Starcasm]
19 Responses to "Howie Mandel talks more about OCD: "I'm a professional neurotic""