Drew Barrymore loves her curves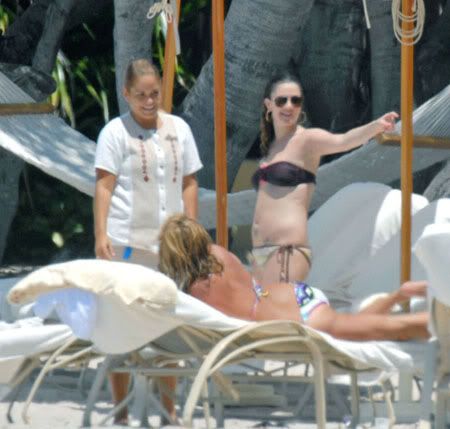 In an interview with Elle magazine, Drew Barrymore said that she likes her body and will never strive to be rail thin like many of her Hollywood counterparts:
"I'm never going to fall prey to that. I don't have enough room in my life for the neurosis of other people's expectations. If you're too thin, they kill you and if you're too fat, they kill you.
"There's no such thing as perfection and someone else's definition of it is not good enough for me.
"I love food too much to live in fear or starvation. If I could eat macaroni cheese every day then I'd be happy. I live for crispy tacos!"
She also said that Cameron Diaz is her best friend and that she is "totally into girl love." She said her friends are her outlets for "dreams and creative aspirations."
Drew certainly has a good head on her shoulders, and she seems like a fun person to hang out with. She was photographed with funnyman Jimmy Fallon in Punta Mita, Mexico on September 3rd. This doesn't mean that Drew and Jimmy are together. Drew is most likely still with her longterm boyfriend, Strokes drummer Fabrizio Moretti. A commentor on Lime-Light.org, where we found the pictures, notes that it looks like Drew's friend and business partner, Nancy Juvonen, is with them, and that she may be dating Jimmy.
Written by Celebitchy

Posted in Drew Barrymore, Jimmy Fallon, Photos

- Zach Galifianakis is awesome [Buzzfeed]
- Prince at the Billboard Music Awards [D-Listed]
- Bieber's Billboard look [Go Fug Yourself]
- Married to Medicine recap [Reality Tea]
- Celebrity first marriages [Pajiba]
- The last Mad Men baffled a lot of people [Lainey]
- Karolina Kurkova's crazy hot dress [Moe Jackson]
- Jennifer Garner on set [Popsugar]
- Kitten vs. Lizard [CDAN]
- Doetzen Kroes' great butt [Celebslam]
- Shameless star Jeremy Allen White [OMG Blog]
- RIP Ray Manzarek [Bossip]
8 Responses to "Drew Barrymore loves her curves"