Lenny Kravitz talks 'Hunger Games,' admits daughter Zoe steals his fashion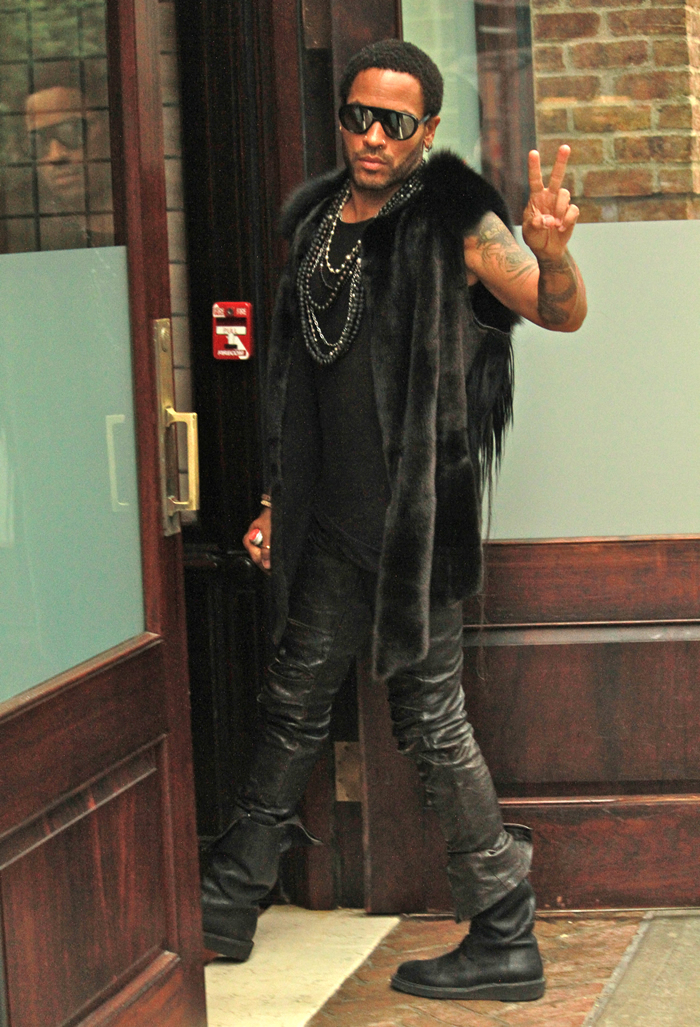 The August issue of Details magazine features an interview with Lenny Kravitz. Unfortunately, it's not a feature piece, so there's no photoshoot to go along with his words; but we'll take what we can get from the always delicious Mr. Kravitz, who is promoting his upcoming album, Black and White America, which arrives in U.S. stores on August 30. In addition to shilling for the new record, Lenny also discusses his upcoming role as Cinna in The Hunger Games, which instantly gained some sex appeal merely by way of casting the man. Oh, and he's also got some choice words to say about Zoe stealing his fashion! Here are the highlights:
On His Mixed Race: My mother never really brought up race because our house was full of color. But she did have an intelligent way of putting it. I was 5 years old and she said, "You are just as much white as you are black, just as much Russian Jew as you are African-American. But society is only going to view you as black." If you have a drop of black blood, they put the black stamp on you. If I have to fill out a form that asks what race I am, I check both boxes.

On Looking Back At His Past Fashion: I look back at some of those pictures and I'm like, "Wow, that was really crazy." I would try anything: furs, boas, platform boots. It's funny how you never think you're going to change. I met Mick Jagger at the beginning of my career and asked him, "Where's that outfit with the omega on it? Where's that cape?" He said, "I don't know. I think my daughter has it in her closet." I was so bummed. But now my daughter, Zoe, has a lot of my stuff. She took all my boas from the Mama Said era. They were in storage, and I yelled at her, "Don't steal my boas!" She laughed and said, "Those words would not come out of most fathers' mouths."

On His Relationship With Zoe: I'm old-school about the father-daughter thing, but she's also my best friend. She grew up with me. I didn't hide a lot. She learned by listening and observing what I was doing.

On Whether He Dreads Walking Her Down The Aisle I'm not. I look forward to it. But I'm hoping she doesn't ask me that, like, tomorrow.

On Whether He Read Hunger Games Before Being Cast: I honestly hadn't heard of them before the director called me. I hope the fans don't hate me for that. He had seen my work in Precious and called and offered me the part of Cinna, who is the stylist for the main character, Katniss. He saw how I played a caregiver in Precious and figured I might be good for Cinna. I didn't have to audition, so I'm lucky.
[From Details]
See, Kaiser was completely correct when she pegged Zoe's style as very early '90s because those boas that Lenny mentions are all from Mama Said, which came out in 1991. So she's basically inspired by her father's style of that era. Likewise, Zoe's mother, Lisa Bonet also reached the height of her fame in the early '90s as well, and I imagine that a lot of Zoe's closet is also filled with stuff that she's snagged from her mom (worn at that point in time) too. Does that make sense? Zoe wants to be cool, and her parents were coolest back in the early '90s; hence her "vintage" emulation. Anyway, it sounds as if Lenny's hoping that Zoe and Michael Fassbender don't head down the aisle at any time in the near future, so that's a good sign for all of us. Especially Kaiser.
As a side note, I recently devoured the Hunger Games trilogy after learning that Lenny was cast as Cinna, and I think he'll be perfect in the role even though his Cinna will obviously be older than the literary counterpart. In fact, I can just hear Lenny, dressed flamboyently, uttering the words, "Katniss, the girl who was on fire!" He's gonna be effortlessly convincing, and the rest of the casting (Jennifer Lawrence, Elizabeth Banks, Woody Harrelson) sounds rather promising as well.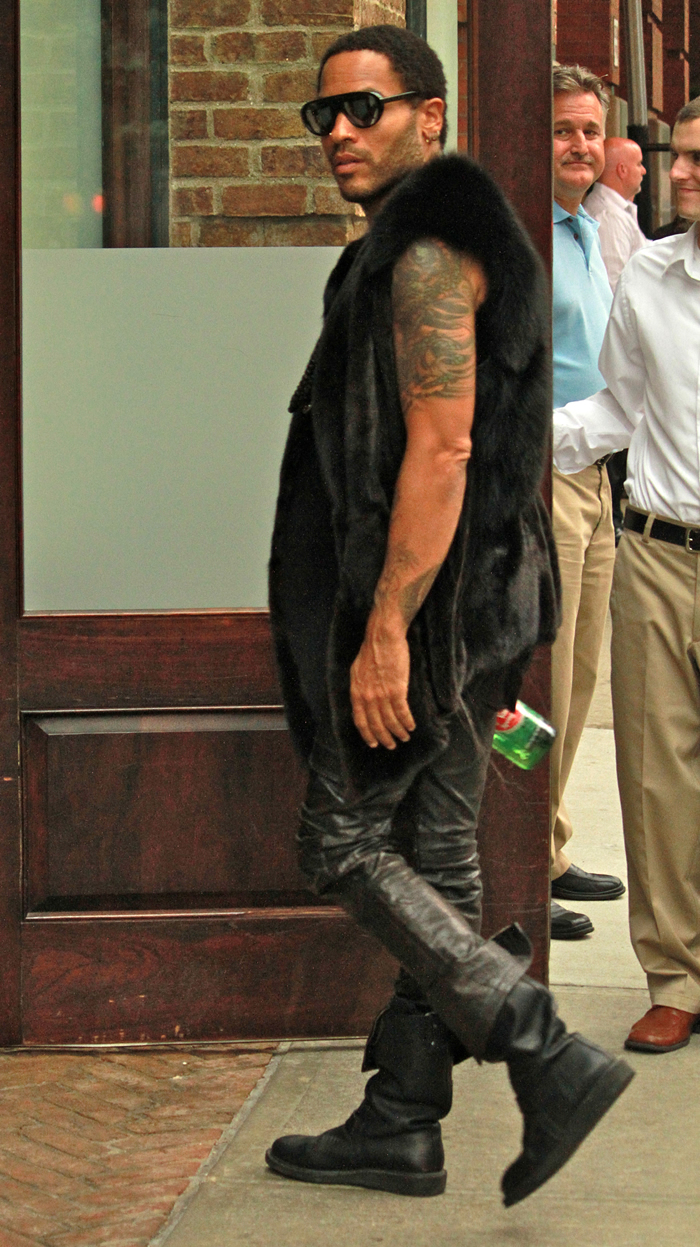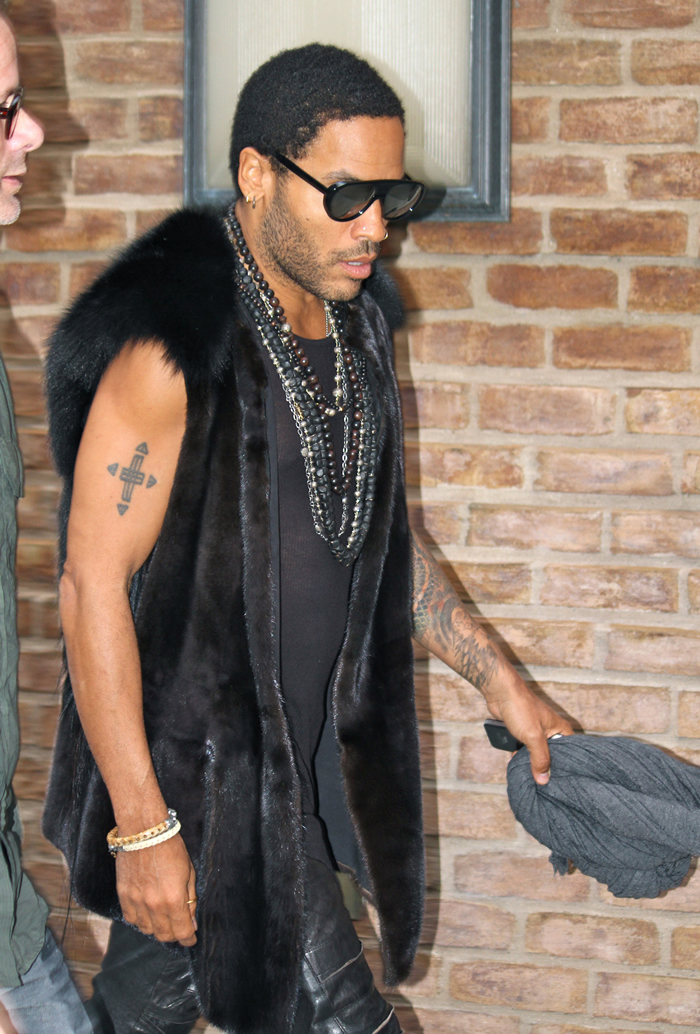 Lenny Kravitz in NYC on 6/24/11 courtesy of Fame
Written by Bedhead

Posted in Fashion, Lenny Kravitz, Lisa Bonet, Zoe Kravitz

- Friends reunion on Ellen [Popsugar]
- Lindsey Vonn watches Tigers kids [Lainey Gossip]
- George Michael fell out of a car going 70mph [D-Listed]
- Real Housewives of Orange County recap [Reality Tea]
- New Man of Steel trailer [Pajiba]
- Jared Padalecki's hot bod [Buzzfeed]
- Doctors confirm Taylor Swift's new boobs [Evil Beet]
- Catherine Zeta-Jones finished treatment [CDAN]
- Anna Paquin hates the paps [Celebslam]
- Lance Armstrong is gross [The Blemish]
- What is Barbara Palvin wearing? [Moe Jackson]
- This is Petra Nemcova? [SVC]
21 Responses to "Lenny Kravitz talks 'Hunger Games,' admits daughter Zoe steals his fashion"