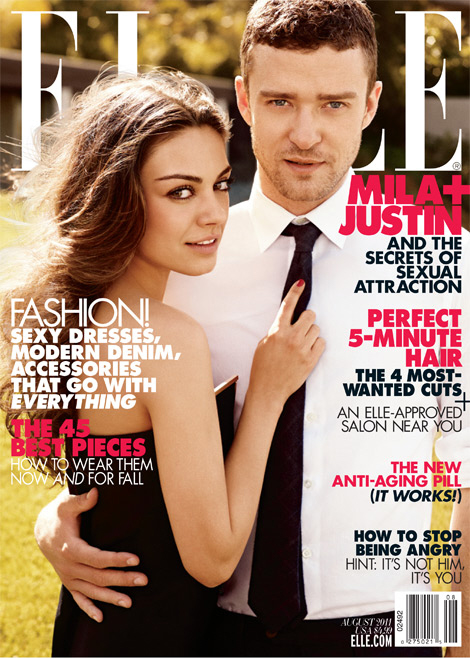 Elle Magazine decided to do what Marie Claire has been doing for most of the year – putting costar pairs on their cover. This time it's Mila Kunis and Justin Timberlake, stars of the soon-to-be-released film Friends With Benefits. You can see the photoshoot and assorted interview excerpts here, at Elle. I like the photos, even if I think JT looks kind of like a goober. Mila rarely takes a bad photo, and together they're trying to sell some sex appeal and stuff. I'm not sure it works – it kind of feels like they're two friends just play-acting the romance stuff. Maybe that's because I figure JT wanted Mila desperately and she denied him, so JT crawled back to Jessica Biel. Here are some highlights from the interview:
ELLE: "Friends with benefits": a good idea or a bad idea?
JT: [Smiles] It is such a good idea—until it's a bad idea.
MK: I concur. Ultimately, it ends when someone wants to go and get serious with somebody. More times than not, a person catches feelings and somebody gets hurt.

ELLE: I think any time someone is rubbing up against your nether regions, you're going to develop an emotional attachment.
MK: Yeah, when a female orgasms, a hormone gets released. I've never met a girl who can have sex without an ounce of feeling.
JT: Aha! Is that just a woman convincing herself so she feels like it's okay to have sex with someone?
MK: Fifty-fifty.
JT: So it's the same thing as with guys! Women are just lying to themselves.

ELLE: Playing friends with benefits, what was your costar most self-conscious about while shooting the nude scenes?
MK: [To Justin] You've got a fine ass. I was self-conscious about a lot of things. Show me one girl who isn't.
JT: I'll be honest and say, like, I'm still trying to get into the editing room and cut down on my ass time. I'm like, "Oh my God, my mom's gonna see that!"

ELLE: As in the film, have either of your parents ever walked in on you while you were in flagrante delicto?
JT: I was caught one time. My mom wasn't cool about it. I was too young to be in bed with a girl, so she was upset.
MK: I don't think my parents think I've ever had sex.

ELLE: Let's talk about how amazing your costar Woody Harrelson is playing a gay magazine photo editor.
JT: He gets the most gut-busting laughs. Everybody wants to know: "Did you smoke pot with Woody?" We did! Will [Gluck] and I put that basketball scene in the movie just because we both love White Men Can't Jump.

ELLE: Earth to Justin… Perfect first date?
JT: Something more simple than extravagant. Scrabble.
MK: Monopoly.
JT: Scrabble's a good date. If she can't spell, I don't want to hangout with her. So that's a good test.
MK: I can't spell at all. [To Justin] Now we'll never be friends.

ELLE: Mila, who is your older-man crush?
MK: George Clooney and Johnny Depp.

ELLE: Now that you're both single, do you find it hard to date? Must be tough being in the public eye.
MK: I haven't dated ever.
JT: I'm not equipped to answer that right now.
[From Elle Magazine's press release]
I wonder who JT was having sex with when his mom walked in? Britney? I hope it wasn't Cameron Diaz. Ugh. And Mila's older-dude crushes are Clooney and Depp? Oh, God. The Depp crush doesn't bother me, but please don't let Clooney hear that an young, attractive brunette with a cute figure has a crush on him. Clooney will be on that like white on rice.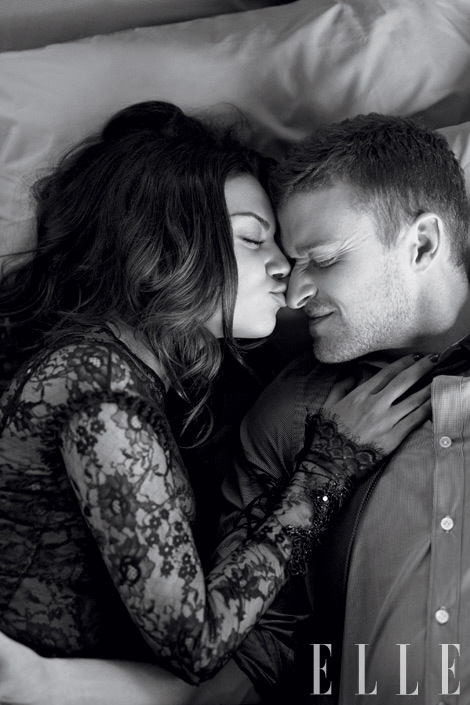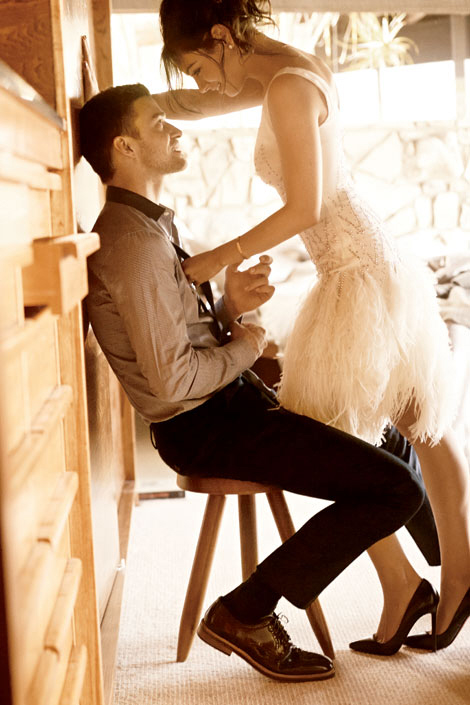 Photos courtesy of Elle's slideshow.