Anne Hathaway's Marie Claire UK shoot: gorgeous or squirrelly?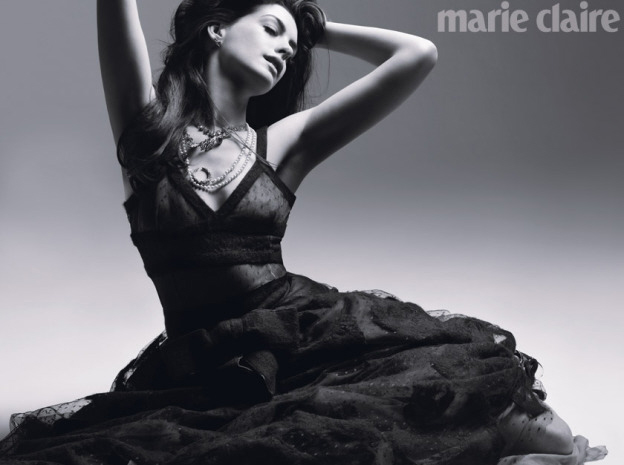 Anne Hathaway covers the September issue of Marie Claire UK, and these are some shots from the cover shoot. I like the pictorial, but I have to admit that I'm primed to like anything with Anne, because I've recently become her super-fan. That being said, I don't think Anne is capable of really mixing it up in photo shoots – her look really isn't that versatile, you know? She's not an old-school Nicole Kidman, who can be photographed in a million different ways. You pretty much can only put Anne in pretty clothes and have her ham it up for the cameras.
Before I get into the interview excerpts from Marie Claire, should we talk about the chance that Anne is one half of Lainey's blind item (the "Three Weeks" part)? My initial guess was about The Hunger Games, but many of you think it's about Anne and Christian Bale on the set of The Dark Knight Rises, perhaps. The idea of Bale and Hathaway having some quick, torrid, crazy little affair on the set… it's not the worst idea. I still have no idea if it's them, though. Anyway, back to Marie Claire – Anne talks about her boyfriend and how she's so in lurve. Damage control?!?
The Follieri aftermath: "People deal with horrible things all the time. Downstairs in this pub someone has a parent who is battling cancer. Someone has just lost their job. Life is really f-cked up and it's really painful sometimes."

Anne on meeting Adam Shulman after Raffaello Follieri was sent to jail: "Yes, I have a boyfriend. And yes, I am very much in love with him. But you do need to keep your private life private. Adam totally ruined my plan. I was really actually looking forward to a little alone time and then I fall in love like a fool. Yes, three years. It's serious!"

She got over the high-profile break-up from Follieri by penning silly songs, explaining laughing at situations which are difficult always helps her cope: "That was how I got through my pain. I wrote funny songs about it. That's always been the way I deal with things. You make a joke of it."

On doing a regional English accent for One Day: "I've never been so nervous about playing anyone as I was to play Emma. There were many reasons to say no to this part. One, because I didn't think I could pull it off. Two, I was very nervous about the Yorkshire accent." On the eve of the film's release she remains 'terrified' at the response, especially from One Day fans. Careful not to give too much away, she says of the film's dramatic ending: "I literally thought I'd misread it. I felt like I'd been punched in the stomach. I was crying and gulping for air. Very few movies are honest about love."

Turning 30: "I think it's the beginning of a process that really blossoms when you hit 30. It's when you stop apologising for who you are. It's nice not to know things and that's OK. People aren't going to judge you for asking questions. That's such a freedom."

On finding success: "Success is such a subjective thing. Certainly when I was starting out, I just had this unbelievable pressure to get jobs. "Gotta work! Gotta work!" I am hard on myself, but that has changed. Now I do it with hope."
[From Marie Claire UK & Music Rooms]
I'm worried about Anne's accent in One Day too. In the trailer for the film, Anne seems OFF. I mean, she looks like how I would imagine Emma, and I know Anne is a very capable actress, but this might be one of those times where the come-and-go accent really takes me out of the movie. The last time that happened was when I watched The Reader – Kate Winslet's accent work was fine, it was Ralph Fiennes's weird accent that bugged. It's like he only did the German accent when he remembered, which was only in a few scenes.
Here's the trailer for One Day. PILLOW WEEPER!!!!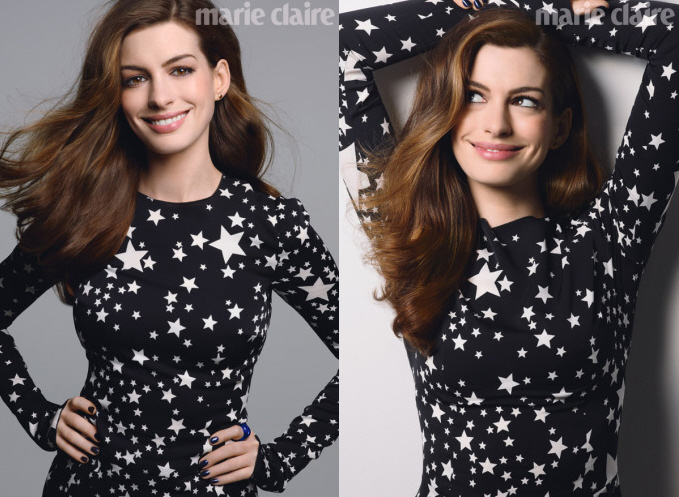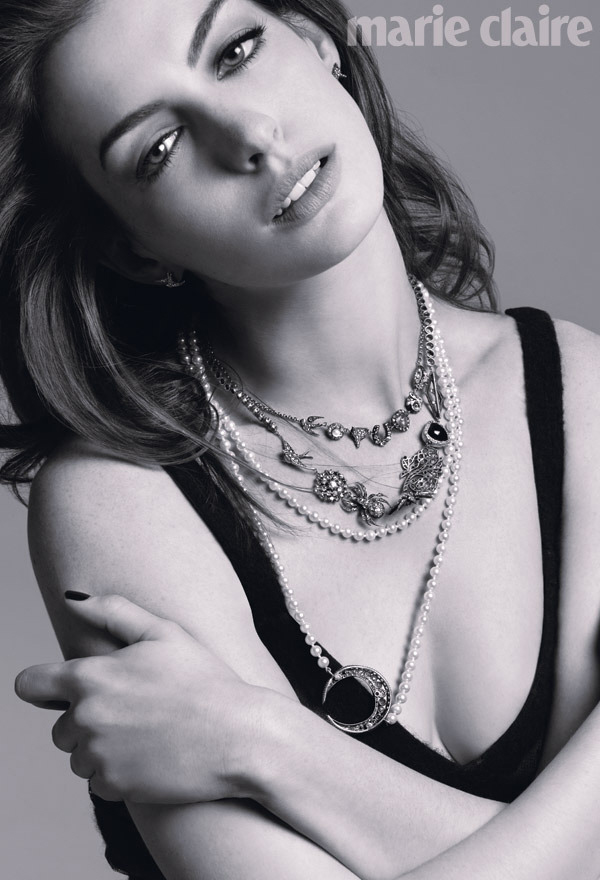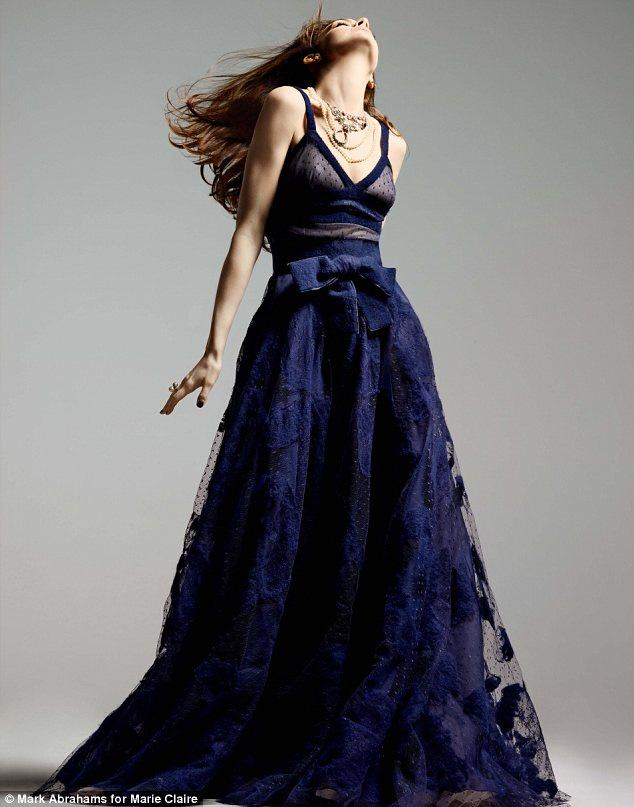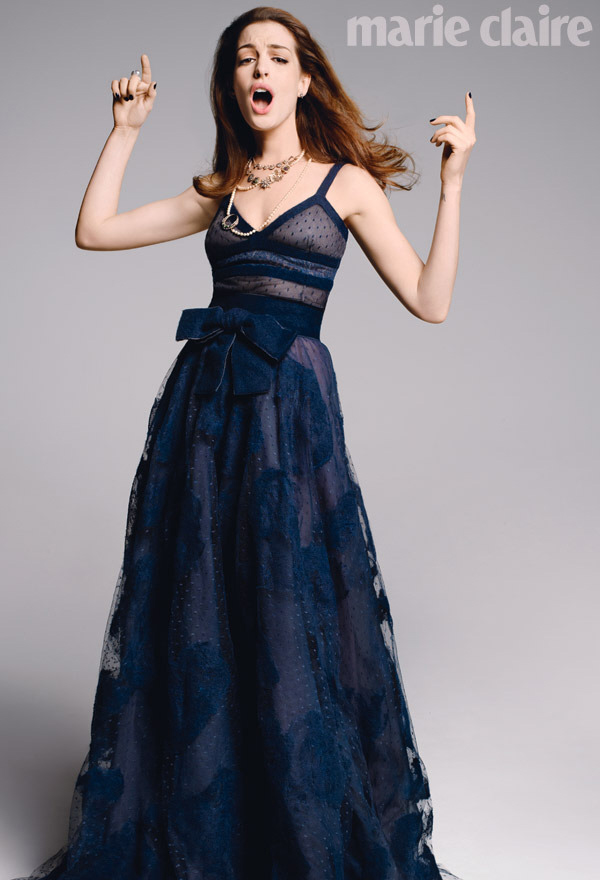 Marie Claire UK photos courtesy of The Fashion Spot.

Written by Kaiser

Posted in Anne Hathaway

- Mariah Carey lip synced on American Idol [CDAN]
- Colin Firth is looking good [Lainey Gossip]
- Internet celebrity charged with murder! [D-Listed]
- What is Paz Vega wearing? [Go Fug Yourself]
- New bachelors on The Bachelorette [Reality Tea]
- Goodbye to The Office [Pajiba]
- Bachelor Sean's fiance cheats on him [Evil Beet]
- Britney Spears out with her man [Popsugar]
- Nina Dobrev works it [Popoholic]
- Cindy Crawford needs to lay off the 'tox [Celebslam]
- Who said it: Carrie Bradshaw or The Dalai Lama? [Buzzfeed]
40 Responses to "Anne Hathaway's Marie Claire UK shoot: gorgeous or squirrelly?"