Angelina and Brad to marry in Namibia?!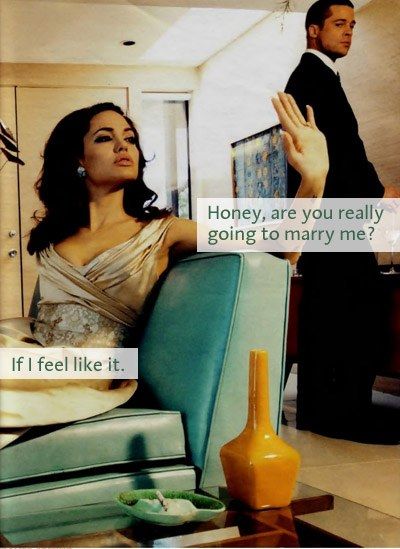 We realize that we reported the demise of Angelina and Brad's relationship just yesterday. Just because they're fighting it doesn't mean that they have to break up. A story came out in Britain's Mirror claiming that Angelina and Brad might get married in Namibia!
They're staying at the Burning Shore Lodge again, and just stopped into the Etosha National Game Park for a few days. (Thanks to Glitterati for clearing this up.)
The story that they're planning a wedding is totally speculative, but it sounds promising that their family is flying in:
Huge cloth screens have gone up outside the Namibian hideaway in southern Africa prompting speculation it will be a beach ceremony.
Heavily pregnant Angelina, 30, told her squad of body-guards to keep everyone off the beach, angering locals.
The Lara Croft star and Brad, 42, have been seen visiting private lodges that specialise in beach weddings.
Relatives are expected to join them within days.
An insider said: "We've heard Brad Pitt's brother Doug is flying out and some of her family, too. Everyone's wondering if they're going to get married here before the baby's born.
Of course Angelina is due next month, so that could explain the relatives flying in. Still it seems kind of early to have people visit, so it's possible that they're planning a wedding!
Here are the pictures of the resort where they're staying that we've already posted.
Written by Celebitchy

Posted in Angelina Jolie, Brad Pitt, Brangelina, Weddings

- Mariah Carey lip synced on American Idol [CDAN]
- Colin Firth is looking good [Lainey Gossip]
- Internet celebrity charged with murder! [D-Listed]
- What is Paz Vega wearing? [Go Fug Yourself]
- New bachelors on The Bachelorette [Reality Tea]
- Goodbye to The Office [Pajiba]
- Bachelor Sean's fiance cheats on him [Evil Beet]
- Britney Spears out with her man [Popsugar]
- Nina Dobrev works it [Popoholic]
- Cindy Crawford needs to lay off the 'tox [Celebslam]
- Who said it: Carrie Bradshaw or The Dalai Lama? [Buzzfeed]
2 Responses to "Angelina and Brad to marry in Namibia?!"