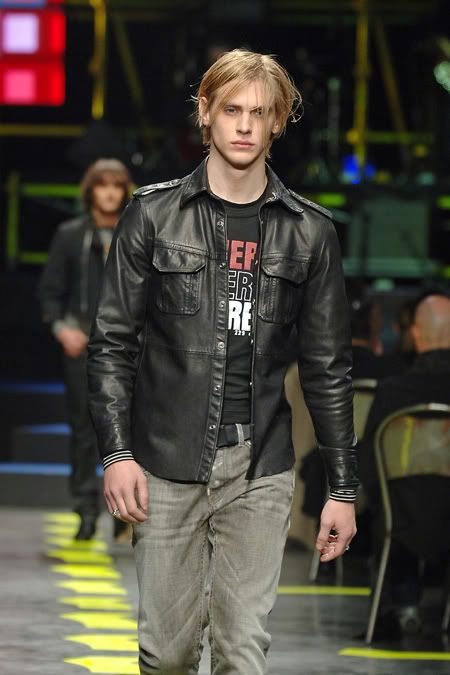 Vera at "I'm Not Obsessed" has a hot guy of the day, so I figure Cele|bitchy can feature a male model once in a while. French model Jeremy Dufour is just 20 years old, so I should feel guilty for posting these pictures of him, but why have a double-standard for guys? There are plenty of pictures of Lohan, and she's just 20.
Hot model Jeremy Dufour was discovered by a photographer while riding the Paris subway, got picked up by a management agency and quickly hit it big:
One of Success Models' most sought-after, Jeremy Dufour has garnered so many "mega status" points that its only a matter of time before he got what every male model wants! With a Verri campaign to his credit, this prestigious stint was followed by an appearance at Another Magazine. Recently, he was photographed by Karl Lagerfeld and was digging his feet for the Adidas shoots. With more glossies coming his way, including GQ, Uomo Vogue, Details and V Man plus the prestigious Louis Vuitton campaign, there is no stopping this young french heartthrob. If the Gucci catwalk appearance is an indication of what's to come in the runway scene, then we're up for more of Jeremy….
Ive been discovered by a photographer, whose specialty is into portraiture, he took noticed of me while I was in the Paris Metro. He ask if he can take some pictures. Its the same shots he took to an agency, Success Model Management.
You can find more about Jeremy on his Model Hommes bulletin board. Pictures of Jeremy on the catwalk from Hollywood's Best and his ads were found at Model Hommes.