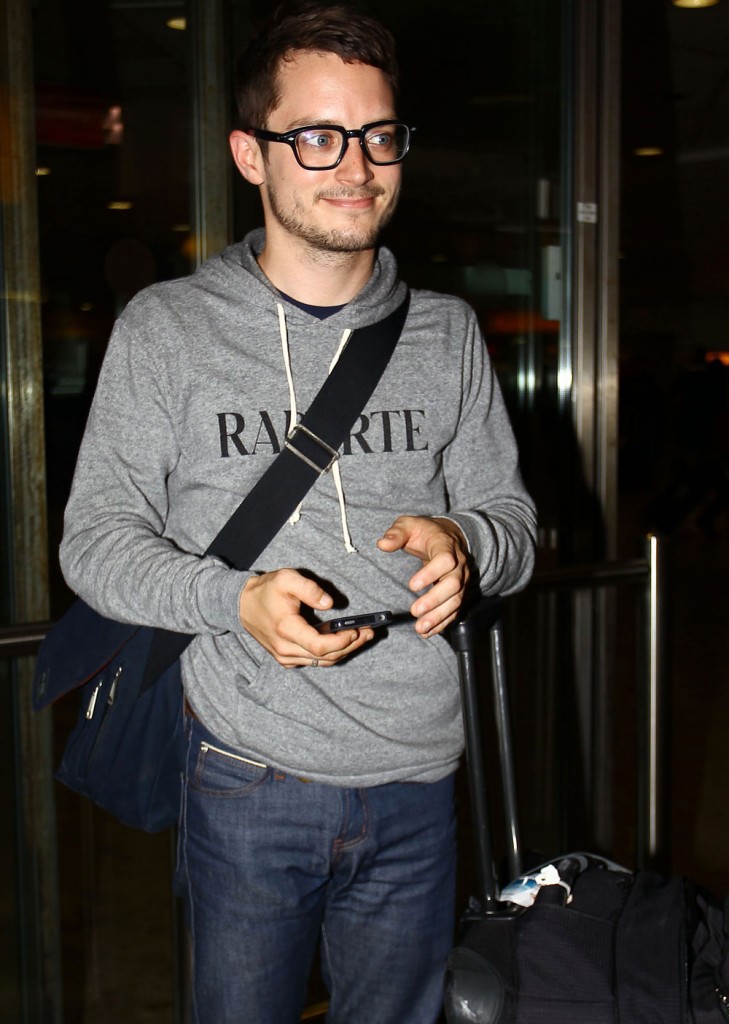 The last time we covered Elijah Wood, he was complaining that he couldn't even smoke his cigarettes outside like a civilized person, and he pledged to politely refrain when he was asked. That story fueled a mild debate about whether air was "free" and whether smoking outside also impinged on the rights of non-smokers. Well now Elijah has chimed in on the issue of smoking pot. He claims he doesn't personally smoke pot, but that his "friends" do and it should be decriminalized. I had to look up where Elijah is from, because I kind-of knew he was American but momentarily confused him with his fellow hobbit Dominic Monaghan, who is British. (That's relevant because pot is decriminalized in England.) Elijah thinks pot should be decriminalized here, too:
Elijah Wood "wishes" he had a higher "tolerance" for marijuana.

The 30-year-old actor can't understand why the drug is still illegal because he believes it to be "harmless" but admits he rarely uses the substance himself because of the side effects it produces.

He said: "I think the whole notion that marijuana is illegal is past the point of ridiculousness. It seems a little silly to be uptight about something that's so natural.

"To be honest, I'm not really much of a pot smoker – it never really sat well with me. I've got friends that smoke and have smoked for years. I've always wished I could achieve that comfort and tolerance, but I have no tolerance for it whatsoever.

"But I've always been an advocate. I just feel it should be decriminalized. We're spending taxpayers' money on putting people away for something so harmless."

The 'Lord of the Rings' star believes marijuana use is widespread in Hollywood and has become a "normal" part of life.

He told High Times magazine: "It's gotten to the point where it just seems a natural part of people's lives. It's certainly not taboo; I know a number of people who have medical cards. People feel very free talking about it. It doesn't seem to be hidden or shoved under the carpet. It's part of people's lives in a very natural way."
[From High Times, Bang via CTV.ca]
I guess pot-smoking features heavily in Elijah's FX series Wilfred, about a guy who interacts with a man in a dog suit who seems like a regular dog to everyone else. So that could explain why he's commenting on it, or why someone asked him about that issue.
It doesn't make sense to me that medical marijuana is only legal in certain states while very powerful and potentially more harmful and addictive prescription drugs are available all over the US. I agree that pot should be decriminalized and that it should be more readily available for medical purposes. I live on the East Coast, where we don't see as much pot use because we can't get prescriptions for it. I do see people I know getting addicted to Oxycontin though and that ruins lives much more than smoking up.
Elijah is shown on 7/13 at Heathrow airport and on 6/20 at an event. How adorable is he in those glasses? Credit: WENN.com