VMAs Disney kids fashion: Miley, Selena, Demi, Justin & not a cute outfit among them

We're trying to figure out how to break up the "fashion" from last night's VMAs, and I put fashion in quotes because no one really brought it, in my opinion. First off we have Miley Cyrus in a curious light blue Cavalli gown that mixed some kind of tiger/leopard/tree bark print at the bodice with a floral Asian motif along the skirt. At least it was demure, I'll give her that, but it looked even worse from the back with that weird pattern continuing down in a thick stripe and clashing with the flowers. She paired it with some big dangling gemstone earrings and a diamond Lorraine Schwartz necklace, and it was over accessorized. She looked really happy and relaxed though. I find Miley very likable lately.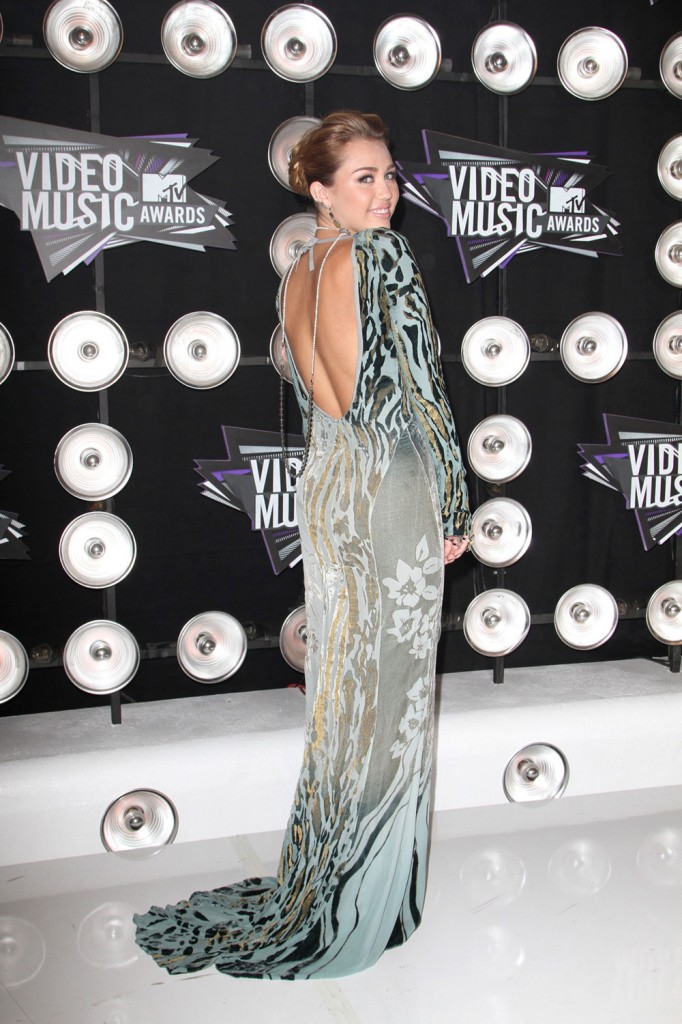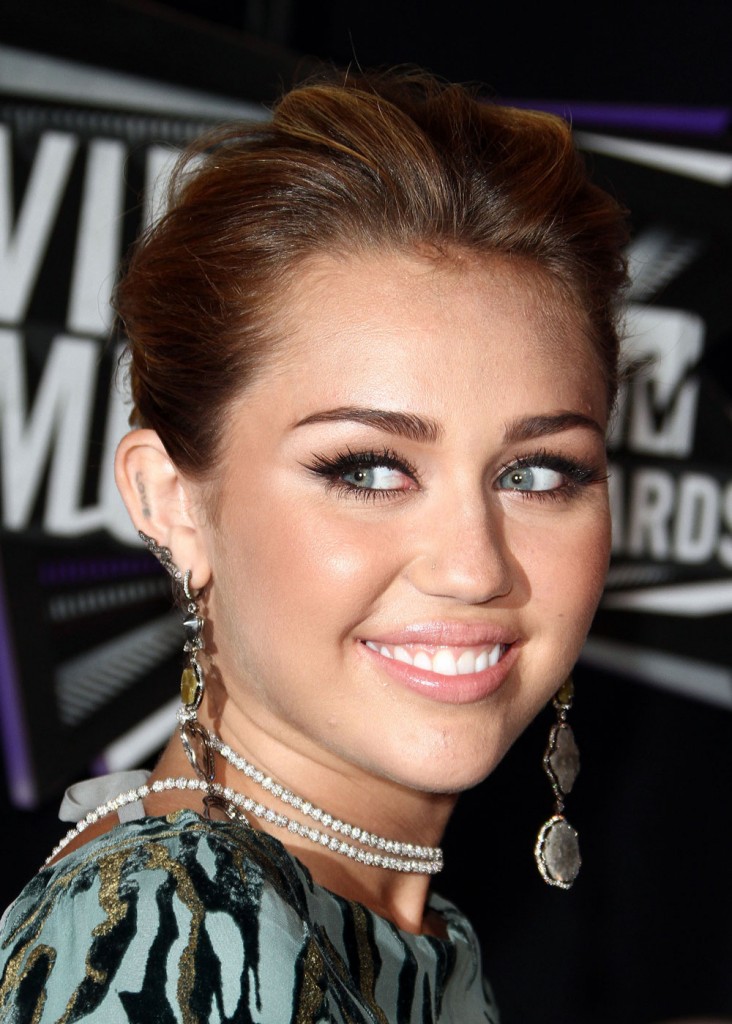 Demi Lovato's little silver Mandalay dress was way too tight, low cut and flashy. She's probably going for "grown up" but it just makes the mom in me kick in and want to tell her to go back up to her room, wipe some of that gunk off her face and cover up. She turned 19 a month ago, though, so I guess it's her prerogative. At least it's not another mullet dress.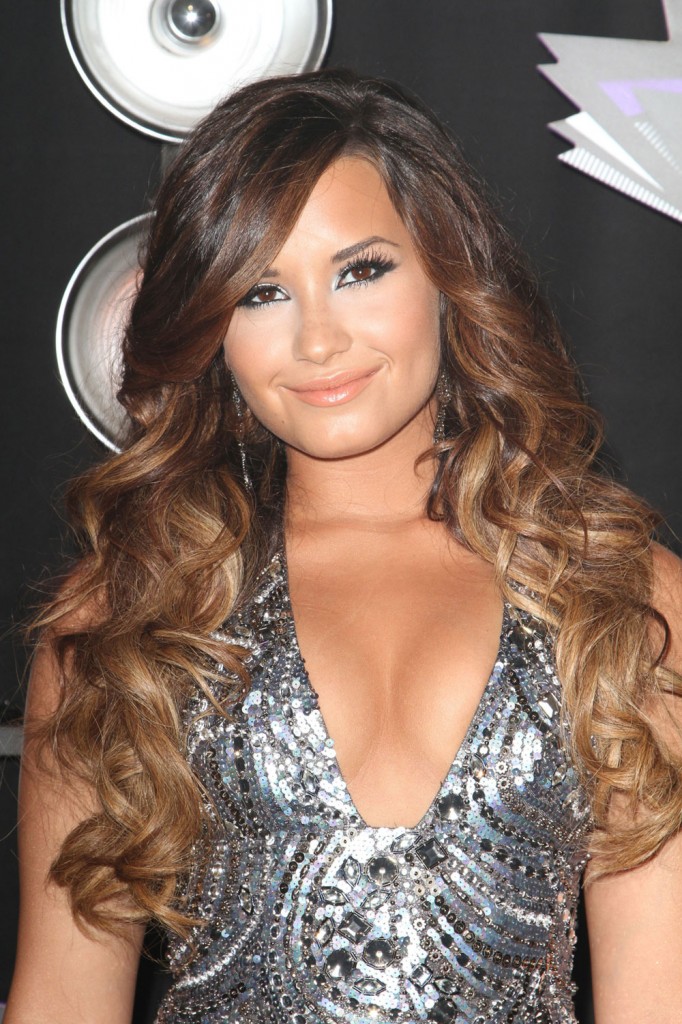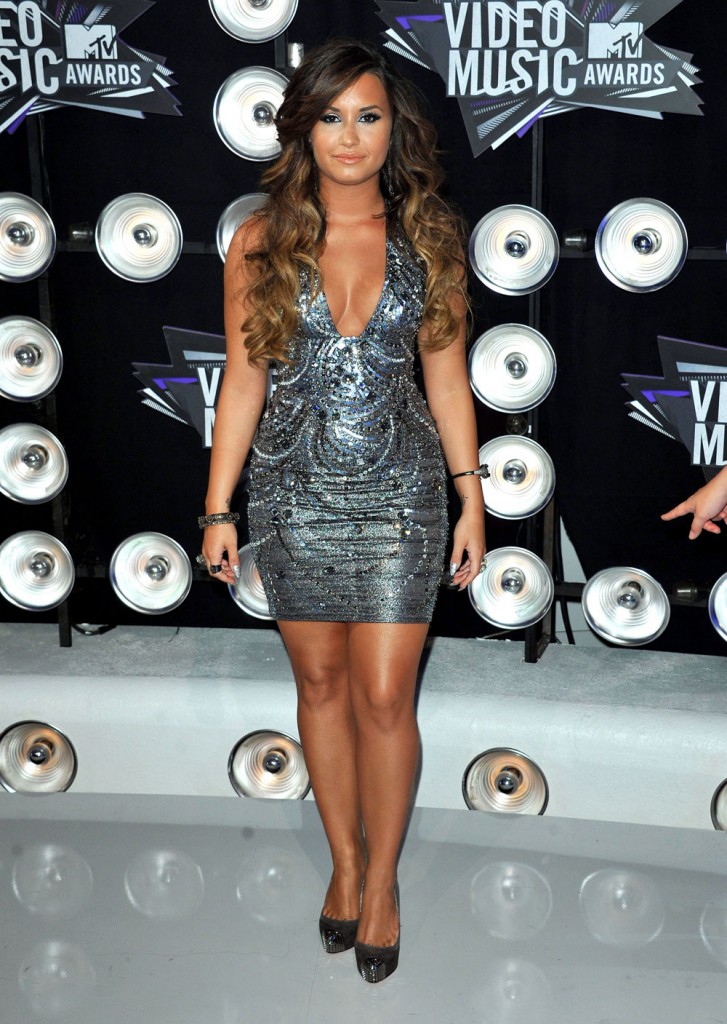 Speaking of mullet dresses, little Selena Gomez committed that offense yet again. She looks like a newly introduced teen vampire on a CW show who's about to get a three episode story arc before biting it in a disgusting blood-spewing death scene. She wore this gothic Julien Macdonald lace number. The high neckline with the lace, the sparkly vines and the feather-like parts is just bizarre. It also features cut-out lace sections around the bodice. Justin must have been staring at her cleavage all night in that ugly dress.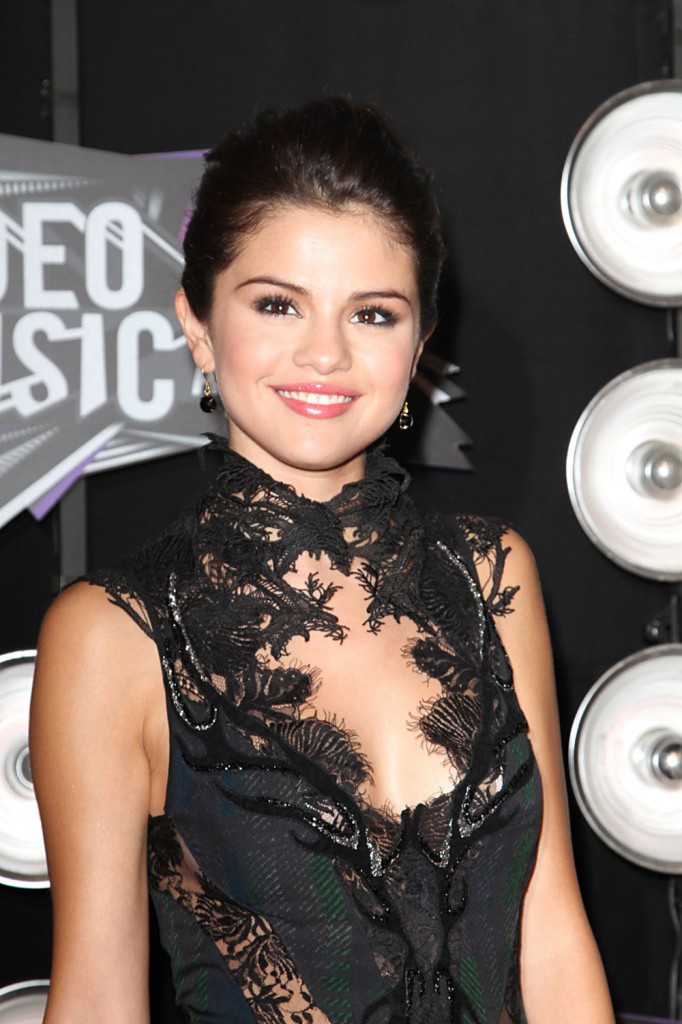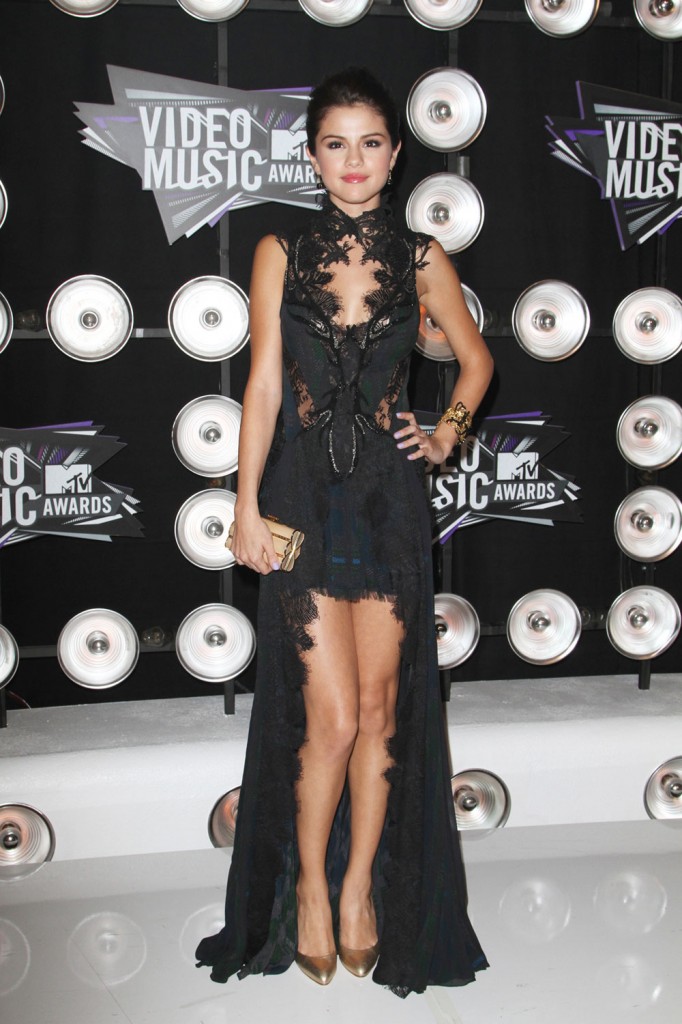 It looks passable from the side I guess.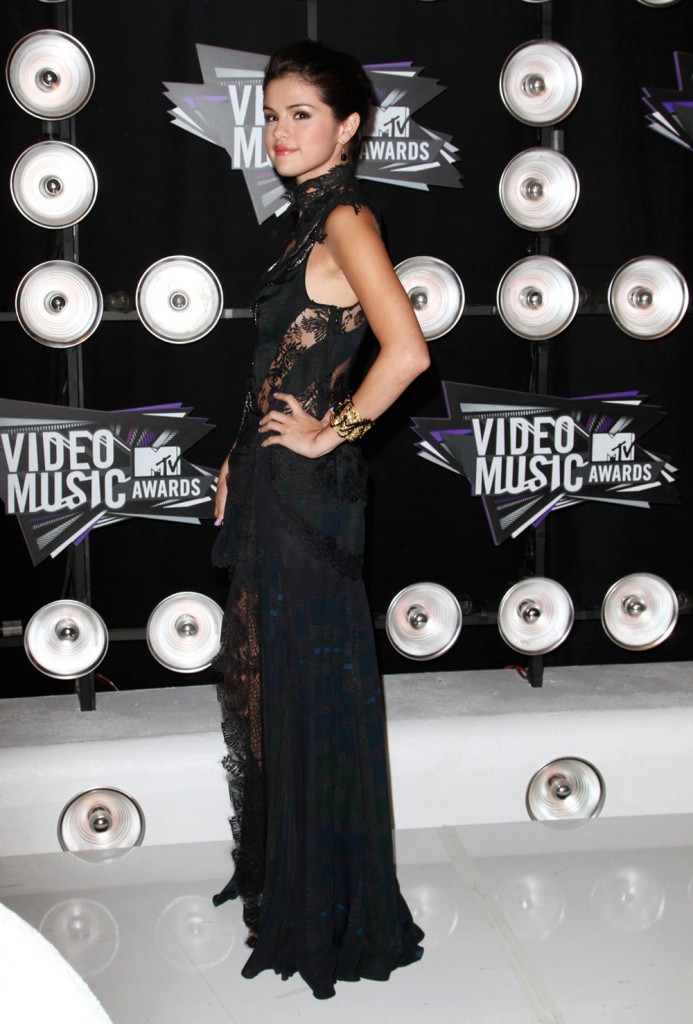 And finally Justin Bieber tried to work a casual look in a black blazer, loose red pants, leopard-print sneakers and sexy librarian glasses. He won best male video for "You Smile." In his acceptance speech he thanked God then Jesus "because, you know, I wouldn't be here without him. He's really blessed me, put me in this position." Then he said he was sharing his award with all the other nominees. Here's his acceptance speech, which was full of award show cliches but gratefully short. Justin brought a little pet snake with him for some reason, and he said the snake's name was Johnson. So stupid.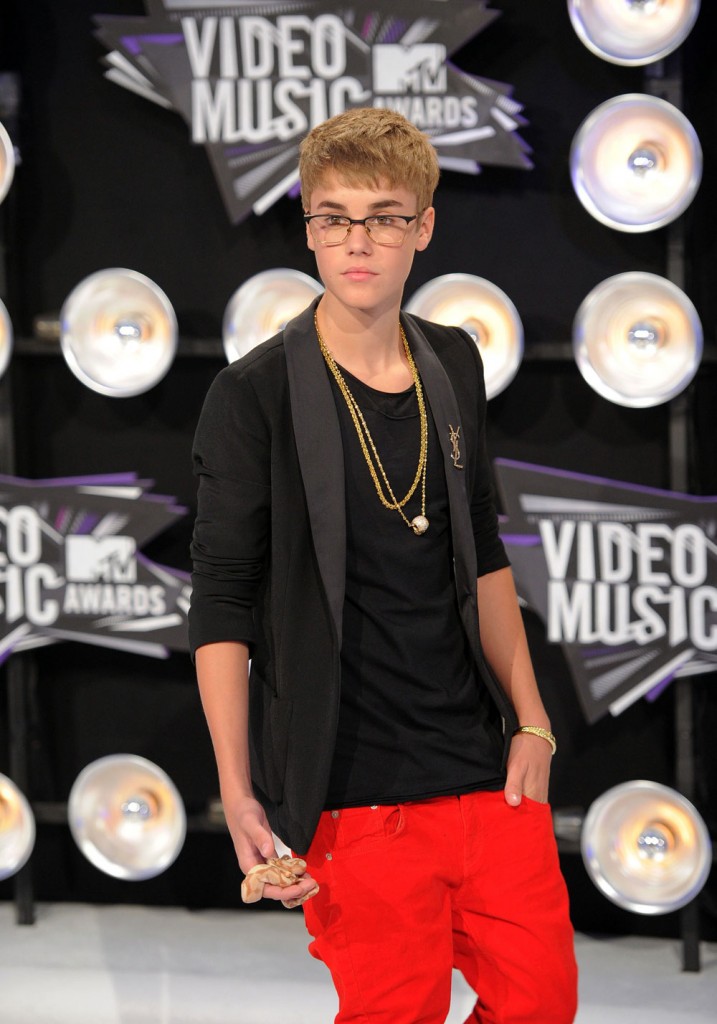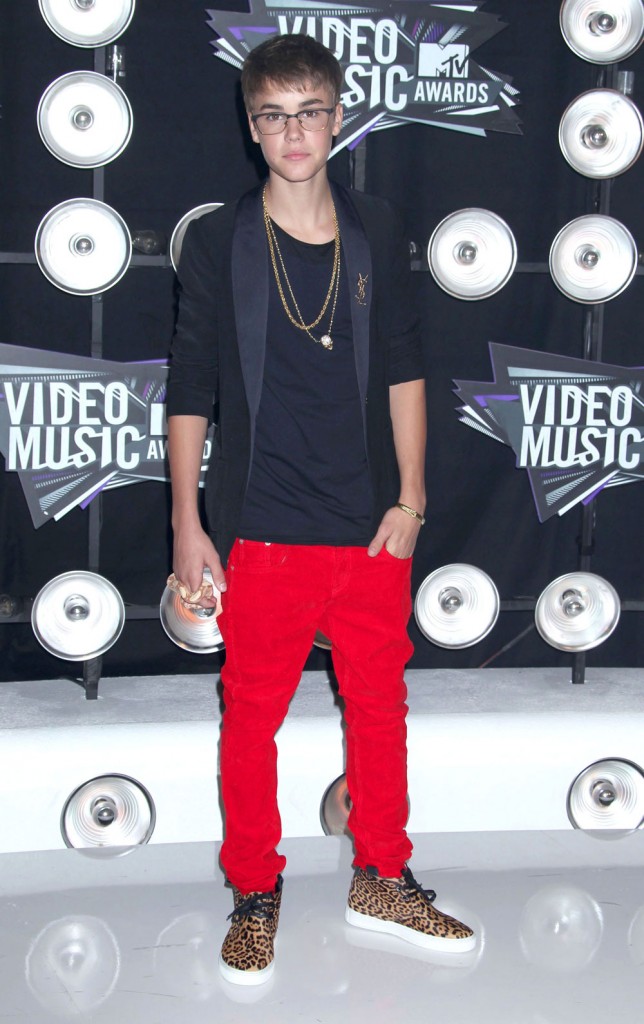 photo credit: WENN and Fame
Written by Celebitchy

Posted in Awards Shows, Demi Lovato, Fashion, Justin Bieber, Miley Cyrus, Music, Selena Gomez

- Mariah Carey lip synced on American Idol [CDAN]
- Colin Firth is looking good [Lainey Gossip]
- Internet celebrity charged with murder! [D-Listed]
- What is Paz Vega wearing? [Go Fug Yourself]
- New bachelors on The Bachelorette [Reality Tea]
- Goodbye to The Office [Pajiba]
- Bachelor Sean's fiance cheats on him [Evil Beet]
- Britney Spears out with her man [Popsugar]
- Nina Dobrev works it [Popoholic]
- Cindy Crawford needs to lay off the 'tox [Celebslam]
- Who said it: Carrie Bradshaw or The Dalai Lama? [Buzzfeed]
28 Responses to "VMAs Disney kids fashion: Miley, Selena, Demi, Justin & not a cute outfit among them"