Claire Danes in metallic blue Oscar de la Renta: "edgy" or too severe?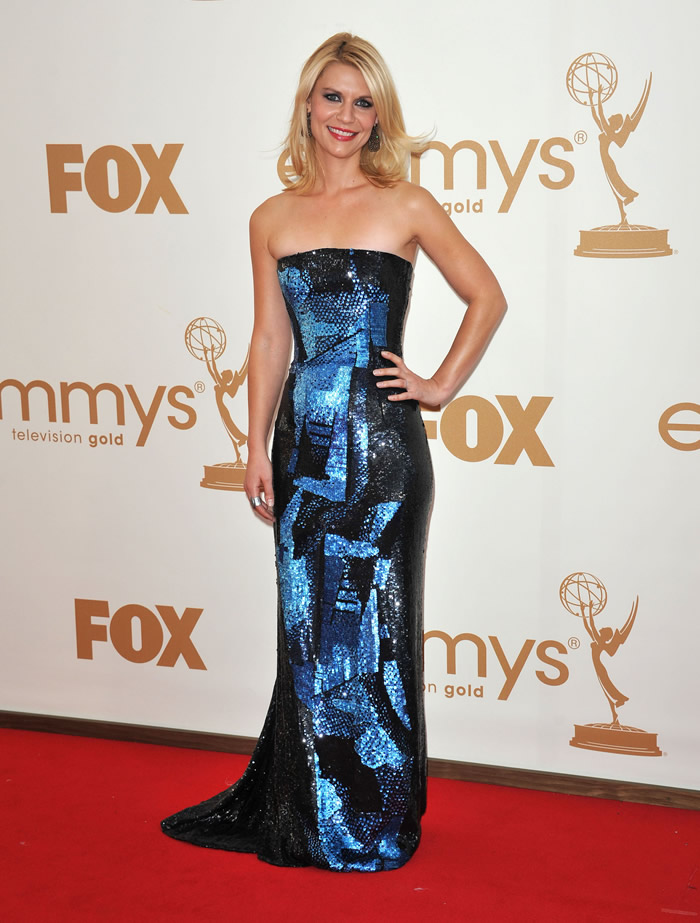 Claire Danes attended the Emmys last night as a presenter (she won last year in the Outstanding Lead Actress in a Miniseries or a Movie category for her role in Temple Grandin), and I've got mixed feelings about her look for the evening. She wore a metallic blue Oscar De La Renta column dress, which I believe was intended to be edgier than all of the monochrome and minimalistic dresses that she has favored in the past. I like that she's mixing it up a bit, and I love the deep blues of the dress itself. It also looks a lot better against the HBO backdrop than against the standard-issue Emmy red-carpet wall.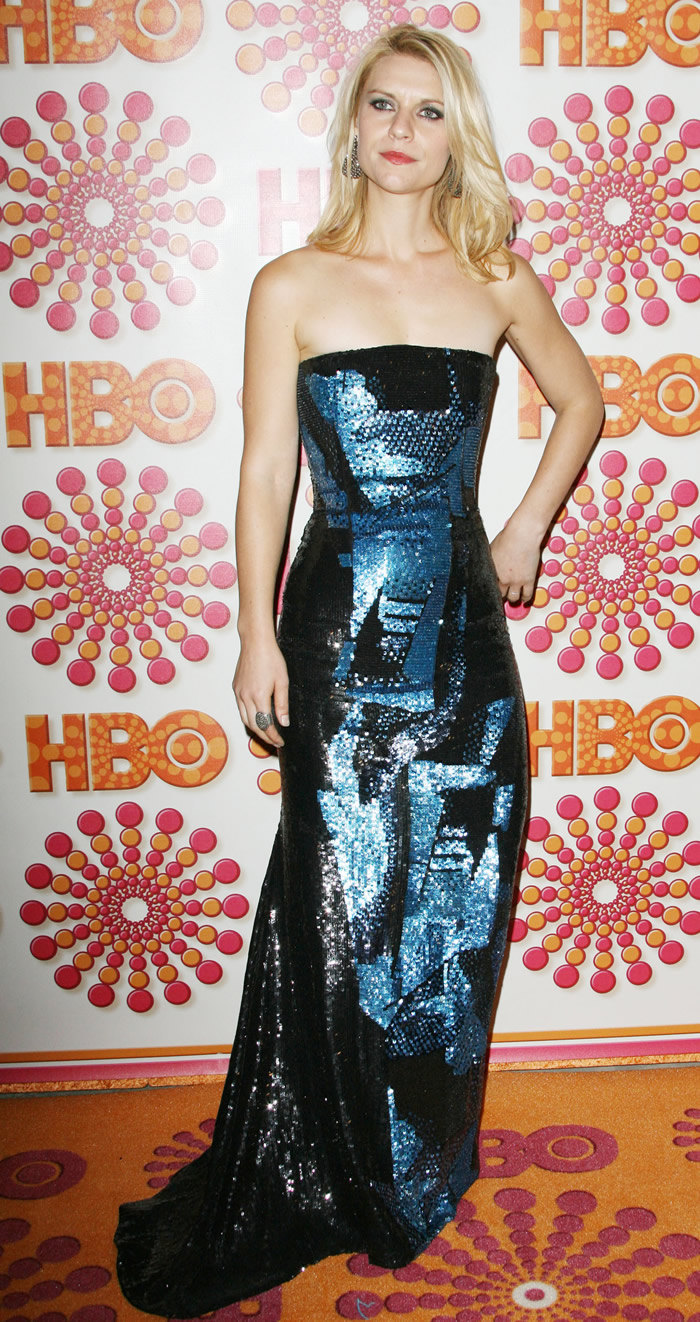 What gives me pause about Claire is her hair and makeup. Kaiser thinks the hair should be a few shades darker, and I agree that she's just far too blonde and highlighted at this point, but she's been that way for quite awhile. Claire's stuck in a bit of a beauty rut, and I'd like to see her try out a cool shade of brunette or, at the very least, go for some rich lowlights instead of defaulting to the Hollywood standard blonde. In terms of makeup, the lipstick is fine, but the eyeliner is applied in far too gratuitous a manner. Again, I think Claire is going for "edgy" here, so that excuses some of this mess.
Sadly, her adorable husband Hugh Dancy was nowhere to be seem. Maybe he had a TIFF hangover and couldn't handle the sparkle factor of this dress.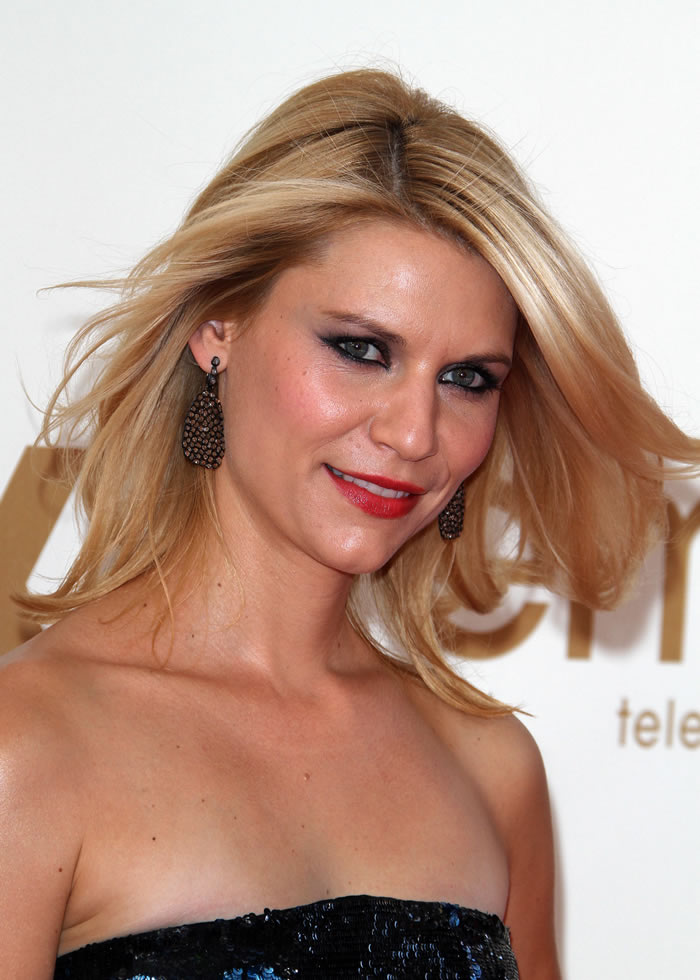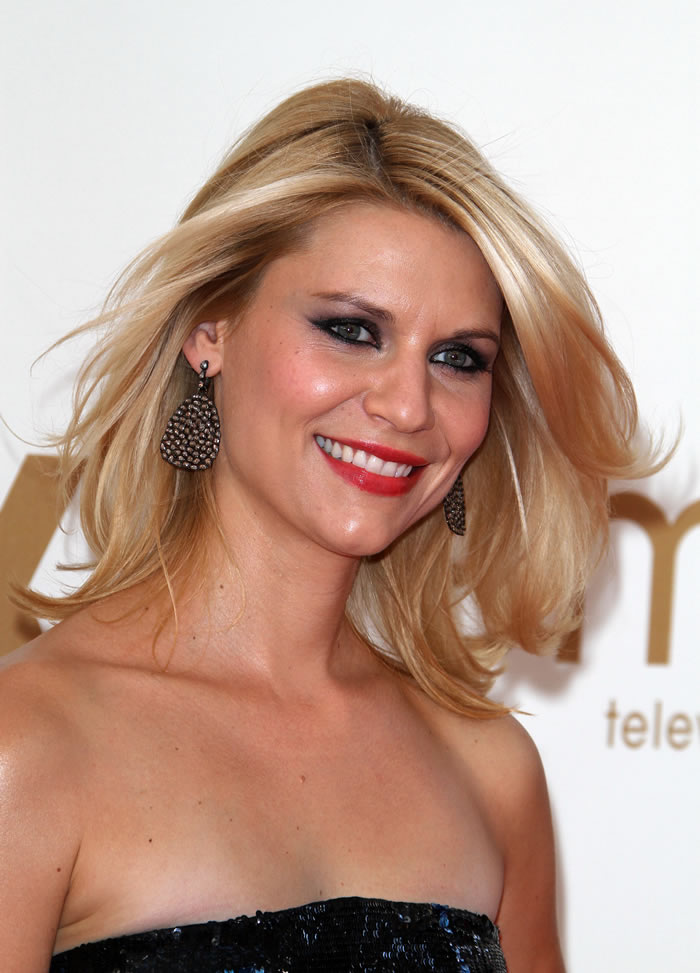 Photos courtesy of Fame and WENN
Written by Bedhead

Posted in Claire Danes, Emmys, Fashion

- The Blemish interviews Carmen Electra [The Blemish]
- Rumer Willis joins Pretty Little Liars [Lainey Gossip]
- Morgan Freeman falls asleep during interview [D-Listed]
- Fug or fab: Isla Fisher [Go Fug Yourself]
- Tamra Barney confirms spinoff [Reality Tea]
- Movie franchises that rebounded [Pajiba]
- Why Dylan McKay is the perfect boyfriend [Buzzfeed]
- Saoirse Ronan could have been a Lohan [Evil Beet]
- GIFs from Cannes [Popsugar]
- Cat massages a dog [CDAN]
- Heather Graham is so pretty [Celebslam]
- What is Lucy Hale wearing? [Moe Jackson]
42 Responses to "Claire Danes in metallic blue Oscar de la Renta: "edgy" or too severe?"